E-Rod's early return reinforces Sox bullpen
Boston lefty returned one day early from paternity leave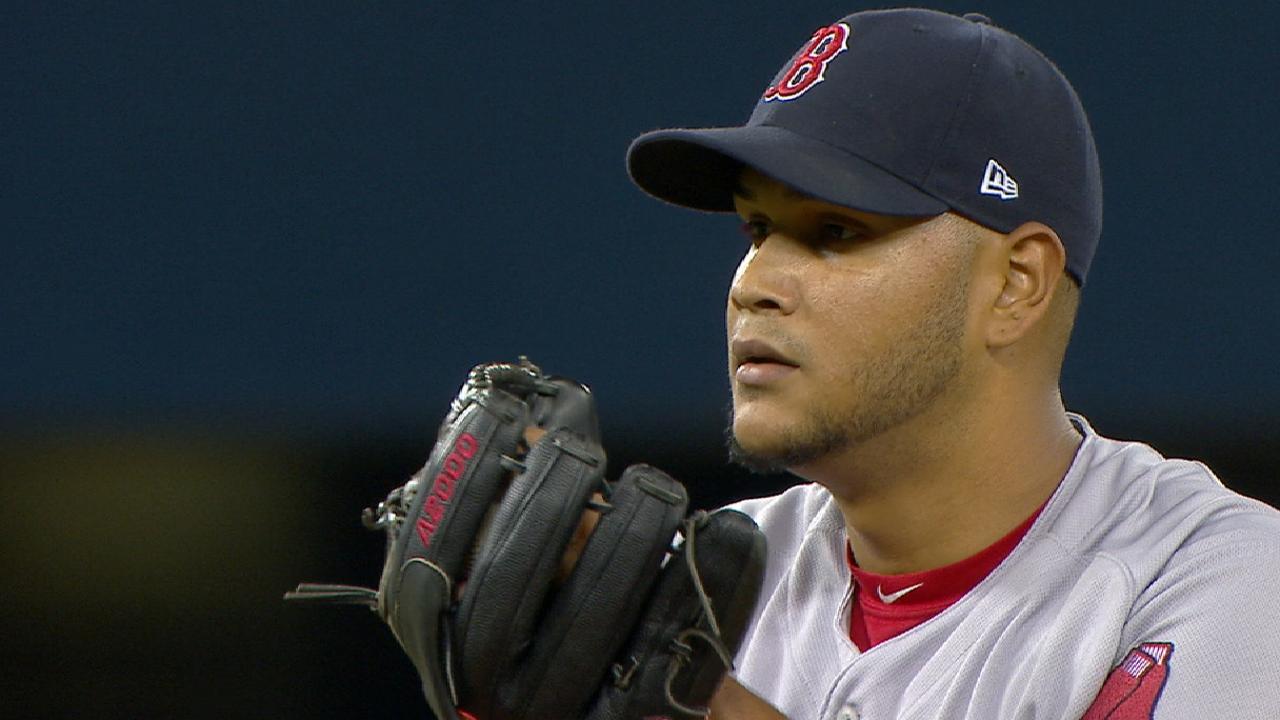 TORONTO -- Left-hander Eduardo Rodriguez returned a day early from his paternity leave, mainly because the Red Sox aren't getting enough innings in their starting rotation of late.
Entering Wednesday night's game against the Blue Jays, Boston's rotation ranked ninth in the American League in innings pitched with 78. Conversely, the bullpen had logged 48 innings, the third-highest in the AL.
"I think you're always concerned about that, which is why we went to the extent of having Eddie come back," said Red Sox manager John Farrell. "Particularly Heath Hembree in a situation like last night, a second consecutive day, [throwing] 45 pitches, a number of those pitches high-stress. It will be good to get some deeper starts."
Rodriguez landed in Toronto a couple of hours before Wednesday's game, and entered a 3-0 loss to the Blue Jays in the eighth inning, striking out two in what amounted to a tune-up for his return to the rotation on Sunday in Baltimore. Brian Johnson, who earned the win in place of Rodriguez on Tuesday, was optioned back to Triple-A Pawtucket, opening up the roster spot for E-Rod's return.
Closer Craig Kimbrel and Joe Kelly both didn't pitch in Tuesday's 8-7 win due to recent workload.
Aside from Chris Sale, the Red Sox have lacked consistency in the rotation. David Price's absence has clearly been felt.
"If you can get right around 900 innings out of your rotation, I think you're in pretty good shape," Farrell. "That's give or take. Early on, you play to win and give guys breaks as needed."
Worth noting
• The Red Sox got some good news Wednesday night from Charlotte, N.C., where center fielder Jackie Bradley Jr. celebrated his 27th birthday by belting a solo home run. It was the second -- and likely final -- game of a Minor League rehab assignment for Bradley, who has been on the 10-day disabled list with a right knee sprain. Bradley played all nine innings for Triple-A Pawtucket, going 1-for-3 with two walks. Bradley will take batting practice and participate in other baseball activities with Pawtucket on Thursday, and will join the Red Sox on Friday in Baltimore, and likely be activated then.
• After three days of not throwing, Price continued his progression on Wednesday.
"He threw out to 120 feet today," said Farrell. "That included 45 throws of long toss, another 20 of flat ground, with good intensity. Today was a good work day. With tomorrow's quick turnaround, it will be a real light day. Provided he feels as he's been the last couple of days, we would hope to get him on the mound when we get to Baltimore Friday."
Price strained his left elbow on Feb. 28, but made strong progress last week, throwing three side sessions. If Price can build more momentum on Friday, he would be close to facing hitters in either batting practice or a simulated game.
• It has been slow going for setup man Tyler Thornburg in his return from a right shoulder impingement that plagued him in Spring Training.
"Still in a long-toss phase," said Farrell. "He's yet to get on a mound but continues to go through the throwing program back in Boston. This has been a lengthy one, we know, to rebuild the overall condition and strength of the shoulder. He's still continuing on that path."
Ian Browne has covered the Red Sox for MLB.com since 2002. Follow him on Twitter @IanMBrowne and Facebook. This story was not subject to the approval of Major League Baseball or its clubs.