Face-plant payback? Yelich robs Dyson at wall
Last season, Seattle OF (then with KC) made great grab of Miami hitter's drive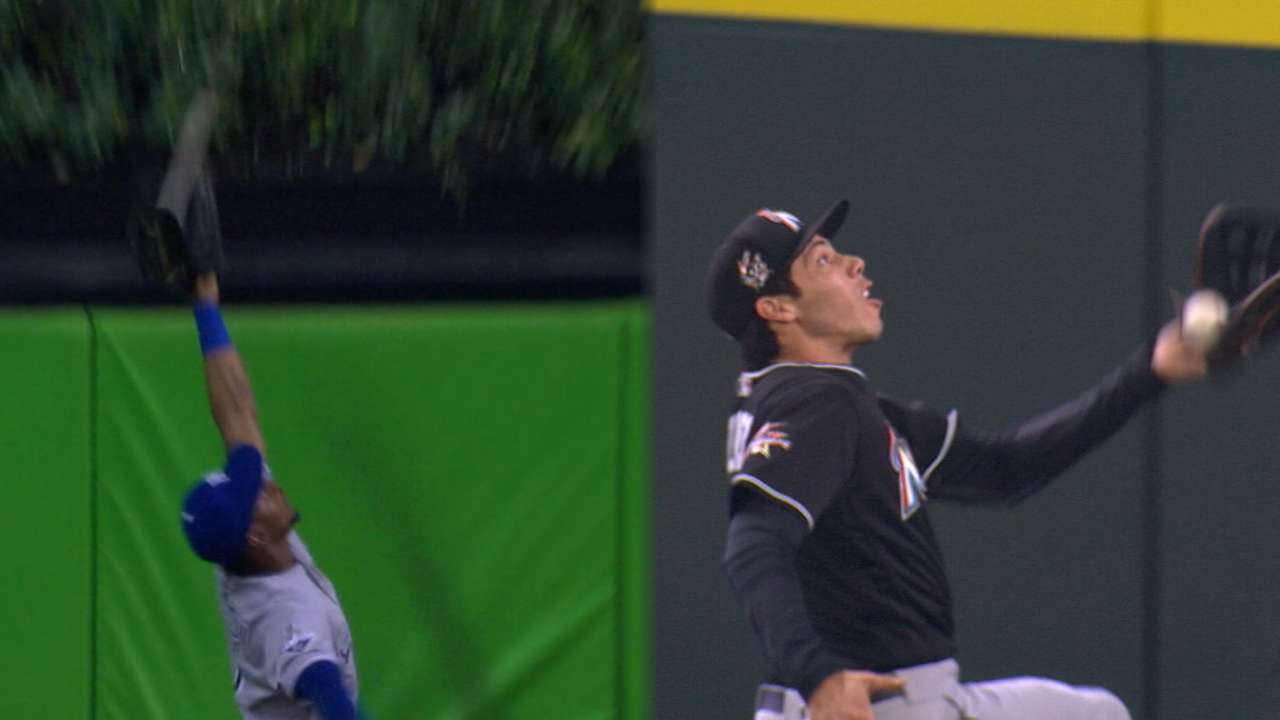 Marlins center fielder Christian Yelich got a measure of revenge against Mariners outfielder Jarrod Dyson, and he got a busted lip in the process.
In the first inning of Miami's 10-5 loss at Safeco Field on Wednesday afternoon, Dyson laced a long drive that Yelich clutched while running face-first into the wall.
Yelich planted into the padding and retained possession while tumbling backward to the ground. Initially dazed, the 25-year-old regrouped, stayed in the game and even delivered an opposite-field home run off Felix Hernandez.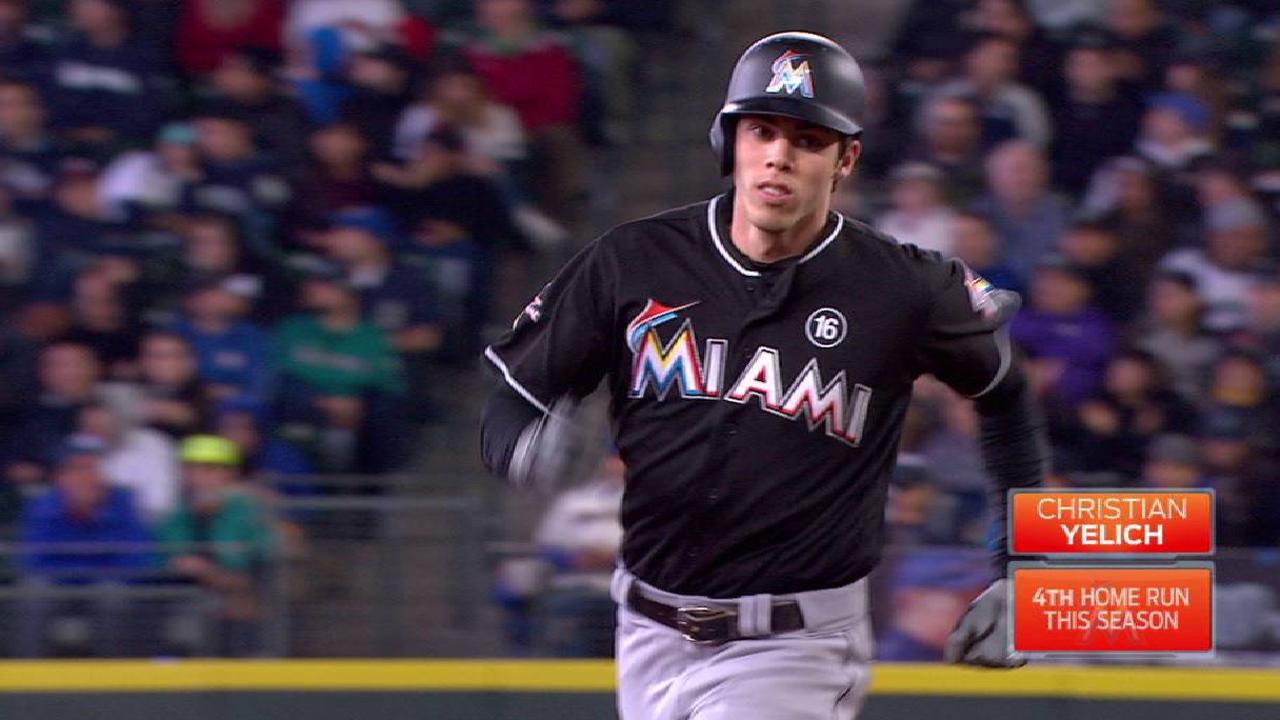 But it was the face-first catch that made a lasting impression.
"I was like, 'I'm eating this wall,' you know?" Yelich said. "It's just one of those things where you've got to make a decision halfway there whether you're going to pull up or you're going to eat it. Sometimes you just gotta eat it. That's what happened, and luckily, I made the catch and was able to hold on. I definitely felt it, and I'm going to feel it for the next few days, but it happens. It's part of the game."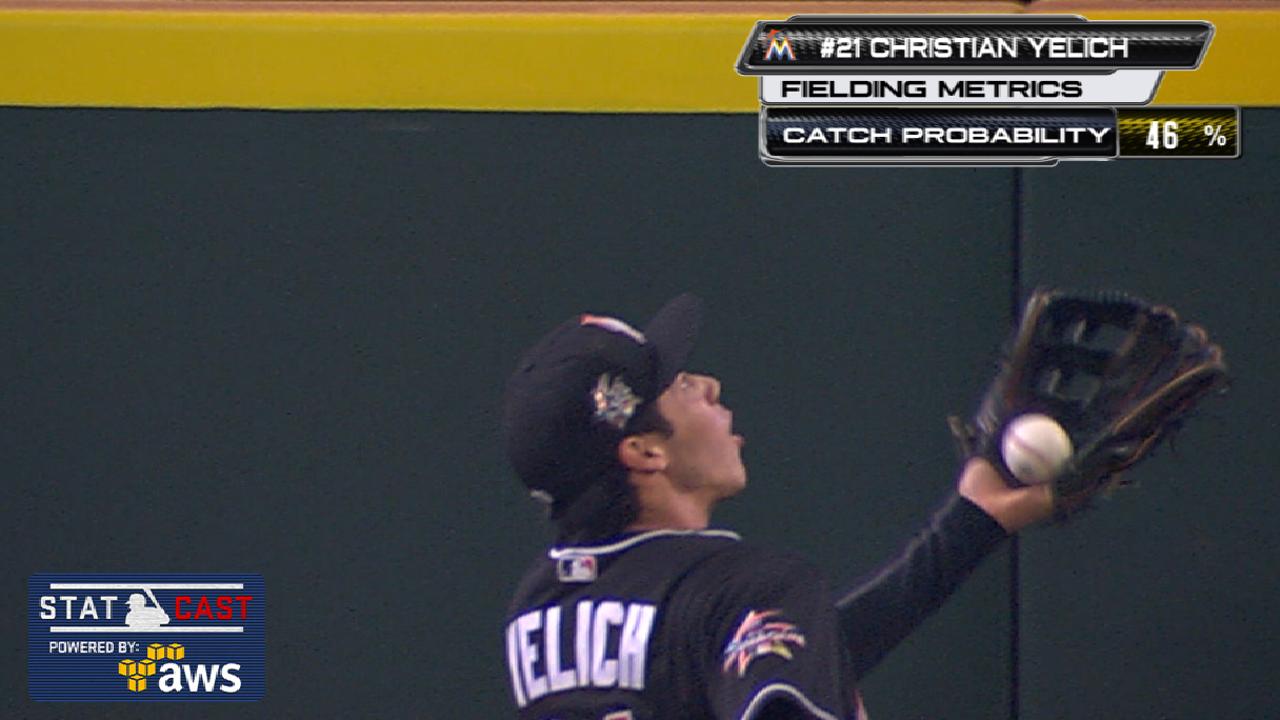 It also was payback for last year when Dyson, then with the Royals, robbed Yelich in one of the best catches of the 2016 season.
"That hurt a little bit, for sure," Yelich said. "But he got me last year. He robbed me of a homer last year. I remembered that. I told him I was going to get him, and I finally did. I told him last year after he robbed me. And as we came off the field, I said, 'Now we're even.' We passed each other. It's one of those plays."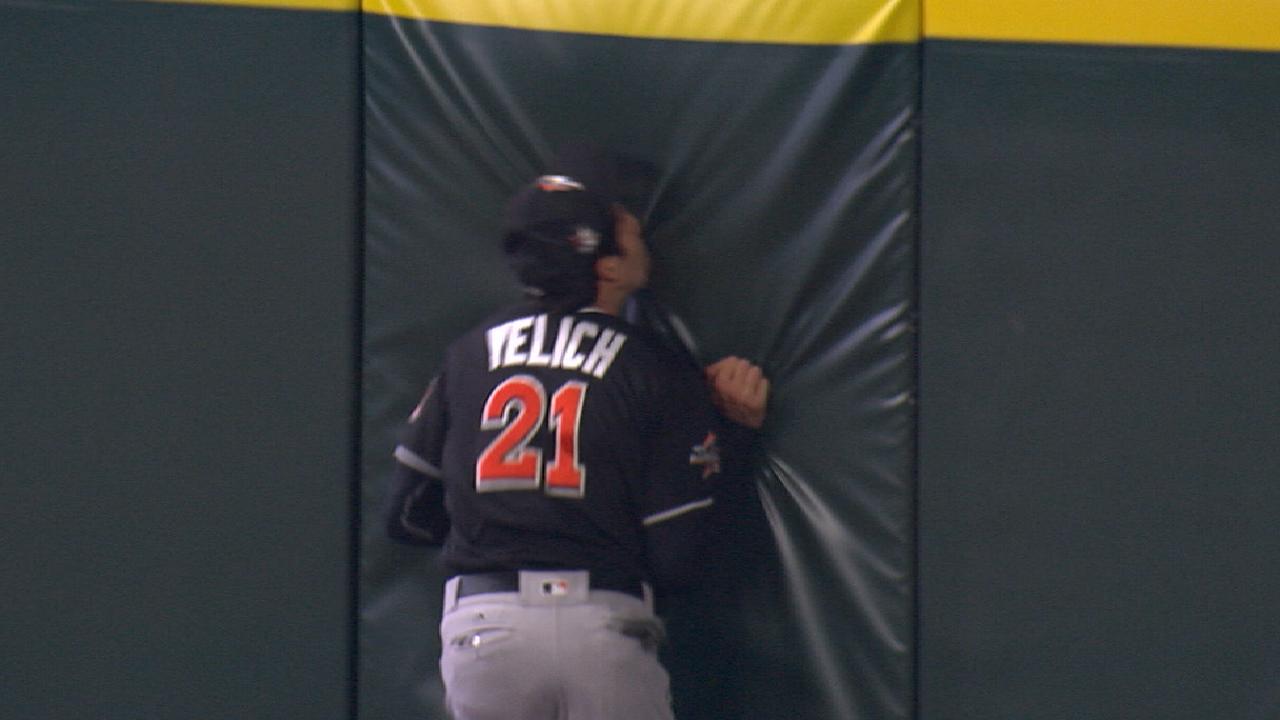 Per Statcast™, the hit probability on the liner was 73 percent. The exit velocity was 101.3 mph, and the estimated distance was 398 feet. The catch had a 46 percent catch probability and was a four-star play (with five stars being the most difficult).
When Dyson was with the Royals last year on Aug. 25 at Marlins Park, he ran down a long drive by Yelich and made a leaping catch at the wall.
Fair tradeoff?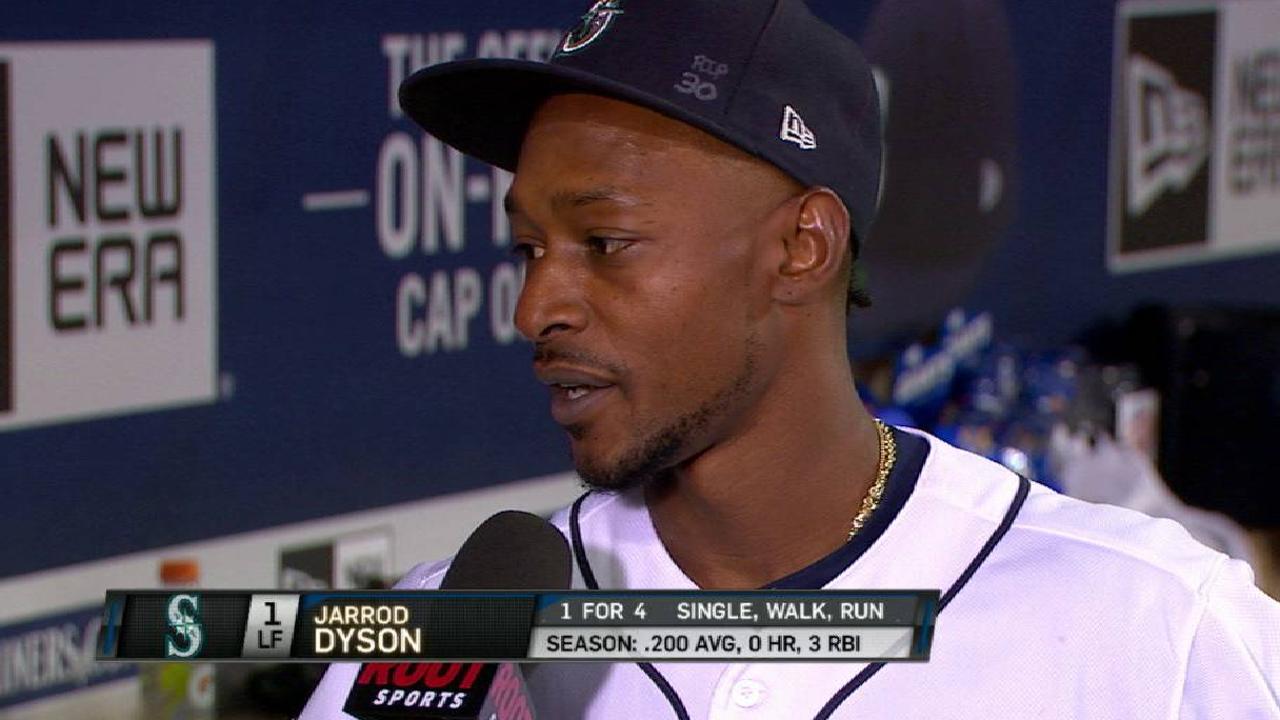 "Yeah, but I don't like hits getting taken from me," Dyson said. "I thought I was going to get a hit there, but it comes with the game. I robbed him of a homer last year. He got me for extra bases today. I can't say much to him but, 'Great job.'"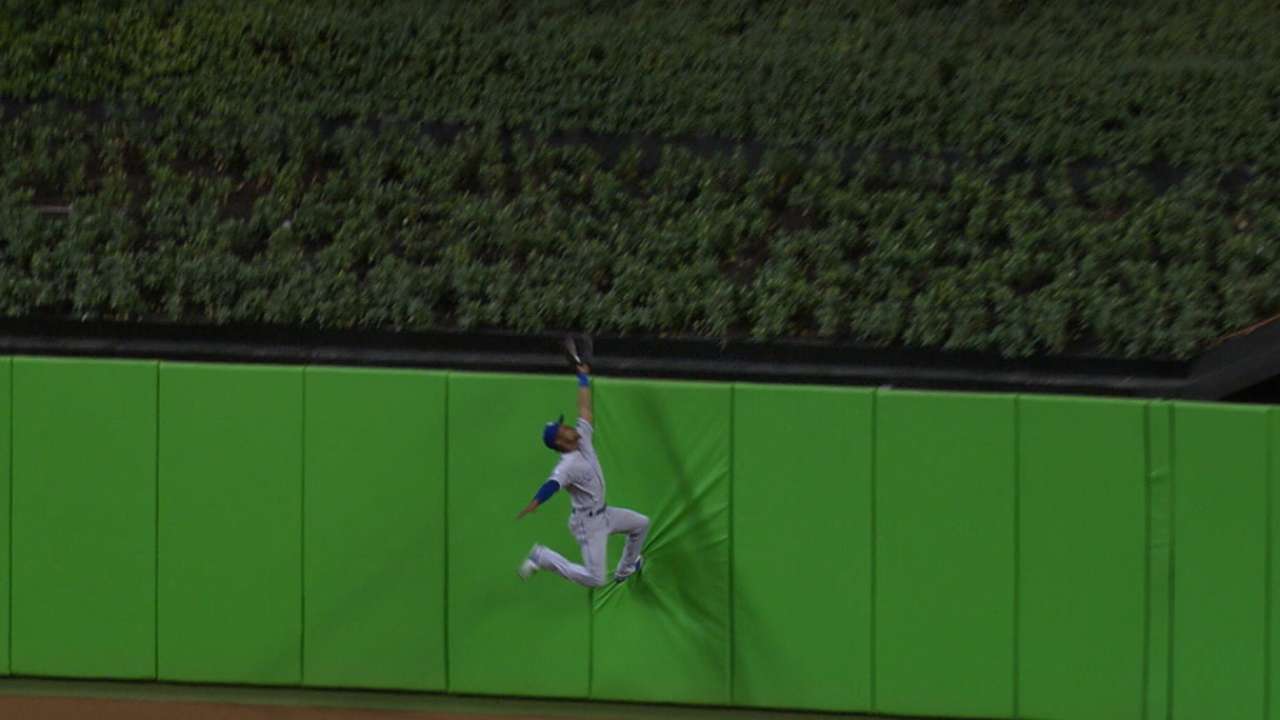 With Dyson's speed, he may have been able to stretch it to a triple, if the ball fell.
Another twist: Edinson Volquez was on the mound for both great catches -- with the Marlins on Wednesday, and with the Royals last August.
Yelich had a busy day, going 3-for-5 with the home run in the fifth inning. According to Statcast™, it was projected to travel 415 feet with an exit velocity of 107.8 mph.
Joe Frisaro has covered the Marlins for MLB.com since 2002. Follow him on Twitter @JoeFrisaro and listen to his podcast. This story was not subject to the approval of Major League Baseball or its clubs.