MLB.com Columnist
Anthony Castrovince
Ring presentation especially poignant for Baez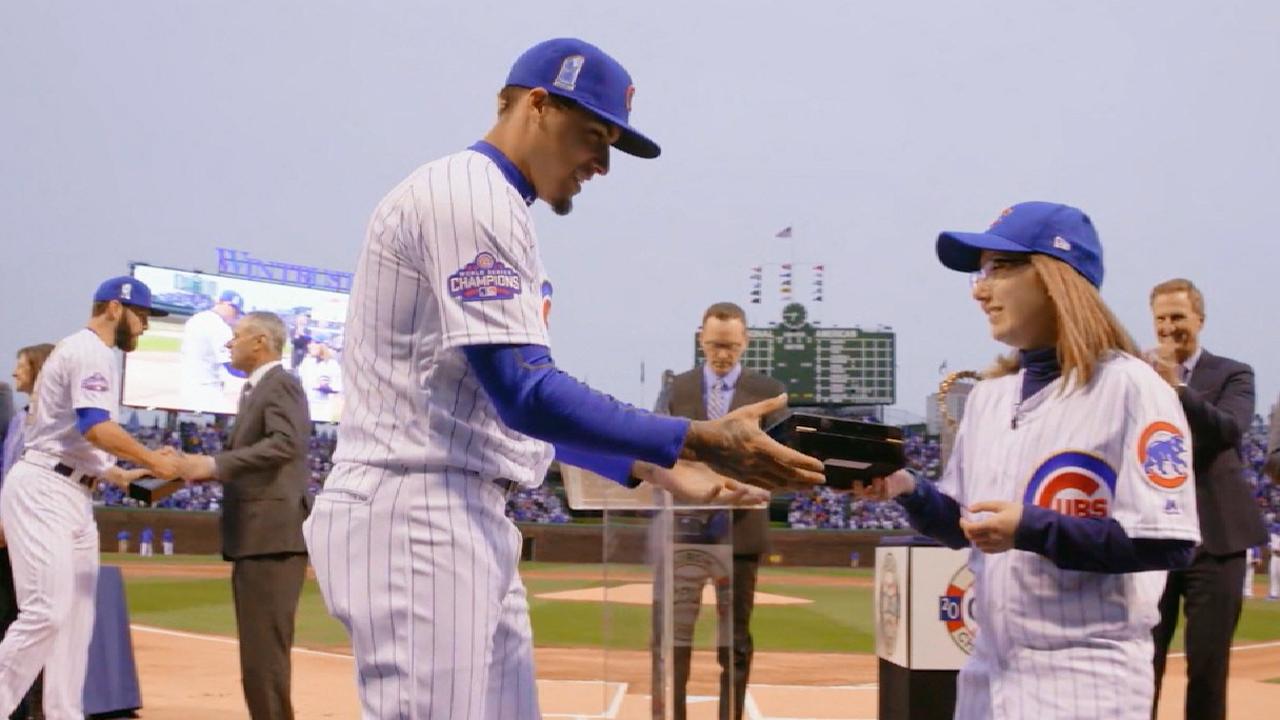 Their paths crossed quickly, but their stories are now intertwined.
Had Javier Baez succumbed to his sorrow and let it distance himself from his dream, his wonderful performance that helped the Cubs win their first World Series title in 108 years would not have been possible. And had Grace Davis not maintained her awesomely optimistic outlook in the face of serious medical difficulty, she would not have been there to give Baez his championship ring.
Spina bifida is the awful birth defect that served as the common component that brought this ballplayer and this fan together on a special night at Wrigley Field earlier this month. And the story of how Grace was chosen -- among the thousands upon thousands of contest entrants -- to be the one to present Baez with his 108-diamond prize is told in an MLB Network segment narrated by musician (and Cubs fan) Billy Corgan.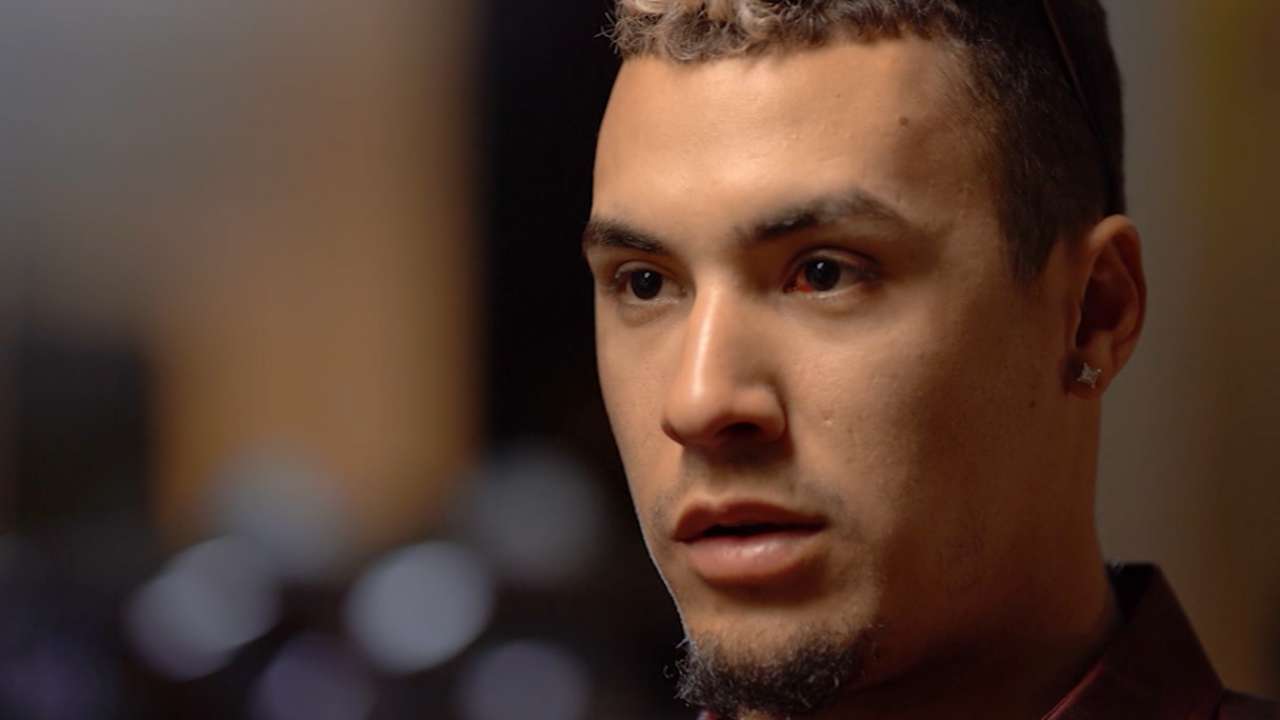 If you know a bit about Baez, you know that beyond the flashy leather and raw power lies the pure pain of having lost his beloved sister, Noely, in 2015. Noely was born with spina bifida, the permanently disabling birth defect that affects roughly 2,500 babies born in the United States each year.
Noely, like her older brother Javier, was born in Puerto Rico, but the family moved to Jacksonville, Fla., so that she could receive the necessary medical care. Javy was so close with Noely that he once promised her every home run he hits is for her, and he hit quite a few on his professional path.
But when Noely passed away at the age of 21 during the 2015 season, Baez told his older brothers, Rolando and Gadiel, that he was thinking about walking away from the game.
"You know [Noely] is not going to like that," Gadiel told him. "She's going to want you to play more and do better."
So Baez, with a heavy heart, kept playing. He was the co-MVP Award winner of the National League Championship Series. And he went deep in that epic Game 7 -- the most meaningful of his many tributes to his late sister.
This is the sort of persistence that has guided Grace in her 20 years of life with spina bifida. She, too, is a Cubs player -- in the Miracle League, which provides opportunity for those with disabilities to play baseball. Inspired not just by Baez's play but his story, this Cubs fan from enemy territory (Jefferson City, Mo.) follows the wisdom of her father, Matt, who would always tell her, "Success isn't measured solely by what one achieves; it can also be measured by what one overcomes."
Matt was the one who nominated Grace for the ring bearer honor when the Cubs -- looking to involve their most passionate fans in a ceremony more than a century in the making -- asked for video submissions. In his video, Matt touchingly told Grace's story and -- by his own admission, presumptuously -- asked that Baez be the one for Grace to be paired with should she win.
She won, all right. Grace was one of 20 fans chosen to present the rings to the players on the field, and the pairing with Baez, which Grace was not aware of until after she arrived at Wrigley, was a natural one.
"Surreal" is how she described the experience. And once you know the background, "emotional" is how you'll describe the clip.
Anthony Castrovince has been a reporter for MLB.com since 2004. Read his columns and follow him on Twitter at @Castrovince. This story was not subject to the approval of Major League Baseball or its clubs.