Diaz trying to recapture success of 2016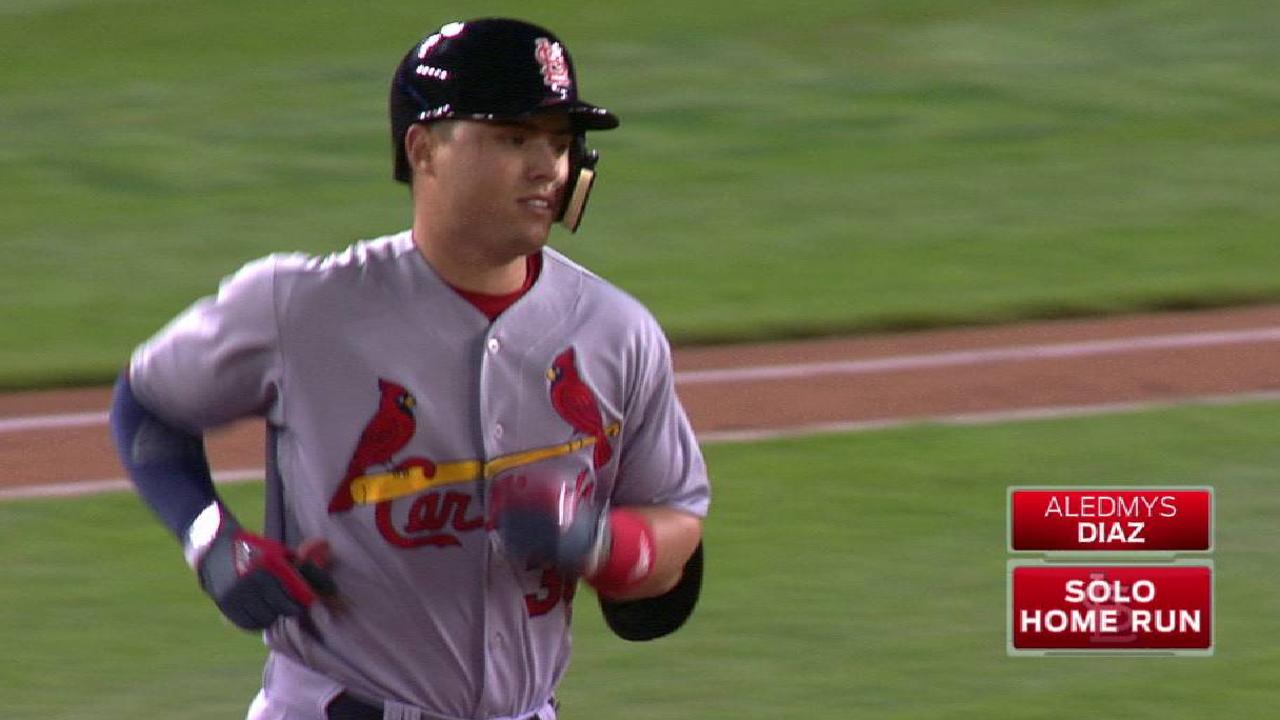 ST. LOUIS -- Given Wednesday off amid an 0-for-18 skid, shortstop Aledmys Diaz used the extra time to plant himself in the video room and seek out solutions. Specifically, Diaz cued up video of 2016 to review what had worked in a season where he posted a .300/.369/.510 slash line.
"Sometimes it's better taking a day off in the cage and look at old videos for a little bit," he said. "Right now, I don't feel really good at the plate. But I'll be better."
Diaz added that there were "a few things we came up with" during the video session that he hopes can spark some positive results. He also acknowledged that perhaps a change in approach will help.
Diaz ended up snapping his skid with a pinch-hit single in the bottom of the seventh of Wednesday's game against the Pirates.
To this point, Diaz hasn't shown the same patience that he did a year ago. He's averaging 2.93 pitches per plate appearance, down from 3.79 a year ago, and he has yet to draw a walk. Perhaps most glaring is the fact that he is swinging at the first pitch 44.6 percent of the time. Last year, that percentage was at 26.2.
Diaz's whiff rate is 24.5 percent, up from 17.8 percent in 2016.
"Right now, hitting second, especially having Matt Carpenter behind me, they're going to throw strikes," Diaz said. "I have just been trying to take advantage of the first pitch. But maybe in the future, I'll have a different approach, take more pitches, try to get them to throw more toward the middle. Maybe that's something I'll do in the next few games."
Before falling into this funk, Diaz had opened the season 12-for-38 with six extra-base hits.
"It comes down to seeing the ball," manager Mike Matheny said. "He jumped in really early swinging the bat well and was really aggressive and was getting a lot of reward for that. He's going to have to go back to seeing it, trusting his eyes and grinding out at-bats. That's normally how you get back locked in."
Worth noting
• After nursing a swollen right ring finger for two days, Carpenter returned to the lineup on Wednesday. He continues to play first base, but Matheny acknowledged the possibility that Carpenter could start moving around the field more soon. One way to get Jose Martinez more opportunities would be to use him at first and slide Carpenter to either second or third base.
• Tyler Lyons will travel with the Cardinals to Milwaukee for their upcoming series and is expected to be activated from the disabled list within the next few days.
Jenifer Langosch has covered the Cardinals for MLB.com since 2012, and previously covered the Pirates from 2007-11. Follow her on Twitter, like her Facebook page and listen to her podcast. This story was not subject to the approval of Major League Baseball or its clubs.