MLB.com Columnist
Mike Petriello
Harper's hot start reminiscent of MVP year
Slugger has exit velocity of 92.7 mph, up from 89.5 mph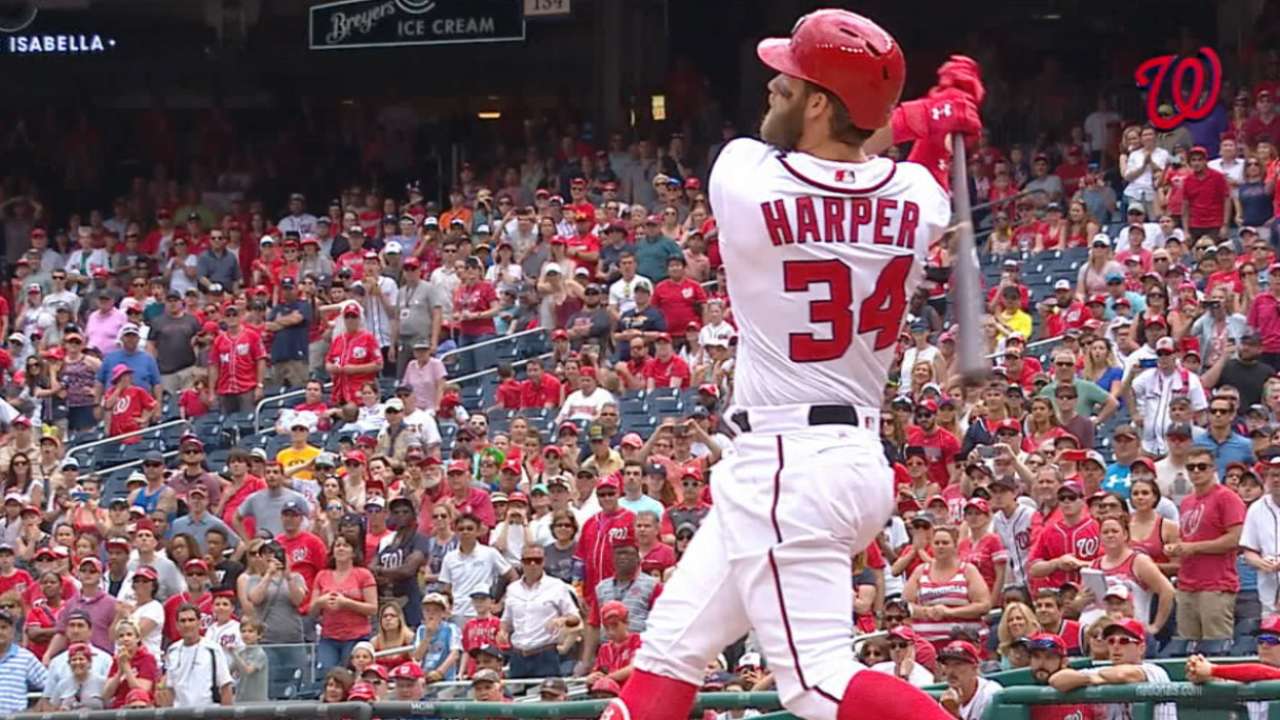 After a frustratingly difficult 2016 season, Bryce Harper hit .354/.475/.688 with four homers in his first 13 games -- then went 4-for-4 with two homers, including a grand slam, in a rout of the Braves. So is he back?
To be honest, the only correct answer to that question is "it's only April 19, Chase Headley is hitting .409, and the Blue Jays are on pace to go 25-137." Which is to say that it's still extremely, hilariously early in the season. You'll remember that Harper had a monster April to begin last year, too, only to fall way back to the pack for the next five months. Nothing he's done so far guarantees that his 2017 season is going to end up looking like his historically good National League MVP Award-winning season in '15.
But with that admitted caveat, if you're looking for reasons to have hope that the MVP version of Harper could make a return, 2017 looks pretty good so far -- give or take 600 or so fewer plate appearances (all the following 2017 stats are through Tuesday).
2015: .330/.460/.649 1.109 OPS
2017: .354/.475/.688 1.162 OPS
Again, you can't simply look at two weeks of baseball and assume it will carry out for the next six months. But in the same way you can look at the velocity of a pitcher coming off an injury to try to see if he's healthy, we might be able to make similar observations about Harper, given that we spent all summer last year talking about a reported neck or shoulder injury he never publicly admitted to. If we think that health was a cause of his 2016 downturn, then a return to health would be a great sign for '17.
"I mean, I know exactly why [I struggled]," Harper told MLB.com's Jamal Collier in February, but he didn't elaborate.
Let's see what the data tells us so far -- both on offense and defense.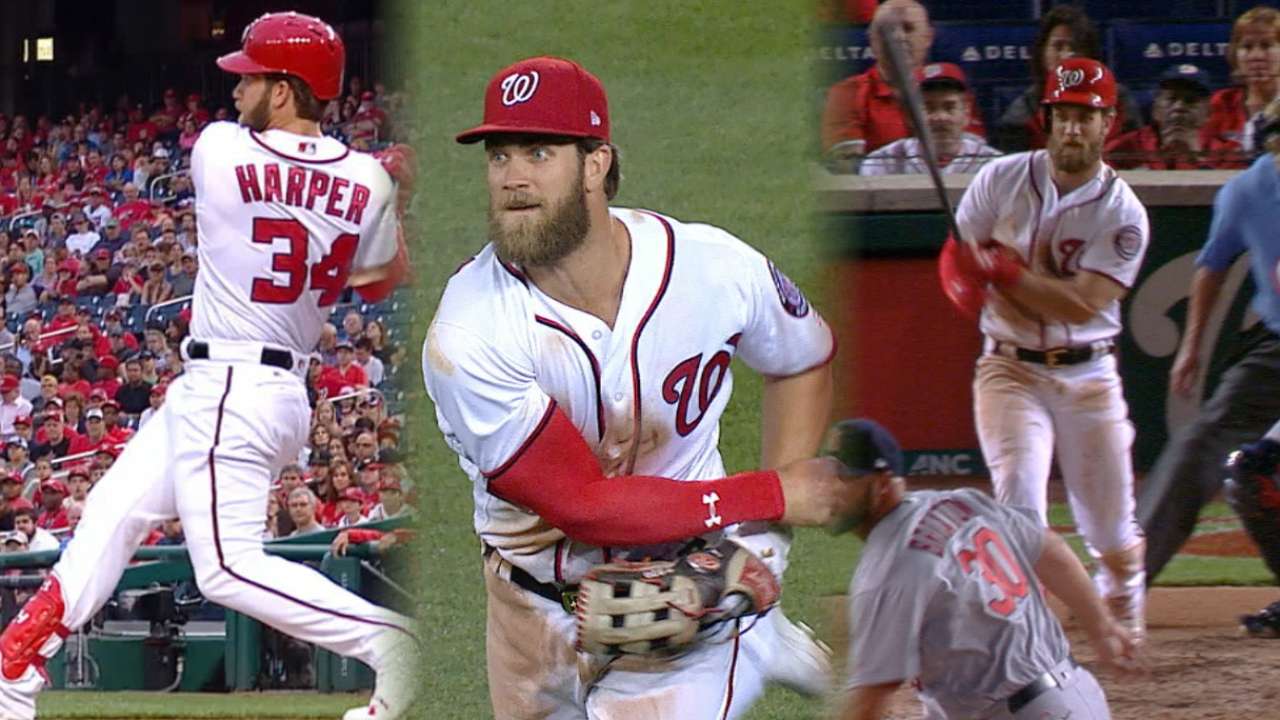 He's hitting the ball harder and higher
While Harper was never an elite exit velocity hitter even in 2015, there was a clear step down in '16. After having an average exit velocity of 91.4 mph in 2015, that dropped to 89.5 mph last year, and it is back up to 92.7 mph so far this year.
That's nice, but we also know that "average" isn't always the best way to look at these things, since it can be greatly affected by the distribution and frequency of the batted balls. Another way to look at it is simply to find the percentage of batted balls hit at 100 mph or higher, which are extremely valuable -- Harper bats .628 over the past three years when he hits the ball at 100 mph or more.
So not only is Harper hitting more of his batted balls hard this year -- 38 percent are 100 mph-plus, up from only 27 percent last year -- he's hitting those balls higher, at a 15 degree launch angle rather than last year's 11 degrees. After all the talk of sluggers trying to elevate, including Harper's teammate Daniel Murphy, we know that hitting the ball hard in the air works. Unsurprisingly, he's getting more value on them, batting .750 on balls hit above 100 mph, after hitting "only" .604 last year.
As you can see in this rolling chart of his exit velocity, Harper experienced a big downtown in his inconsistent 2016, and through Tuesday, his '17 looks much better -- again, in a very limited sample.
He's playing deeper
Why would where Harper is playing in the field affect his hitting? It goes back to questions about health. As we explored last September using Statcast™ data, Harper was playing more shallow as the summer went on -- which would make a tremendous amount of sense for a player who reportedly had soreness in his throwing shoulder.
In a season where the average Major League right fielder started 293 feet from the plate, there were times when Harper was playing so shallow that easy flies turned into doubles, like on Sept. 16, when he was standing just 265 feet away from home and a Gordon Beckham fly that was projected only at 320 feet landed well past Harper for a double.
So how is that looking so far? He's definitely playing deeper.
Harper's positioning, feet from home, 2016
April -- 290
May -- 290
June -- 283
July -- 284
Aug -- 286
Sept -- 280
2017
April -- 288
If you're looking for a sign that Harper's neck and/or shoulder is feeling better, that's some supporting evidence that at least points in that direction ...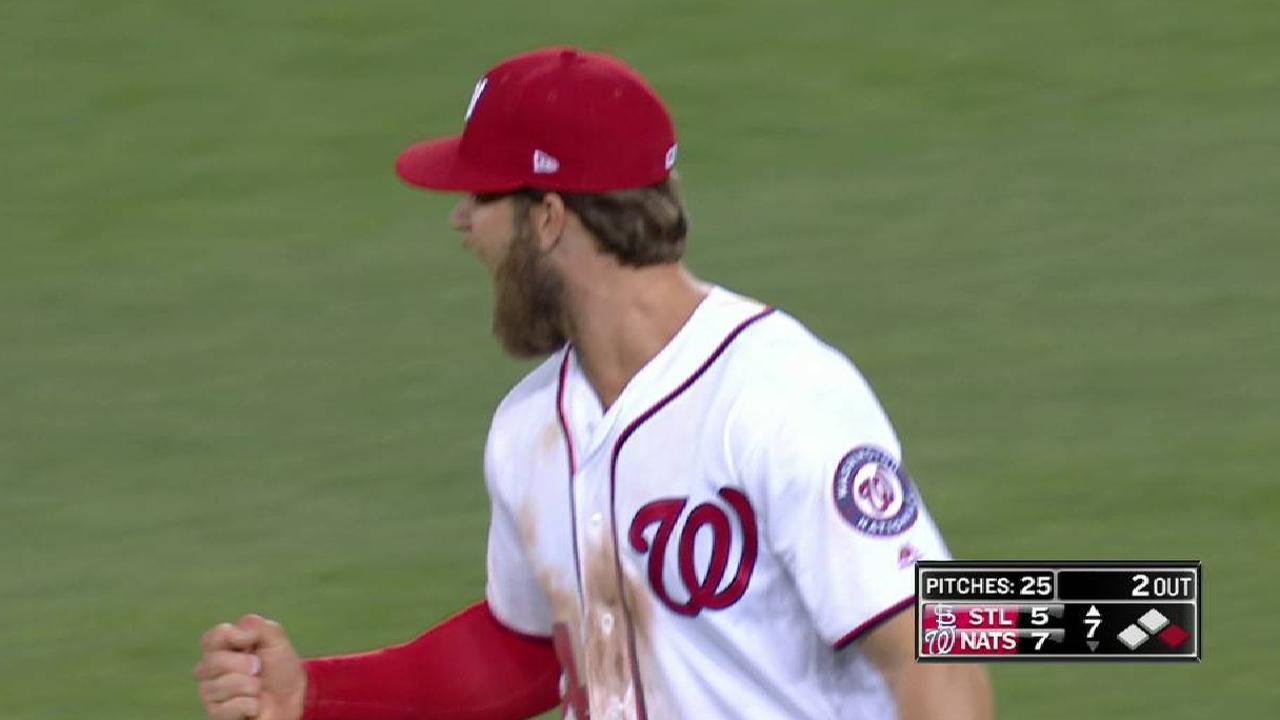 He might be throwing harder
...and so, perhaps is this. Tracking outfield throws is a tricky thing, because the opportunities are relatively sparse. Unlike a hitter who's guaranteed three or four plate appearances per night, outfielders have the chance to show off their arms only a few times each month. For Harper, he's had fewer than a dozen tracked throws this year, and most of them were simple lobs back in after base hits or fly outs.
So take what follows with the appropriate grain of salt, more to file it away as "something to watch this year." In 2015, Harper's average strength on "max-effort throws" was 95.3 mph -- one of the 10 best marks in baseball. Last year, that not only fell to 93.8 mph, but like everything else, it got worse in the second half -- before the All-Star break, he had 15 throws of 90 mph or above, and after, there were only five.
We don't have enough data this year to truly say Harper's arm strength is back, but we do have a single data point that's extremely interesting. On April 8 against the Phillies, Harper tried to throw out Cesar Hernandez at the plate, and while he was unable to get the speedy Hernandez, the throw was tracked at 99.5 mph. It wasn't just the hardest throw of his career, it's the hardest tracked throw by any outfielder in the 2017 season so far. It's a good sign of a healthy shoulder.
So is Harper "back?" We don't know, and we won't for a while. What we do know is that the limited signs we've seen so far seem extremely positive. After all, there had to be something keeping Harper down last year, as he alluded to. If that's no longer an issue, all systems are go for a monster year.
Mike Petriello is an analyst for MLB.com and the host of the Statcast podcast. He has previously written for ESPN Insider and FanGraphs. This story was not subject to the approval of Major League Baseball or its clubs.