Hand an incredibly durable relief weapon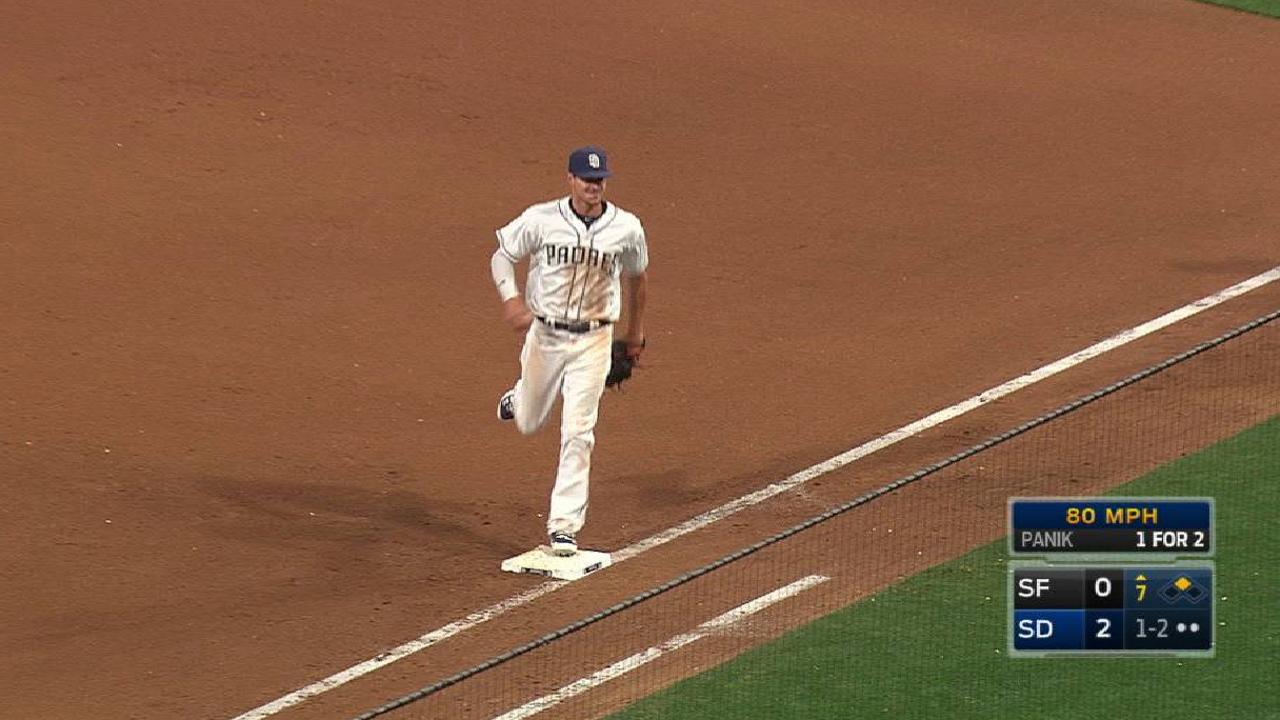 SAN DIEGO -- Brad Hand might be the best relief pitcher no one is talking about.
Since Hand joined the Padres at the beginning of the 2016 season, he owns a 2.75 ERA and has struck out 116 hitters in 95 innings. On top of that, no pitcher in baseball has appeared in more games during that time.
The Padres view Hand as an incredibly durable relief weapon -- a lefty with a high strikeout rate who can retire batters from both sides and pitch multiple innings if needed. Sound familiar? Ideally, they'd like to use him much in the same way the Indians have used Andrew Miller.
Thing is, those situations haven't arisen quite so frequently this season. The Friars claimed Hand off waivers during the first week of the season last year. They would use him 82 times. This year, he's pitched six times in 15 games.
"It's actually been OK getting eased into the season," Hand said. "The first nine days, it felt like I was up in the bullpen every day. I may not have gotten in the game, but I was still up in the bullpen."
In 5 2/3 frames, Hand has yet to give up a run this year, while allowing just one hit and two walks. As he was quick to note, he's gotten loose in the bullpen on at least three other occasions as well.
"He's been up in circumstances that have flipped on us quickly a couple times this year," said Padres manager Andy Green. "He's not going to pitch in blowouts. He's not going to pitch in situations that aren't crucial to us and our success."
The biggest key to Hand's improvement might be his slider. He began tinkering with the pitch with Miami in 2015. In a July outing at Petco Park, then-Marlins catcher Jeff Mathis called for a slider, somewhat out of the blue. It was still extremely raw. Hand blew it by Alexi Amarista, and a new putaway pitch -- to complement his already effective curveball -- was born.
"In the Minors, my curveball was always my out pitch," Hand said. "But it's a little bit harder to throw for strikes. So I just tried to add a slider. It's a smaller break, in the zone more. ... The slider has become more of my putaway pitch."
In the past two seasons, opponents are hitting just .135 against Hand's slider. They're hitting .118 against his curveball.
If casual fans haven't taken note, people inside baseball certainly have. Green pointed to a recent conversation with a high-ranking executive, who made a point to call Hand's stuff "nasty."
There's also the matter of Hand's durability.
"He wants to pitch every single day," said Green. "It probably means we're winning a lot if he's pitching every single day, so I want him to pitch every single day, too.
"I've never seen somebody get stronger the more you use him. He gets noticed from people in baseball."
AJ Cassavell covers the Padres for MLB.com. Follow him on Twitter @ajcassavell. This story was not subject to the approval of Major League Baseball or its clubs.