Chacin turns in yet another dominating start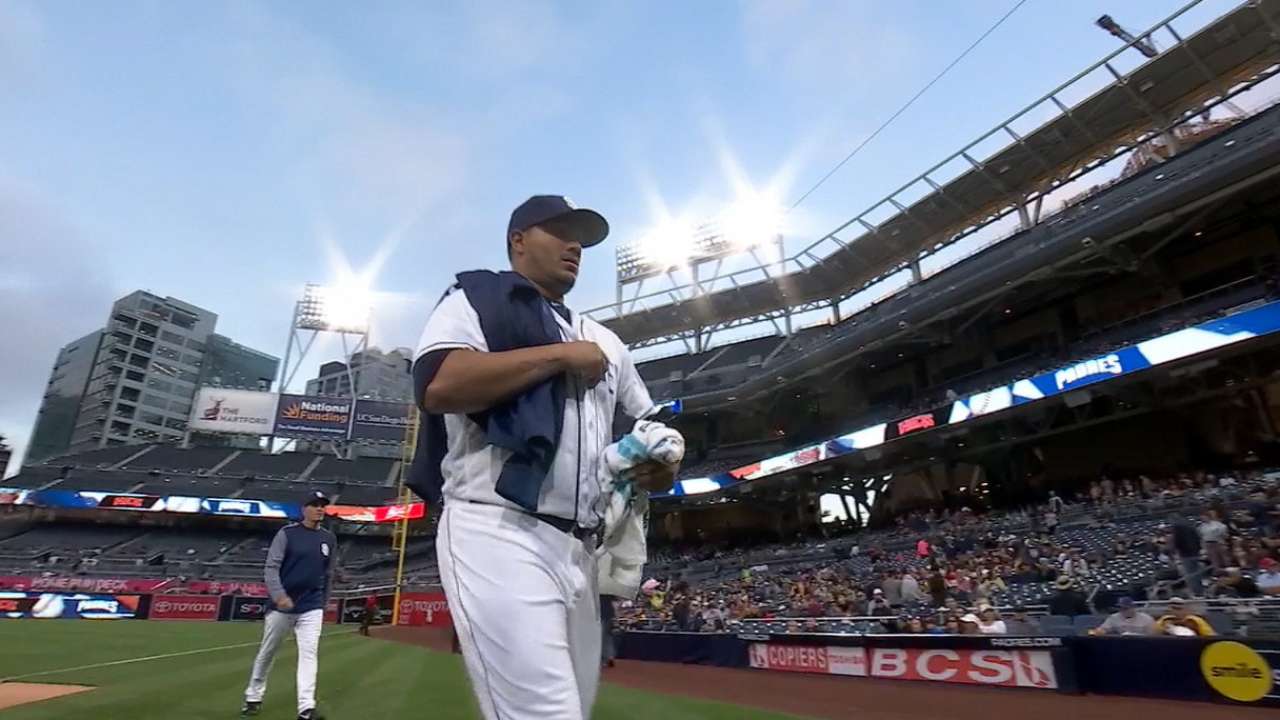 SAN DIEGO -- Austin Hedges' glove gave the best indication of Jhoulys Chacin's dominance on Wednesday night.
In the Padres' 1-0 victory over the D-backs, Chacin allowed only three singles and a walk over eight scoreless innings. He peppered both corners of the plate, and Hedges never once found himself reaching back over the heart of the dish.
"If he missed, it was where we wanted to miss," Hedges said. "The big thing with him is: if you miss with the sinker, miss down. If you miss with the slider, miss down or off the plate. Tonight, he did."
Added Padres manager Andy Green: "His fastball was dotted up all night long. When he wasn't getting the fastball, it was just an inch off the plate. They were always borderline, wasn't much over the heart of the plate."
In two starts at Petco Park this season, Chacin has yet to allow a run. He blanked the Giants for 6 2/3 frames in his home debut. He was better Wednesday.
Chacin walked D-backs leadoff man A.J. Pollock, who advanced to second base on Paul Goldschmidt's groundout. No other Arizona hitter reached second against Chacin, who retired the final 14 hitters he faced.
Entering Wednesday's start, Chacin said his goal was to ease some of the burden on the bullpen, which was called into action early on Tuesday when starter Jarred Cosart was removed early with a hamstring injury.
"I'm really happy I was able to go deep in the game," said Chacin. "Especially with the injury Cosart had yesterday, giving the bullpen a little break is something I'm happy about."
Chacin struck out five D-backs, inducing a handful of weak swings and very little solid contact. His most impressive showdown of the night came against Goldschmidt with two outs in the sixth.
Chacin fell behind Goldschmidt, the D-backs' best hitter, 3-1. Then, he painted the outside corner twice with a pair of devastating sliders -- the second of which Goldschmidt could only flail at.
"[He was] just mixing it up," said D-backs catcher Jeff Mathis, who went 0-for-3 against the Padres' right-hander. "He had a good slider working tonight that was keeping us off-balance."
Chacin, who made four starts for the D-backs in 2015, has now out-dueled Zack Greinke and Madison Bumgarner at Petco Park this season. Both were handed complete-game losses at the hands of Chacin. On Wednesday, Erick Aybar's solo shot in the eighth proved to be the difference.
"He's just a really good competitor in general," Hedges said of Chacin. "I don't think it matters who he's facing. Obviously when you're going out against Greinke, one of the best in the game, I'm sure he's aware about it. I'll take him about there against anybody."
AJ Cassavell covers the Padres for MLB.com. Follow him on Twitter @ajcassavell. This story was not subject to the approval of Major League Baseball or its clubs.