MLB.com Columnist
Tracy Ringolsby
Desire to win keeps driving Bochy
Giants manager's competitive spirit not dampened by recent health issues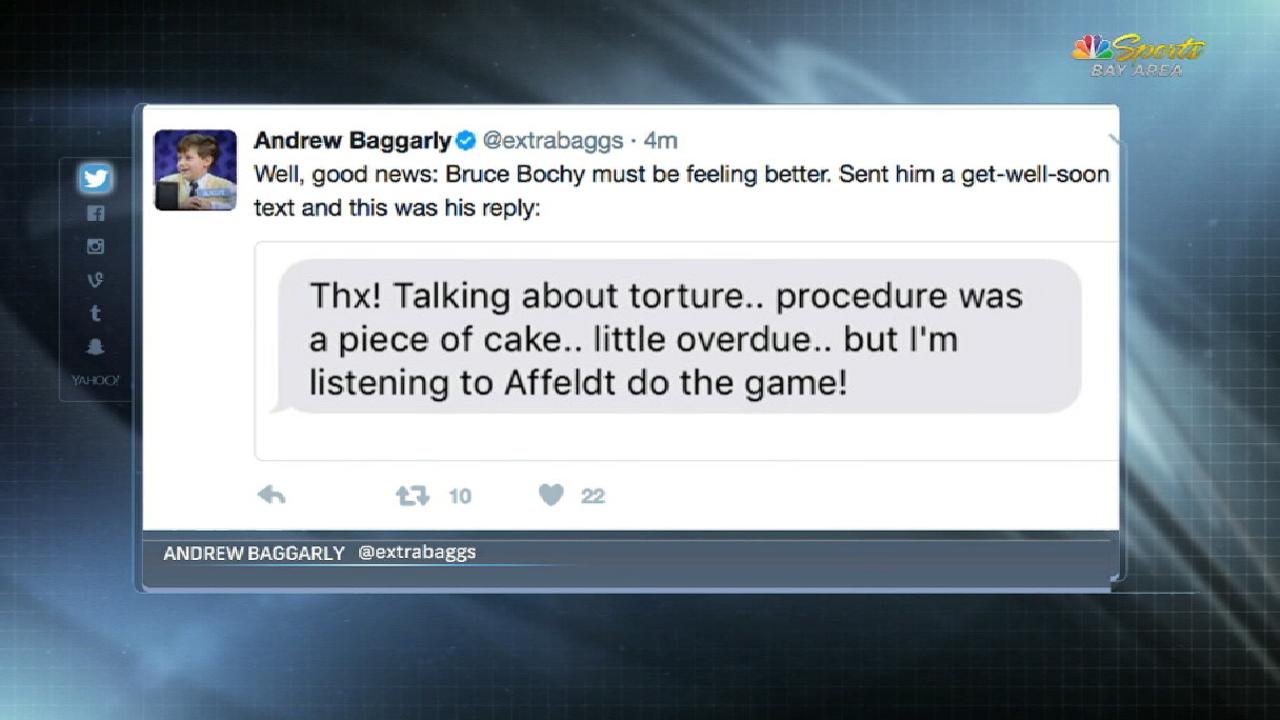 Giants manager Bruce Bochy has those sleepy eyes, that slow way of speaking, but don't be deceived. He is the game's ultimate warrior.
Bochy's bio carries the notation that he is one of eight French-born big league players in history, the first European-born manager to take his team to the postseason and the first French-born manager to win a World Series.
The rest of the story is Bochy was born in France because his father, Sgt. Maj. Gus Bochy, was stationed in France at that time.
During his youth, Bochy also lived in the Panama Canal Zone, South Carolina, northern Virginia and Melbourne, Fla., where he went to high school.
Given his childhood, nobody should be surprised at Bochy's passion for the competition in a baseball game, and his ability -- despite a deceiving appearance -- to map out a strategy that has earned him the distinction as a manager who has three times in this decade taken an underdog Giants team to a World Series championship.
So trust Bochy when he adamantly says he has no plans to call it quits -- even if he is missing his team's two-game visit this week to Kansas City for an Interleague rematch with the club the Giants beat in the 2014 World Series -- because he underwent a procedure to repair an abnormal heart rhythm on Monday in San Diego.
That comes after Bochy missed a portion of Spring Training in 2015, when a blocked artery led to the insertion of two stents, and then an incident last August, when he was hospitalized overnight and missed a game because of arrhythmia while the Giants were in Miami.
Bochy, who turned 62 on Sunday, doesn't flinch at this latest heart-related issue. He joked in an exchange of text messages with Andrew Baggarly, the Giants' beat writer for the San Jose Mercury News, that he was doing fine, other than having to listen to the broadcast debut of former Giants reliever Jeremy Affeldt .
"Talking about torture …" Bochy texted.
Don't get the wrong idea. Bochy isn't making light of heart problems. His father was 65, three years older than the manager, when he suffered a fatal heart attack in 1990.
Bochy, however, is driven by the competition. Asked about concerns that his health could force him to call it a career this spring, Bochy shook his head.
"It's what I love to do," Bochy said. "I respected that way [former third-base coach Tim Flannery] was able to walk away, but I'm still hungry. I want to win again."
Now in his 23rd season as a big league manager, having taken both the Padres and the Giants to the postseason four times each and winning the World Series with San Francisco in 2010, '12 and '14 has merely whetted Bochy's appetite.
Another detour to the hospital hasn't taken Bochy's mind and eyes off the destination he wants to reach. He's never been a quitter.
This is a man who spent nine years in the big leagues as a backup catcher, never once appearing in as many as 100 games in a season. A year after his playing career ended in 1987, Bochy was managing in the Padres' Minor League system.
Bochy's teams won three league titles in four years down on the farm, which led to him being named the Padres' third-base coach in 1993 before he took over as manager in '95. He walked away from San Diego after back-to-back National League West titles in 2005-06, following a change in the Padres' upper management and a feeling the new bosses wanted their own man in the dugout.
But Bochy wasn't out of work long, though. He quickly signed a multiyear deal with the Giants. Bochy has been there since, and that competitive drive has not waned.
Think about it. Bochy underwent a heart procedure on Monday. But he fully expects to be back in the dugout on Friday night.
Tracy Ringolsby is a columnist for MLB.com. This story was not subject to the approval of Major League Baseball or its clubs.