One bad pitch spoils Greinke's stellar start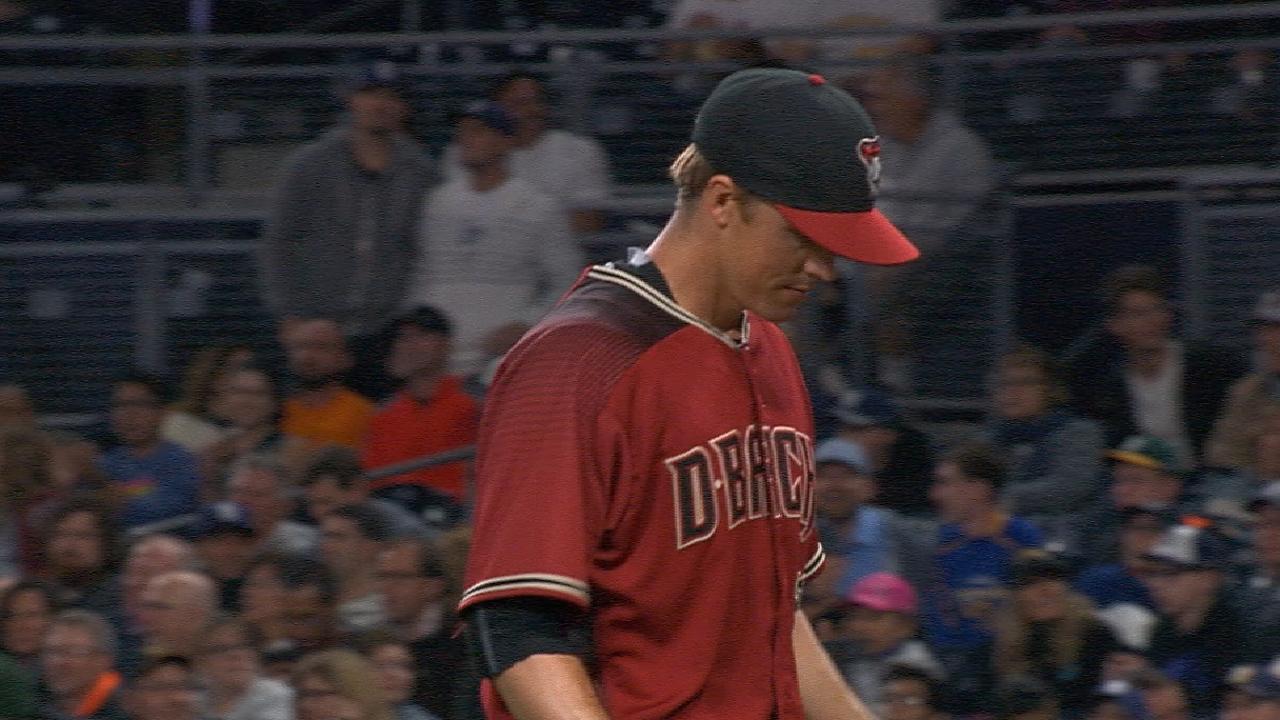 SAN DIEGO -- As he hopped off the first-base side of the pitcher's mound on his follow through, Zack Greinke couldn't help himself. He said out loud, "Nice take."
Indeed, Padres shortstop Erick Aybar had found a way not to bite on Greinke's eighth-inning curveball that was oh so close to being strike three, but instead was called ball three.
Greinke decided to throw a slider with his next pitch in almost the same spot, but this one was too much of a strike and Aybar smacked it down the right-field line for a home run as the D-backs fell, 1-0, to the Padres on Wednesday night at Petco Park.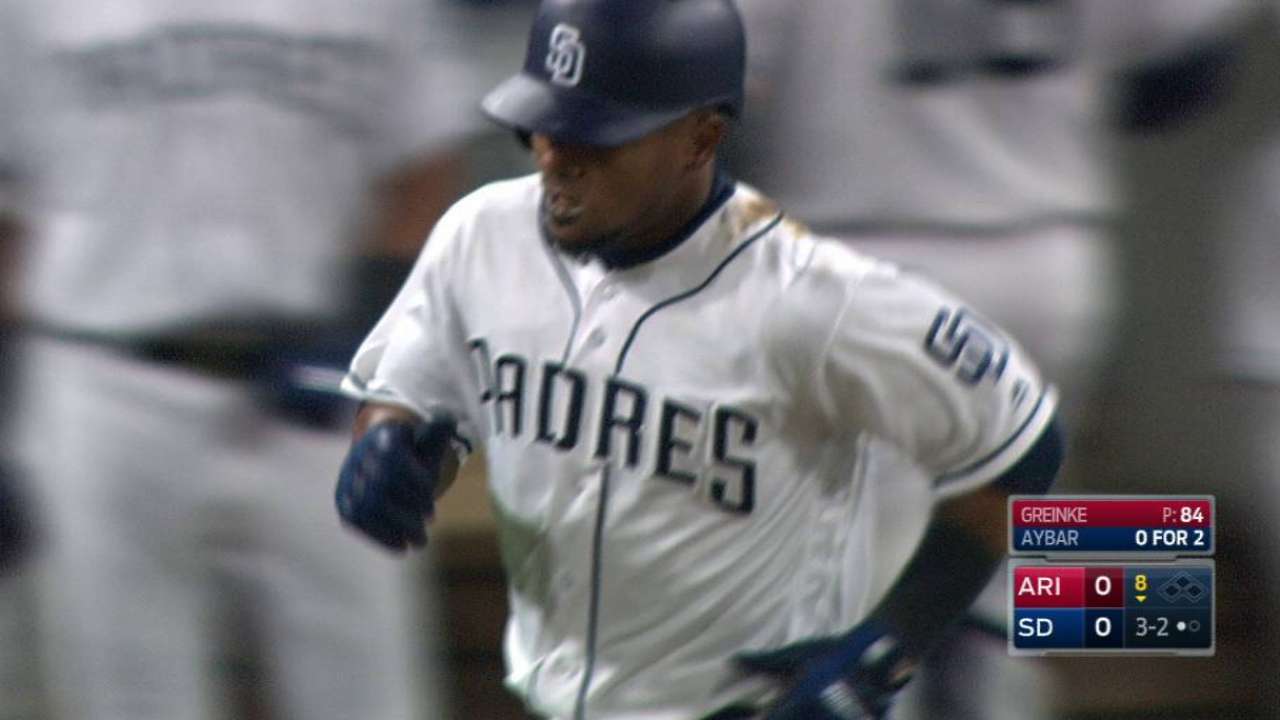 "I definitely could have made a better pitch right there," Greinke said. "It was a tough loss. I was trying to throw like a borderline strike. I would have been happier with a ball than an inch or two over the plate. Just not a very good pitch. He's going to do his most damage on a strike inside like that. It was just not the best [pitch]."
The pitch before, the one that Greinke couldn't believe Aybar was able to take, was close to the zone, but neither Greinke nor catcher Jeff Mathis thought the pitch should have been called a strike.
"I was like, 'I can't believe you took it,' but I knew it was a ball at the same time," Greinke said. "It was close, but I knew it was a ball but I was surprised he didn't swing at it. It didn't really cross my mind that it was going to be called a strike."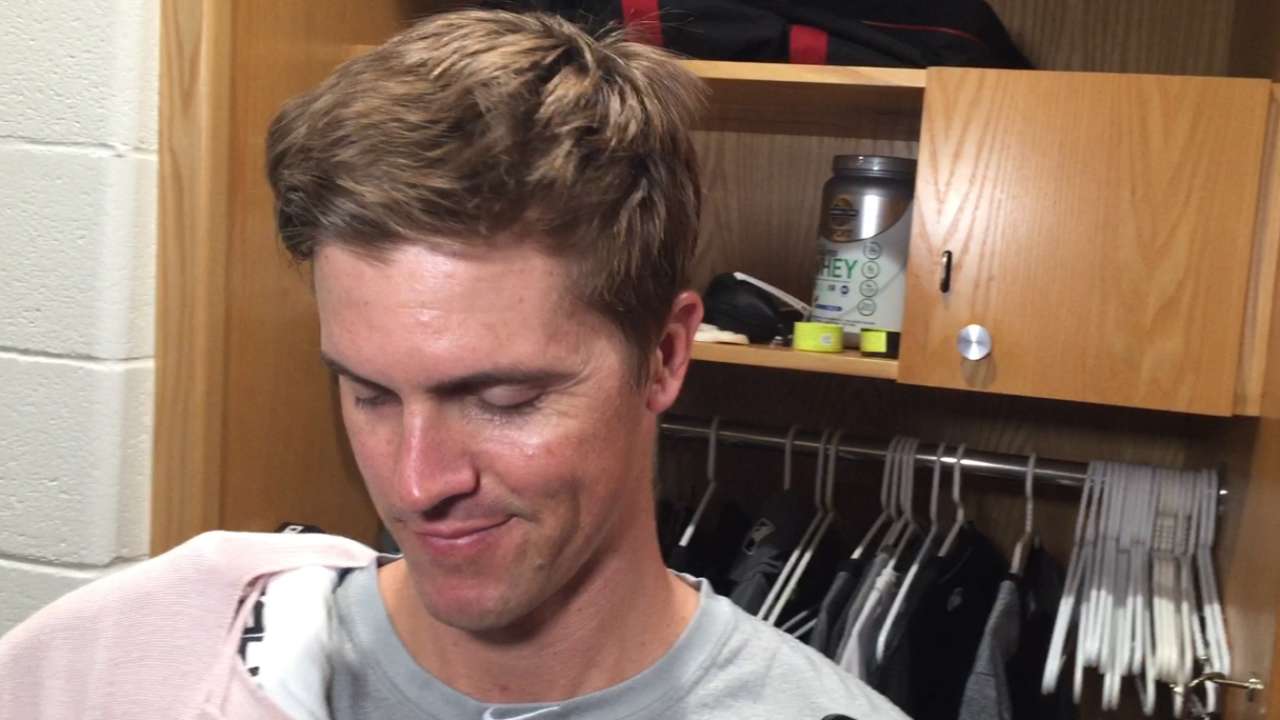 Mathis and Greinke also did not regret the pitch selection on the home run.
"Not at all," Mathis said. "He was throwing the pitch really well tonight. I think he would say the same thing. We just didn't get it quite where we wanted it."
While it still resulted in a loss, the outing was a big improvement from Greinke's last start on Friday, when he allowed five runs on 10 hits over five innings against the Dodgers.
"The command got a lot better," Greinke said. "I tried to make some adjustments. I didn't really do too much different, to tell you the truth."
Maybe not, but there was a huge difference in performance.
"He knows how to pitch," said Aybar. "He can throw you whatever pitch in whatever count. ... He's tough. Every day when he's on the mound, you have to compete. Everybody knows he can pitch."
The Padres did not reach second base until Aybar touched it after his homer and until the three hits in the eighth, Greinke had allowed just four baserunners, one of which reached on an error.
"Zack did exactly what he was supposed to do," D-backs manager Torey Lovullo said. "He gave us eight great innings. He was on the attack. I think he had a four-pitch mix that was in and out of the zone. There was a good rhythm to this game."
Just not a good end result.
Steve Gilbert is a reporter for MLB.com. Follow him on Twitter @SteveGilbertMLB. This story was not subject to the approval of Major League Baseball or its clubs.