Miller in a 'good place' after topping Padres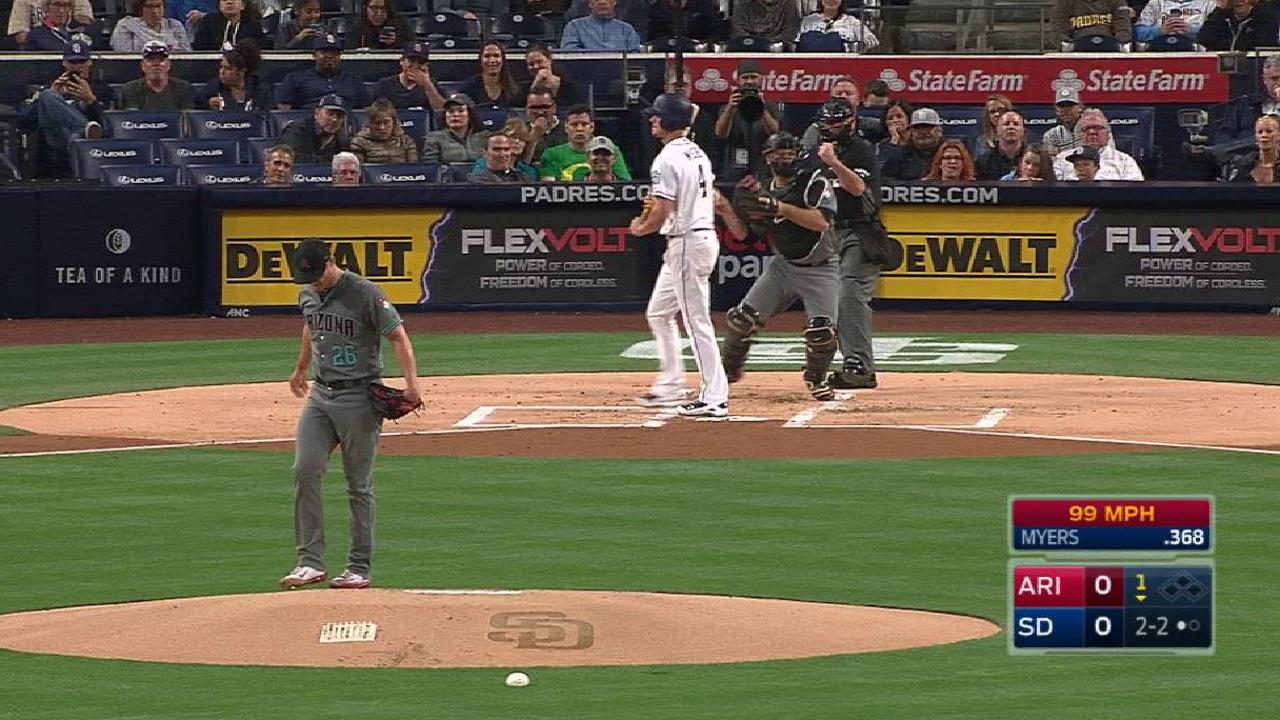 SAN DIEGO -- Shelby Miller admitted that when he walked into the visitor's clubhouse at Petco Park on Tuesday night, he could not help but think back to almost a year ago to the day when he last pitched here.
On April 16, 2016, the D-backs right-hander banged his pitching hand on the mound twice during the follow through of his delivery rendering his fingers numb and forcing him to leave in the second inning.
This time around Miller was a dominant force for the D-backs, reaching up to 99 mph with his fastball and allowing just one run over 7 1/3 innings as Arizona beat the Padres, 11-2.
"Yeah, that was crazy," Miller said thinking back to last year. "That had never happened to me before ever. I don't even know how to explain that or even where to start."
Miller reported to Spring Training this year ready to put the nightmares of last year behind him and all signs so far have been positive.
After a solid spring he had a couple of good starts before Tuesday's outstanding effort. Through it all, though, there is just a different confidence in the way he goes about his business.
"He's definitely confident," D-backs pitching coach Mike Butcher said. "He's in a really good place. I know I keep saying the same thing, but he's in a really good place mentally, physically, emotionally. Tonight was a big night for him to go out there and pitch well. It was just really good to see."
Miller's two wins so far this season may not seem like much, but consider that he had just three all of last year and six the year before that with the Braves.
"My biggest thing was to try to get back to winning, not only for myself but for the team," Miller said. "I think we're in a great place. It's just all kind of coming together for us. We have to continue playing the baseball we're doing and we'll be in great shape."
One of the biggest differences for Miller this year has been his mechanics.
Whereas last year they were so out of whack that he had trouble controlling his fastball and hit his hand on the mound, this year his delivery looks free and easy.
Miller spent the winter working on those mechanics, specifically on making sure that he got the ball out of his glove quicker during his windup. When he does that it's easier to keep everything together.
"I'm in a good place mechanically, in a place where I can throw a lot of strikes, be around the strike zone and get guys out," Miller said. "The biggest thing is capitalizing off of that and keep going and making sure my mechanics are smooth and stay smooth."
Steve Gilbert has covered the D-backs for MLB.com since 2001. Follow him on Twitter @SteveGilbertMLB. This story was not subject to the approval of Major League Baseball or its clubs.