Triggs' hot start to '17 just what A's needed
Righty has opened season with 17 2/3 innings without an earned run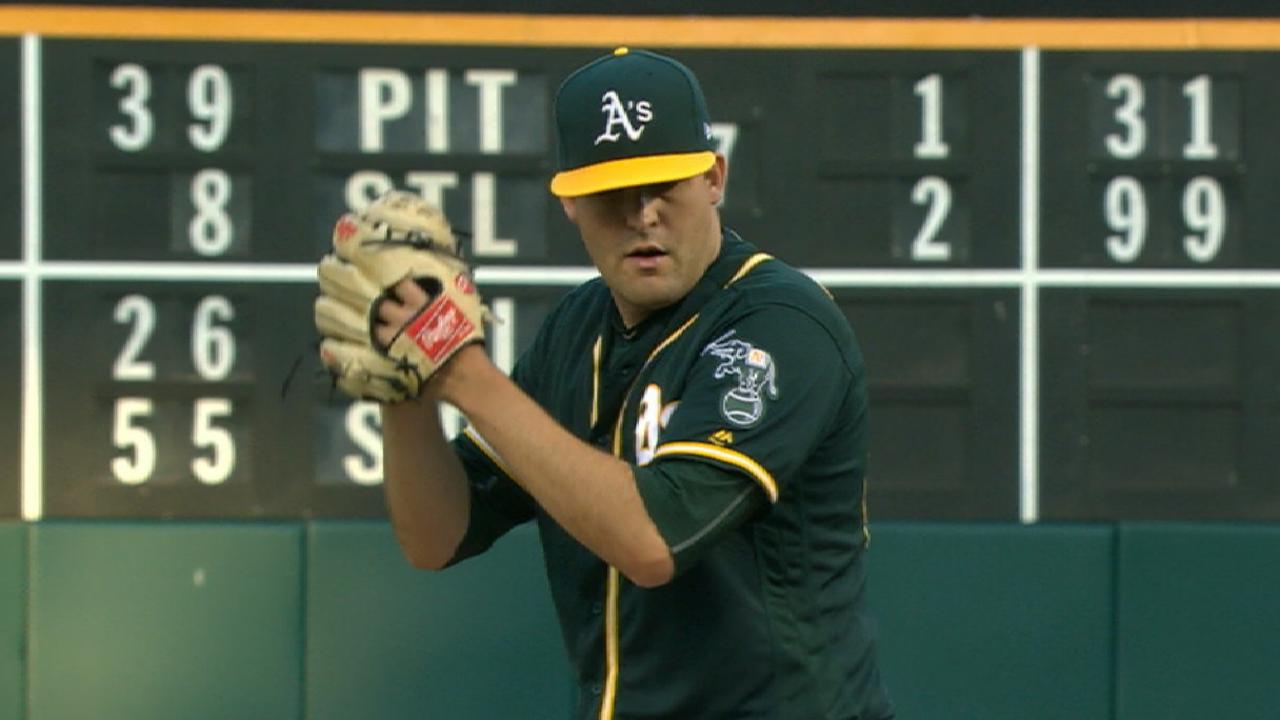 OAKLAND -- Andrew Triggs, the not-long-ago reliever who was gifted a rotation spot despite a troubling spring, is quietly proving his worth as a starter on an A's club in desperate need of performances like the one he provided Tuesday night.
Triggs helped Oakland put a four-game losing streak to rest with yet another standout performance, this one against a potent, lefty-heavy Rangers lineup that managed only three hits against him. The A's righty needed just 76 pitches to get through six innings before letting the bullpen finish off a 4-2 win.
Triggs allowed two runs, but both were unearned, meaning he's yet to allow an earned one this season, over a stretch spanning 17 2/3 innings -- the longest season-opening streak by a starting pitcher in Oakland history.
This, after he was rocked for 21 earned runs in 23 1/3 Spring Training innings.
"Pretty amazing," A's manager Bob Melvin said. "Based on what we saw last year, we were hoping for some success, get him ready during spring, use him as a starter and kind of prepare him for that role. But to do what he's done to this point, I'm not going to say it's a surprise, but it's definitely welcome."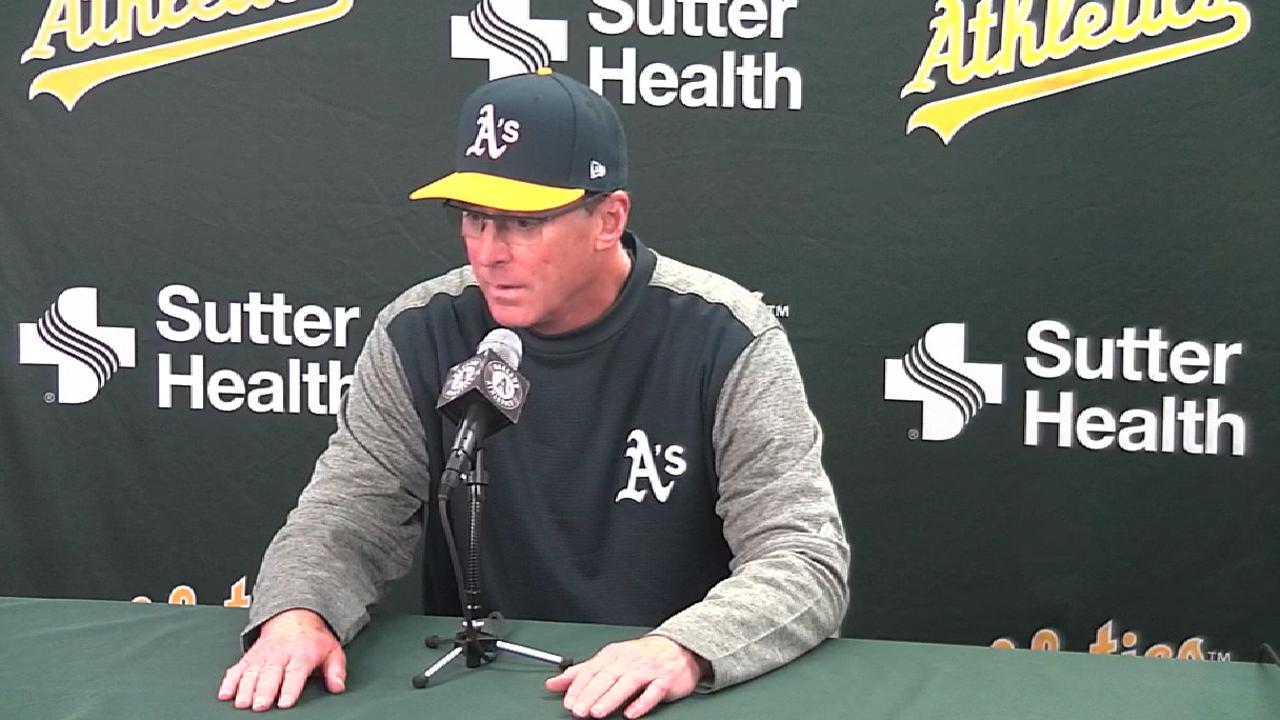 "This spring, I really just wanted to come in and work on some pitches," Triggs said. "I felt like if I can attack with my best stuff and mix pitches, we'll be in a good position. It's been fun, but at the end of the day it's about winning series, so I'm glad we have an opportunity to do that tomorrow."
The A's snagged Triggs off waivers last spring and brought him up in late April to make his debut out of the bullpen. By June, he was being called on to make a start for an injury-ravaged rotation, and by season's end, the A's front-office brass was touting him as a shoo-in for this year's mix.
Triggs has certainly made good on the decision, most recently outdueling Rangers starter Yu Darvish with an effective mix of pitches. The two pitchers exchanged zeros over the course of the first five innings, before both found trouble in the sixth. Triggs fared better.
An error and a wild pitch led to the game's first run, and the Rangers stole a second run with their running game, but Triggs did what Darvish couldn't and limited the damage. By the end of the sixth inning, the A's had a two-run lead.
"My gosh, to get those runs for him was so important," said Adam Rosales, who homered. "He's doing really well commanding his pitches. The pace of his game is great. It's fun to play behind."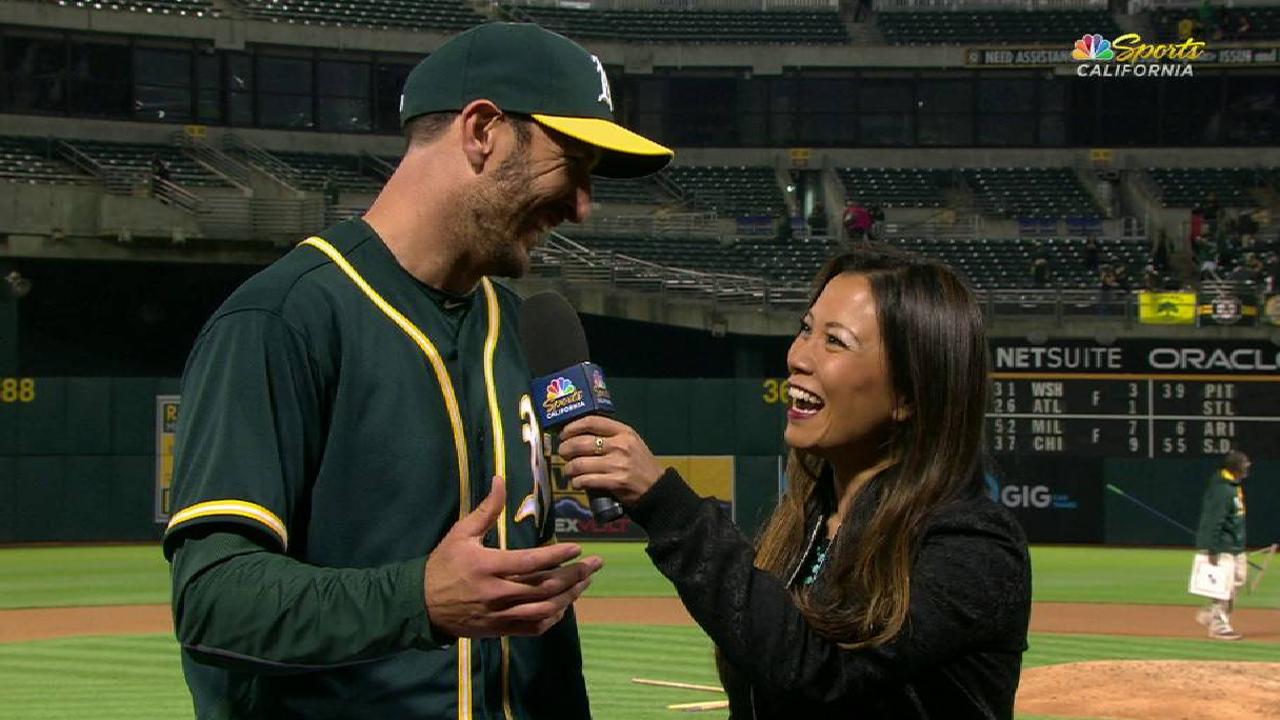 The gloom of Oakland's four-game losing streak was magnified by a string of untimely bad news, with the A's losing shortstop Marcus Semien to wrist surgery, and right-hander Kendall Graveman to a shoulder strain for at least one start.
With Sonny Gray (lat) also out because of injury, Graveman had been cast as the A's ace, their go-to guy. Triggs, too, has been pitching like one.
"It's not just us, he has been throwing the ball extremely well," Rangers manager Jeff Banister said. "It's a little different delivery and a challenge to pick it up. He moves the ball well in both directions."
Jane Lee has covered the A's for MLB.com since 2010. This story was not subject to the approval of Major League Baseball or its clubs.