After rough weekend, 'pen bears down
Maddon says confidence is key for Cubs' relief corps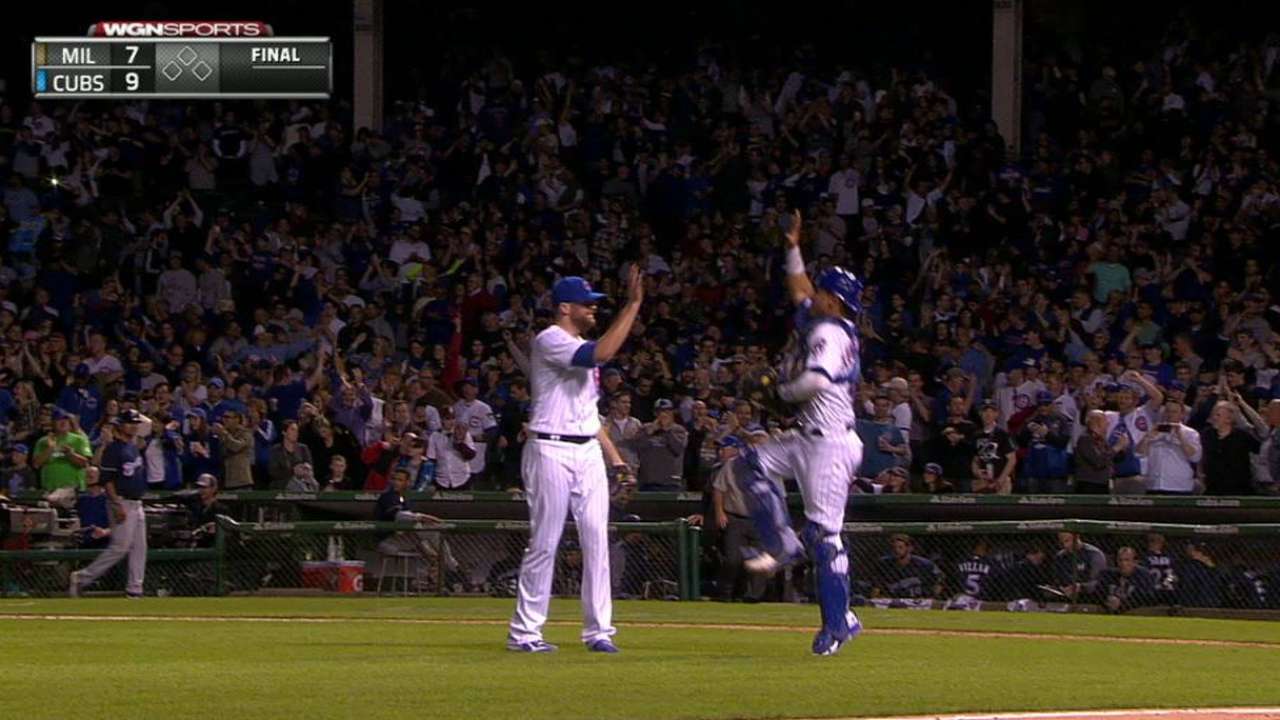 CHICAGO -- Joe Maddon felt a lot better about his bullpen Tuesday night. The Cubs had blown a save in three straight games against the Pirates over the weekend, and couldn't stop the Brewers on Monday, but all was well in a 9-7 victory over Milwaukee as five pitchers combined for 5 1/3 innings of relief to help end a four-game losing streak.
Closer Wade Davis, who has yet to allow an earned run in seven appearances, pitched a 1-2-3 ninth for his third save in three opportunities.
"We're going to be fine out there," Maddon said of his relief corps. "It's all about confidence. We have to keep getting them out there. As they get more successful innings, their confidence will come on. They're really good. We have great arms."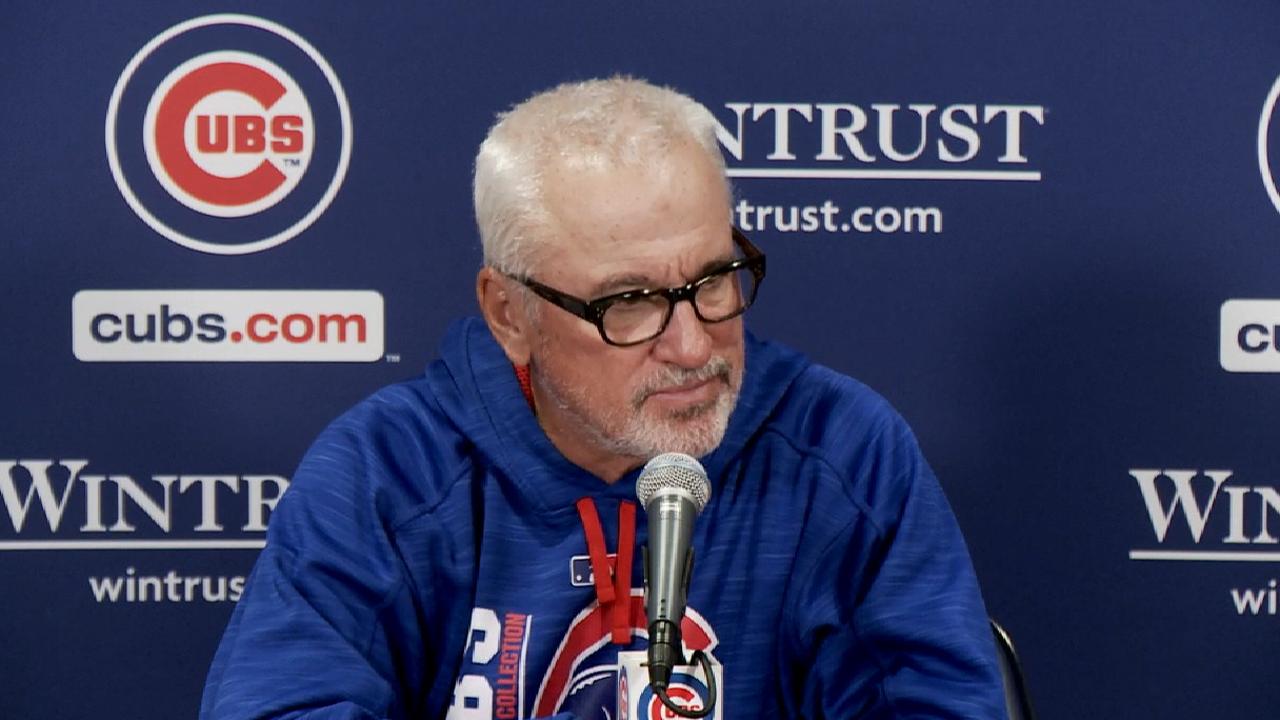 A perfect example is Hector Rondon, who struck out two of the four batters he faced. He now has not given up a run in his past three outings.
"He's more on time with his slider, meaning he's getting more on top," Maddon said of the right-hander. "You can see the break. It's down, it's where it's supposed to be. He's thrown some really well located fastballs down and away. He was hitting the glove. As Ronnie gets his confidence and his slider is back where it's supposed to be, he's going to take off again."
Rondon, who had a rough Spring Training, and didn't fare well in the World Baseball Classic for Venezuela, said he's made a few tweaks, such as lowering his hands to help his angle to the plate.
"I still don't feel right with my mechanics," Rondon said. "I know it'll take a little more to get my velocity back and hopefully, everything will be good."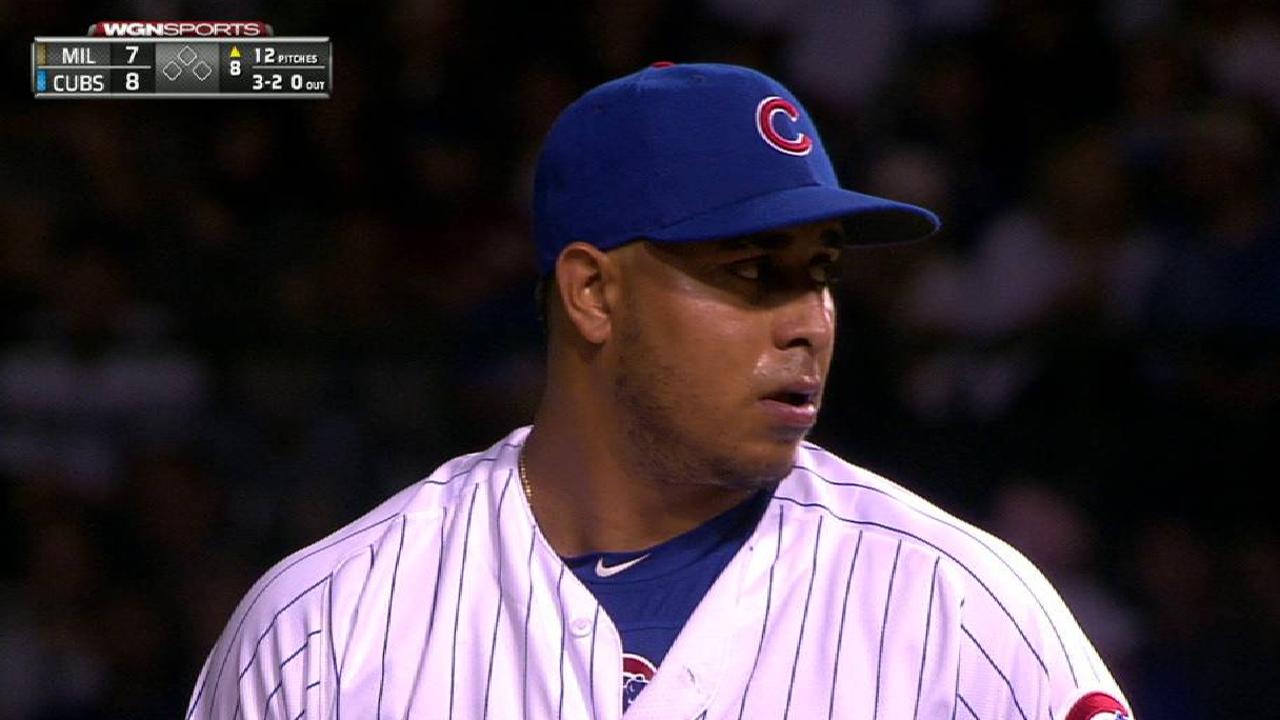 "Rondon has been throwing the ball great," catcher Miguel Montero said. "Ever since he changed his delivery, he's been on line a lot better. His breaking ball looks a lot sharper now. We all needed to get comfortable."
That includes starter Brett Anderson, who needed the bullpen's help after an abbreviated start. He served up six runs over 3 2/3 innings.
"This is one of the few starts I've given up that many runs and been on the positive side of it," Anderson said. "All things considered, we'll take the win any way we can get it, at least right now."
"They pitched well at the end of the game," Brewers manager Craig Counsell said. "They got to their guys. It was an incredibly difficult night to pitch, for sure. The balls in the air -- it probably evened out for both teams, really."
Anderson is still learning about the wind at Wrigley Field.
"It's kind of bipolar in nature," he said of the ballpark.
Carrie Muskat has covered the Cubs since 1987, and for MLB.com since 2001. She writes a blog, Muskat Ramblings. You can follow her on Twitter @CarrieMuskat and listen to her podcast. This story was not subject to the approval of Major League Baseball or its clubs.