No HR for Thames, but he keeps on raking
Sets Brewers record with hit in 12 straight start to open season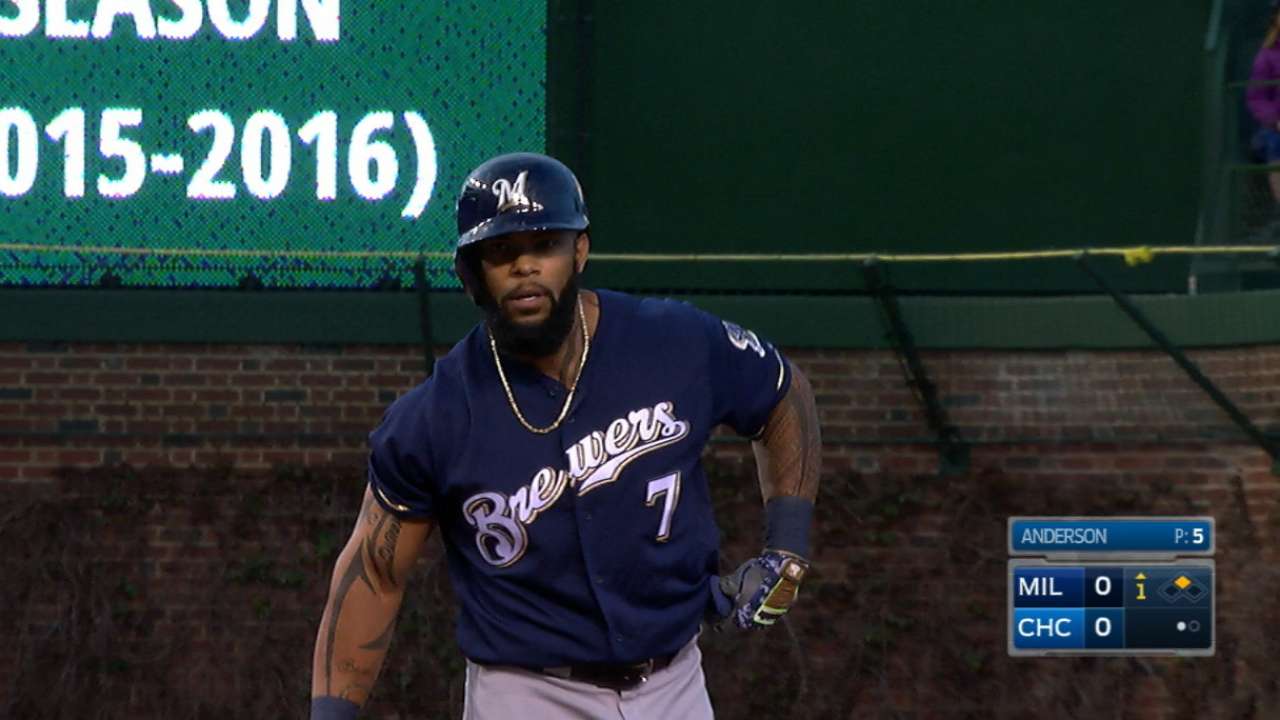 CHICAGO -- Eric Thames stopped hitting homers, at least for a night. But that did not mean he stopped hitting altogether.
Thames doubled in each of his first two at-bats and added a single in his third trip to the plate -- all against left-handers -- but the Cubs kept him in the park on the way to beating the Brewers, 9-7, at Wrigley Field on Tuesday. A game-ending foul pop ended Thames' bid for what would have been a franchise-record sixth consecutive game with a home run.
His five-game homer streak tied Jeromy Burnitz for the longest such run in Brewers history. Thames did break another club record Tuesday when he hit safely in a 12th straight start to open the season. Dickie Thon had owned the previous mark since hitting safely in his first 11 starts in 1993.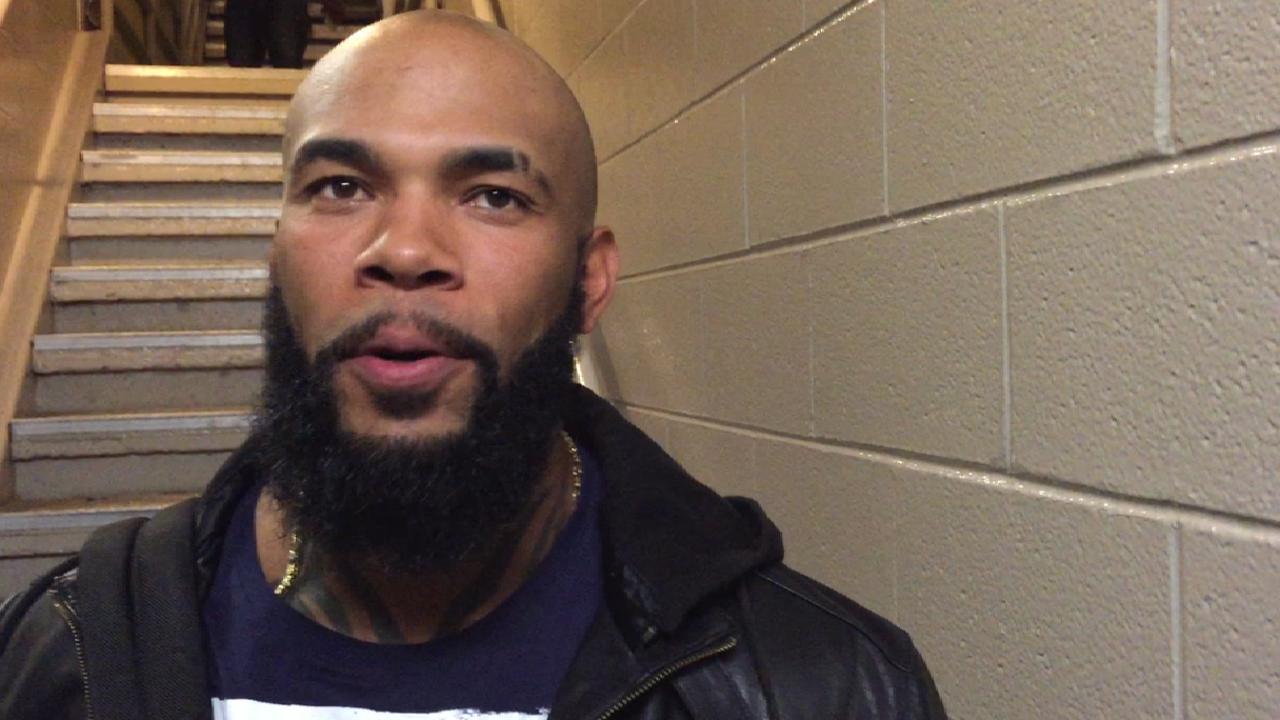 "He doesn't have a lot of holes in his swing," said Cubs catcher Miguel Montero. "We went in, and he covered inside. We went away, and he covered it. We went breaking ball, and he covered it. The one out against [Carl Edwards Jr. in the seventh] was a bullet to left field. He's swinging a hot bat. I know the feeling because I've been there. When you're swinging good, it doesn't matter what they throw you."
Thames has been swinging it for some time now. His 1.491 OPS leads the Majors, as does his 291 weighted runs created plus -- a useful measure of offensive production because it accounts for ballpark factors.
For the old schoolers, Thames' .426 batting average trails only the White Sox's Avisail Garcia.
"He's obviously seeing the ball very, very, very well and as a hitter it's a good feeling when you're in a groove like that," said fellow Brewers newcomer Travis Shaw, who outdid Thames by hitting a solo home run in addition to two doubles Tuesday. "Homers in five straight, that's impressive. … We don't expect him to hit .500 the rest of the year, but just keep doing what he's been doing."
Thames' game-ending out highlighted the challenge of his return to Major League Baseball after a year in the Minors followed by three in South Korea. Thames faced the nasty cutter of Cubs closer Wade Davis, one of baseball's most well-respected relievers.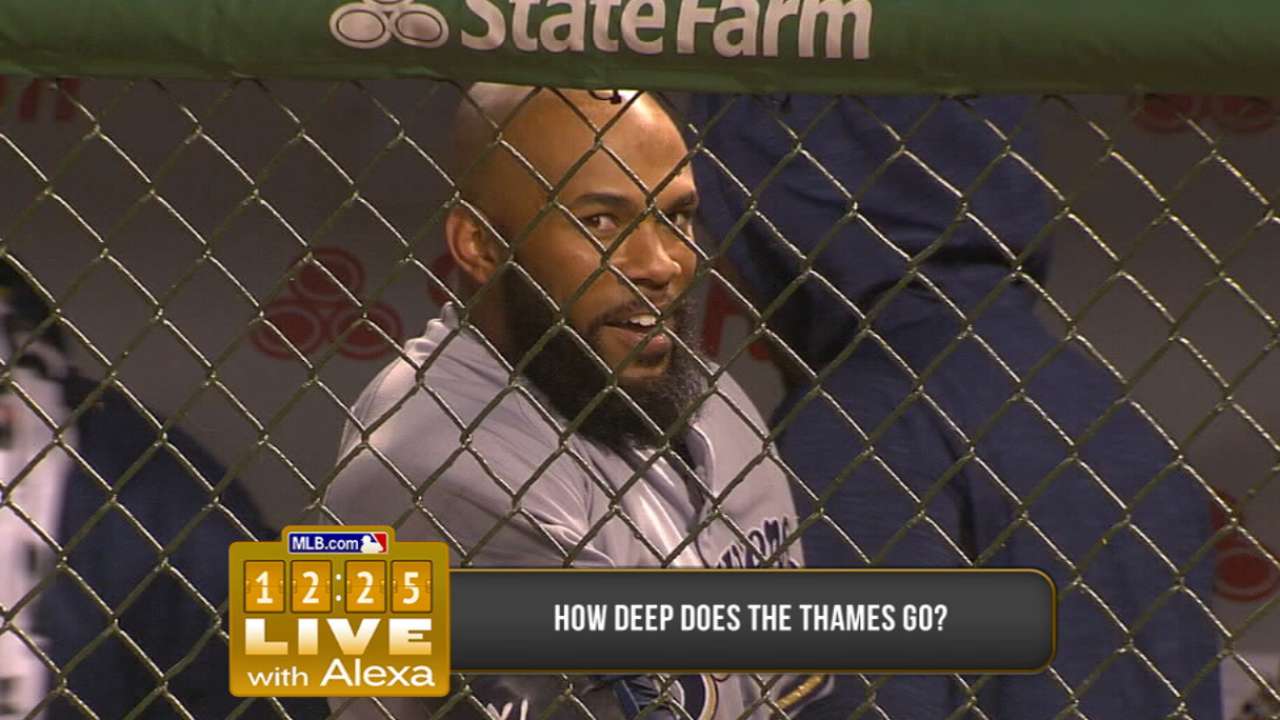 "The last time I faced him he was throwing 88 as a starting pitcher," Thames said, "and now he's totally turned his career around and he's a great closer. I was just trying to get on base. Obviously if it happens, it happens. But my goal is to hit something hard. His cutter's lights-out."
He really was not thinking about the home run streak?
"You can't get too caught up because that's when you start spiraling out of control," Thames said.
Montero said the Cubs would devise a new game plan for Thames before the teams meet here again next month. Next time, Montero will have a better sense of the challenge.
"I just know when he signed with the Brewers, it was, 'OK, who's this guy?'" Montero said. "He hit a lot of homers in Japan or Korea, I don't know. He's made a lot of adjustments. It's a good signing for the Brewers."
Adam McCalvy has covered the Brewers for MLB.com since 2001. Follow him on Twitter @AdamMcCalvy, like him on Facebook and listen to his podcast. This story was not subject to the approval of Major League Baseball or its clubs.