Fulmer takes lumps -- literally -- in loss
Upton also leaves game with injured wrist; to be re-evaluated Wednesday
ST. PETERSBURG -- Tigers starter Michael Fulmer took a few lumps courtesy of hanging sliders in a 5-1 loss to the Rays on Tuesday.
Three of which really hurt him: A two-run home run by Tim Beckham in the third, an RBI single by Derek Norris that short-hopped the fence in left field in the sixth and a line drive off the bat of Norris that caromed off his left calf in the second. The reigning American League Rookie of the Year's night ended after just 88 pitches.
"I just wanted to make sure his calf wasn't tightening up, because it tightened up a little bit in the course of the game," manager Brad Ausmus said. "He threw well. His pitch count was down. Really at the point we took him out in the sixth, it was because I felt that the calf wasn't going to get any better. He had done his job."
Fulmer said after the game that he'll probably end up with a nice bruise after Norris' liner clipped him, but added that it didn't affect the way he pitched.
"It's fine. I'll live," Fulmer said. "It stiffened up a little bit, but it didn't affect anything."
Fulmer went six innings and allowed six hits. He struck out five and walked two.
"It felt like everything was there for the most part, except my slider," Fulmer said. "Ultimately, it was two walks and two bad sliders that was the game-changer."
Upton leaves game
Tigers outfielder Justin Upton left the game after he injured his right wrist as he slid into second base in the seventh inning. Upton banged wrists with Rays shortstop Beckham as Beckham was attempting to turn a double play.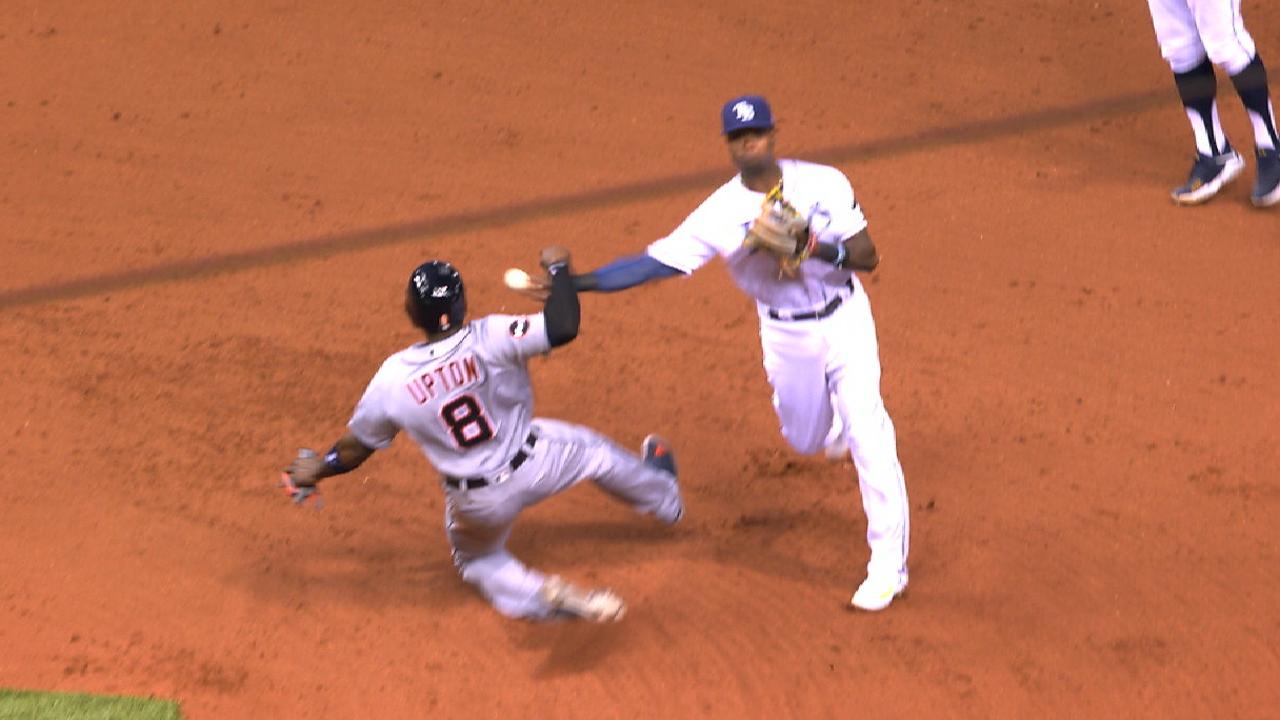 "At the time, when they were looking at his wrist in the dugout, he was reacting like there was a lot of pain," Ausmus said. "I was concerned there might be a break the way he was reacting."
X-rays came back negative and Upton will be re-evaluated on Wednesday. Upton was 1-for-3 before departing.
J. Scott Butherus is a contributor to MLB.com based in St. Petersburg. This story was not subject to the approval of Major League Baseball or its clubs.