Cosart placed on DL with hamstring strain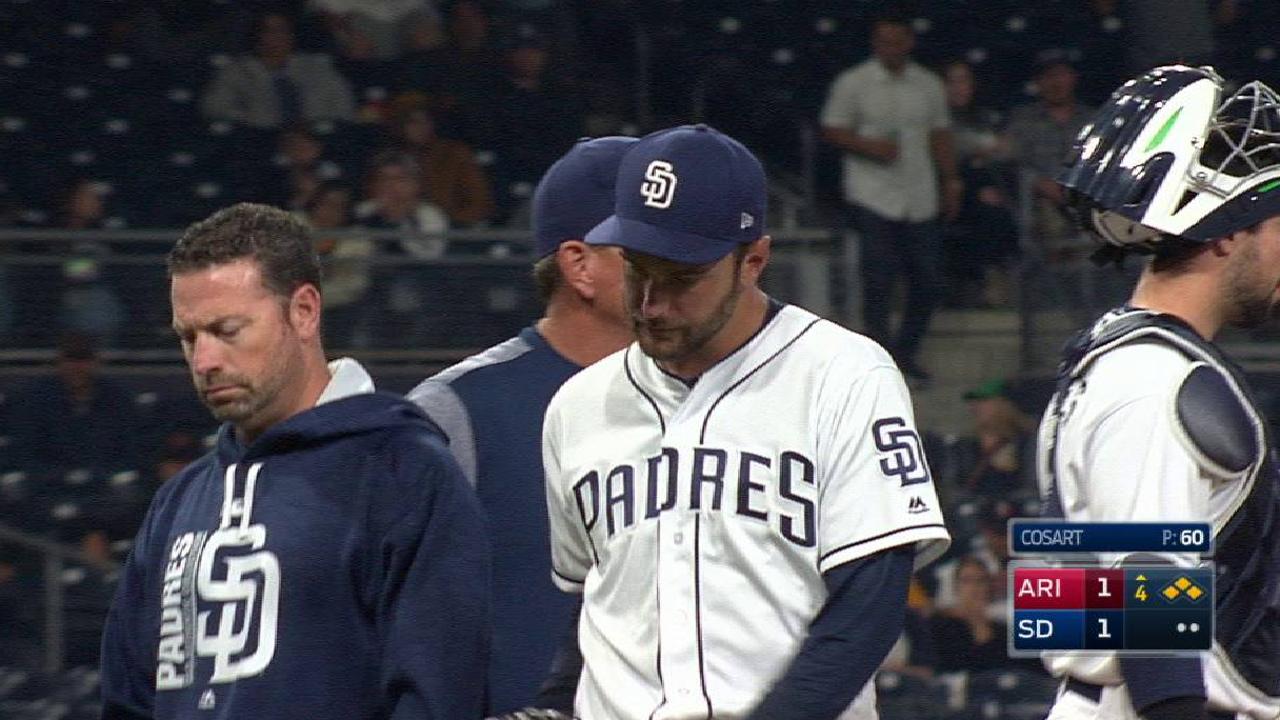 SAN DIEGO -- On Tuesday night, a strained right hamstring prevented Jarred Cosart's latest attempt to find the winner's circle for the first time since 2015 while facing the D-backs.
On Wednesday, the right-hander was placed on the 10-day disabled list, with righty reliever Kevin Quackenbush recalled from Triple-A El Paso to take his roster spot.
"It started getting tighter and tighter," Cosart said following Tuesday's game. "I was hoping it was a cramp but it didn't go away and it started affecting my command a lot."
Cosart retired the first 10 batters before disaster struck in the fourth. David Peralta singled, Paul Goldschmidt walked and Yasmany Tomas produced an infield single to load the bases. Brandon Drury walked to force in Peralta and soon Cosart was forced from the game.
And when Cosart left, the semblance of a competitive game exited with him. Arizona scored four in the frame, en route to an 11-2 triumph.
Cosart was hurt when running to first base the previous inning.
"That was all on me," Cosart said. "I thought it was a foul ball so I took three or four light steps. Then I tried to turn it on full speed and it grabbed on me."
It was the start of a premature exit for Cosart (0-1), who was humming along quite nicely. But he left the bases loaded after 3 2/3 innings and his pitching line took a blow: two hits, three runs (one earned) and two walks, with two strikeouts.
"It's disappointing, he had really good stuff," Padres manager Andy Green said. "He tried to go back and pitch through it, but when we went out there it was grabbing on him.
"His velocity was still good. His last pitch he threw was at 94 mph. It wasn't like he was pitching at 87 or 88."
Cosart last won on Sept. 17, 2015, when pitching for the Marlins against the Nationals. Since then, he's lost six straight decisions, and as of Tuesday, a healthy right hamstring.
The signs were encouraging for Cosart coming into his second start of the season. When filling in for Trevor Cahill on April 10 at Colorado, Cosart spun four scoreless innings.
"I felt like I turned a corner in Colorado and I wanted to carry it over and give us six-nine [innings] today," Cosart said. "It's really unfortunate, but it is something I really can't control. It was just one of things."
Cosart knows another opportunity to get on the winning track went by the boards.
"It's disappointing on a lot of fronts," he said. "Pitch-count-wise, that was my game. And I was just going out there to try and match Shelby [Miller] and save the bullpen."
If Cosart is sidelined, he might be replaced by Luis Perdomo. Perdomo said his inflamed right shoulder, which landed him on the disabled list on April 12, is no longer bothering him. He felt fine after an extended bullpen session on Wednesday, and the team is optimistic he could fill Cosart's next scheduled turn in the rotation on Sunday.
Jay Paris is a contributor to MLB.com based in San Diego. This story was not subject to the approval of Major League Baseball or its clubs.