Statcast of the Day: Gonzalez grounds Yanks
Righty holds NY to 4 infield hits in 8 1/3 frames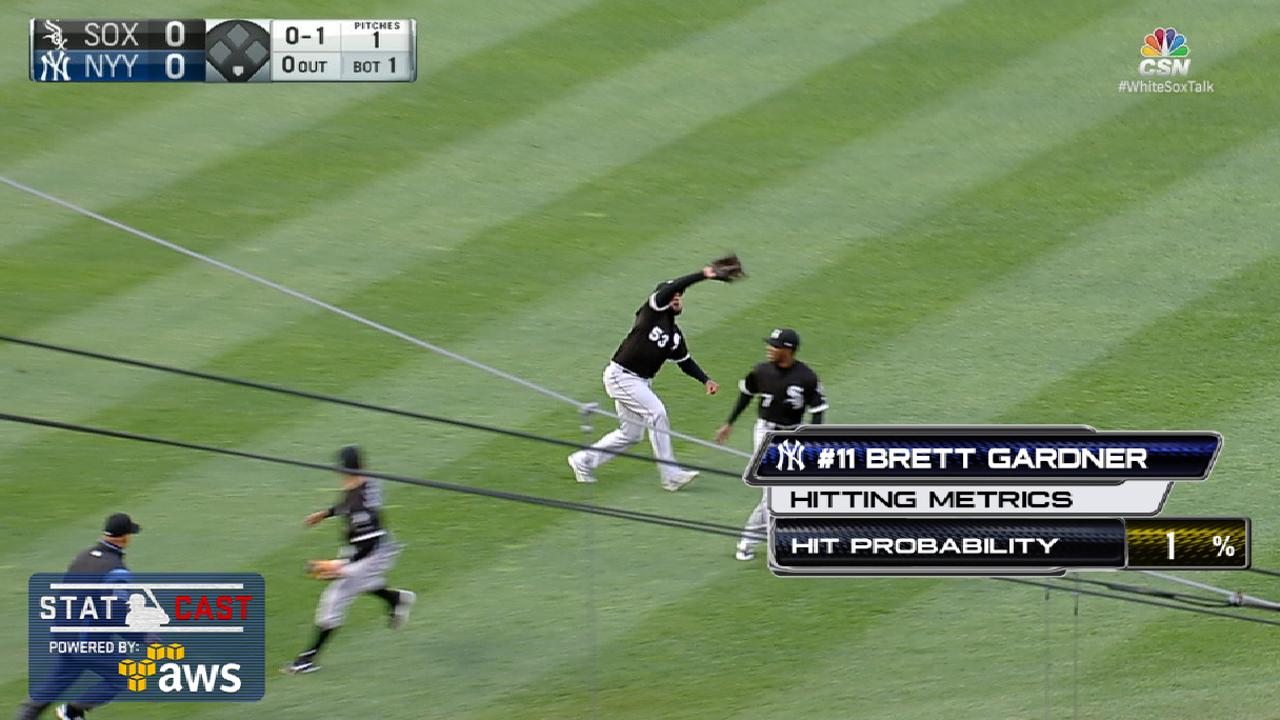 NEW YORK -- A championship belt, just like the one worn by John Cena or Randy Orton in the WWE, was sitting on Miguel Gonzalez's chair after a 4-1 White Sox victory over the Yankees on Tuesday night at Yankee Stadium.
"It's about time a starting pitcher got this," said Gonzalez with a laugh of the clubhouse award given to the MVP for each White Sox game.
The White Sox right-hander certainly earned the honor on this evening.
Gonzalez worked 8 1/3 innings, allowing one run on four hits, while striking out four. All four hits were of the infield variety, with one of them coming via Jacoby Ellsbury's bunt leading off the seventh.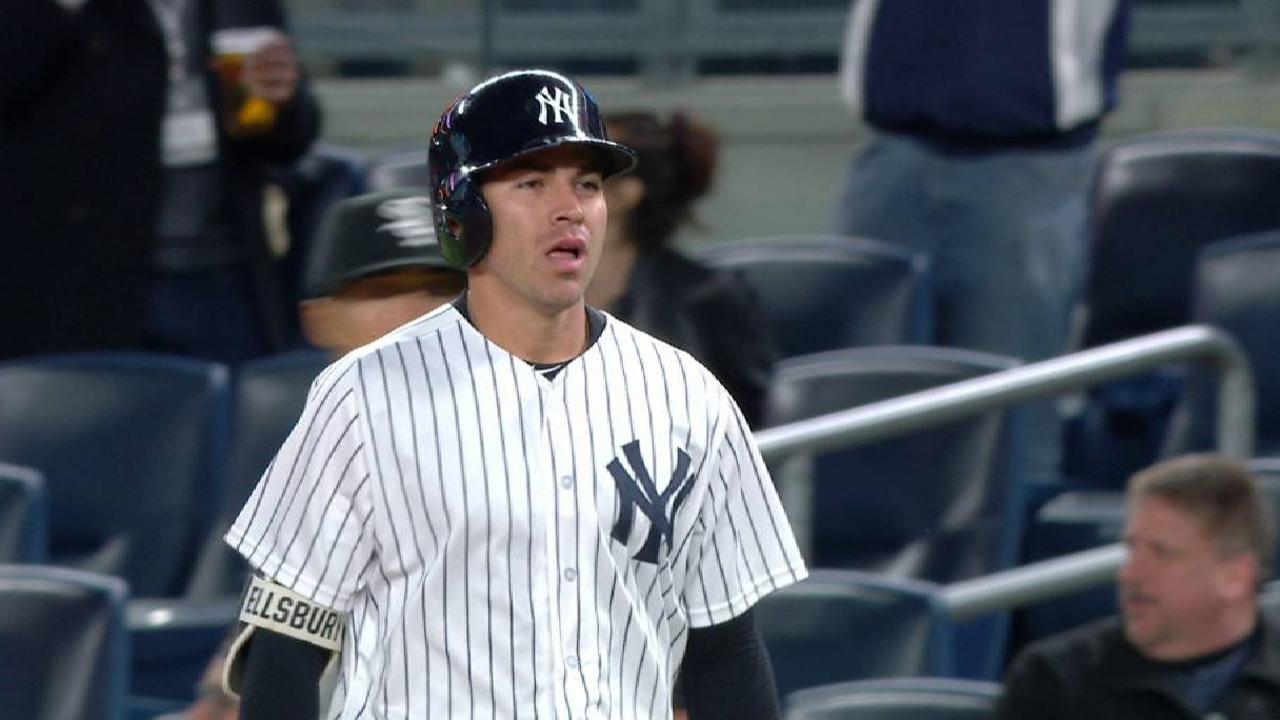 According to Statcast™, every hit by the Yankees had a hit probability of less than 25 percent. Twelve teams have had their total hits in a single game equal less than 25 percent, and of those 12 teams, none had more than two hits.
That statistic stands as a testament to Gonzalez's dominance more than the Yankees' futility.
"This time around, I didn't try to do too much," said Gonzalez, who faced 30 batters and threw only 31 balls of his 88 pitches. "Made my pitches when I needed to. Got a lot of ground balls, double plays."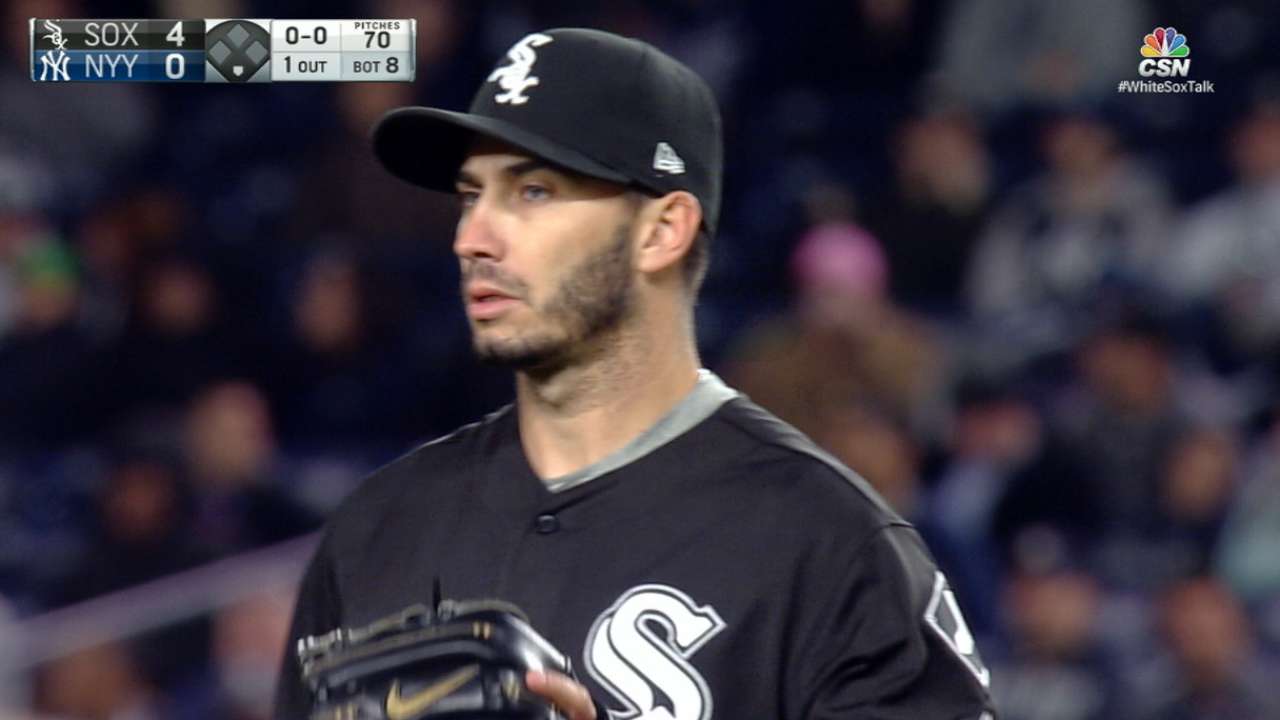 New York didn't get a hit until the fifth inning, and that was a Starlin Castro swinging bunt that had a 6 percent hit probability.
The Yankees had just two batted balls with an exit velocity above 100 mph, and both of those were double plays -- one by Aaron Judge in the fifth inning (102.7 mph) and another by Matt Holliday in the seventh (116.0 mph).
"They said his stuff was moving all over. He was living on the edges," Yankees manager Joe Girardi said. "We didn't have a hit out of the infield tonight, so his stuff was really good. Really late movement. We just had a hard time squaring him up. It seemed like he was ahead in the count most of the night until the eighth inning. He was really good."
Here's a specific example of Gonzalez's dominance of consistency. He threw a total of three pitches in the seventh, including the leadoff hit from Ellsbury.
New York's approach seemed to be attack Gonzalez early in the count. With Gonzalez commanding all of his pitches, it was an approach playing right into his hands on this chilly evening.
"He's able to pitch backwards or something like that," White Sox second baseman Tyler Saladino said. "He's throwing an offspeed pitch where maybe it would be a hitter's count. He gets either bad contact or he gets a strike when he's behind. That puts him back in it. He was able to throw everything he had, and it was all working for him."
Brett Gardner can attest to Saladino's depiction, swinging through a 3-2 changeup to end the sixth after Gonzalez gave up his first hit to Castro in the frame. Gonzalez was pulled with two on and one out in the ninth, even with a low pitch count.
It was the right move, as Gonzalez did all he could and then some to end the Yankees' eight-game winning streak.
"Being able to shut them down, it's huge," Gonzalez said. "It's fun to be out there and be a part of this team. We don't give up any time."
Scott Merkin has covered the White Sox for MLB.com since 2003. Read his blog, Merk's Works, follow him on Twitter @scottmerkin, on Facebook and listen to his podcast. This story was not subject to the approval of Major League Baseball or its clubs.