Reyes' miscue hurts as Mets drop 4th straight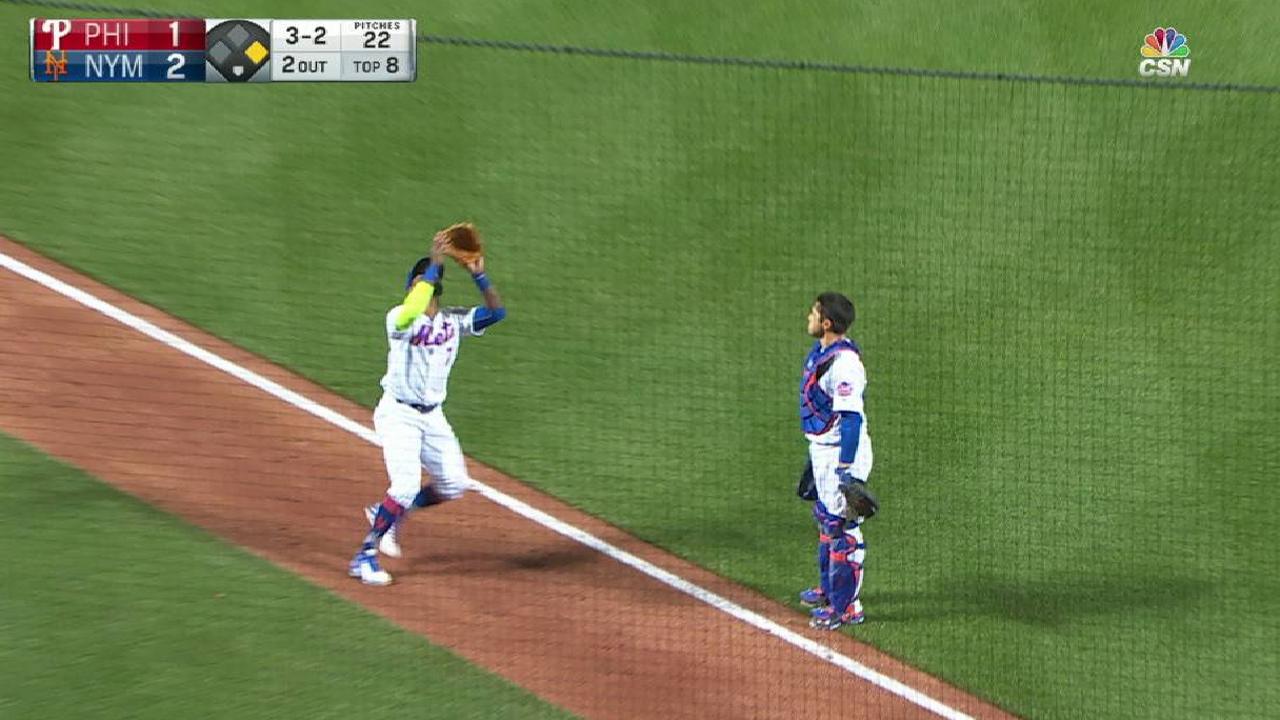 NEW YORK -- Jose Reyes' voice was low as he slouched in a chair before his locker, looking up at his inquisitors. There are slumps, and then there are all-consuming funks. Reyes, upon dropping a popup that allowed the Phillies to tie Tuesday's game in the eighth inning, eventually coming away with a 6-2, 10-inning victory over the Mets, appears to have entered the latter domain.
"I'm going to be better than this," Reyes said. "It's a tough moment right now. You don't want as a player to be like this."
For most of April, Reyes has scuffled at the plate, losing his leadoff job less than two weeks into the season. If that were frustrating, Tuesday was exasperating. With two outs and a man on first base in the eighth inning, Freddy Galvis hit a towering popup that Reyes, battling windy conditions at Citi Field, settled underneath. He called off catcher Travis d'Arnaud, who turned his attention to Reyes, standing still as the third baseman bore down on him.
By the time the ball reached glove level, Reyes and d'Arnaud were almost touching. The baseball glanced off Reyes' leather, skittering toward the foul line, as the third baseman grabbed d'Arnaud to steady himself.
One batter later, Andres Blanco hit a pinch-hit, game-tying RBI double.
"We were communicating," d'Arnaud said. "He was calling it. But after I took my eye off it, it ended up pretty much right where I was standing. I could have given him more room. Maybe me being right there distracted him."
It was not Reyes' first mistake of the Mets' loss to the Phillies, nor would it be his last. An inning later, the Phillies nearly picked Reyes off first base, catching him in a rundown that he escaped when an errant throw struck him. Reyes finished 1-for-4 with a double, actually lifting his season slash line to .100/.182/.140.
Both he and manager Terry Collins dismissed the notion that Reyes' offensive woes, which have dogged him since Opening Day, played into his defensive and baserunning issues on Tuesday.
"My mind is fine," Reyes said. "I want to do good. I want to help my ballclub as much as I can. The only thing I have to continue to do is work to get out of this slump."
Added Collins: "I don't think he would still be in this league as long as he has been if he couldn't handle things mentally."
If Reyes continues to struggle, however, his time here will have an expiration date. The same league-minimum salary that made Reyes attractive to the Mets last June would make it easier for them to break up with him if he's not helping the club this summer. Such a decision isn't likely to come anytime soon, with David Wright out indefinitely, T.J. Rivera at Triple-A Las Vegas and the Mets' only other third baseman, Wilmer Flores, batting .053 against right-handed pitchers. But it could in time.
For now, Collins said, Reyes "has earned the right to try to work his way out of it." So try he will. Hours before Tuesday's loss, Reyes came to the field for extra batting practice, jumping around with what his manager described as "extra intensity."
"That's the only thing I can do right now is continue to work," Reyes said. "When I get out of this slump, I'm going to get out of this slump for good."
Anthony DiComo has covered the Mets for MLB.com since 2008. Follow him on Twitter @AnthonyDiComo and Facebook, and listen to his podcast. This story was not subject to the approval of Major League Baseball or its clubs.