Duffey's numbers improving in relief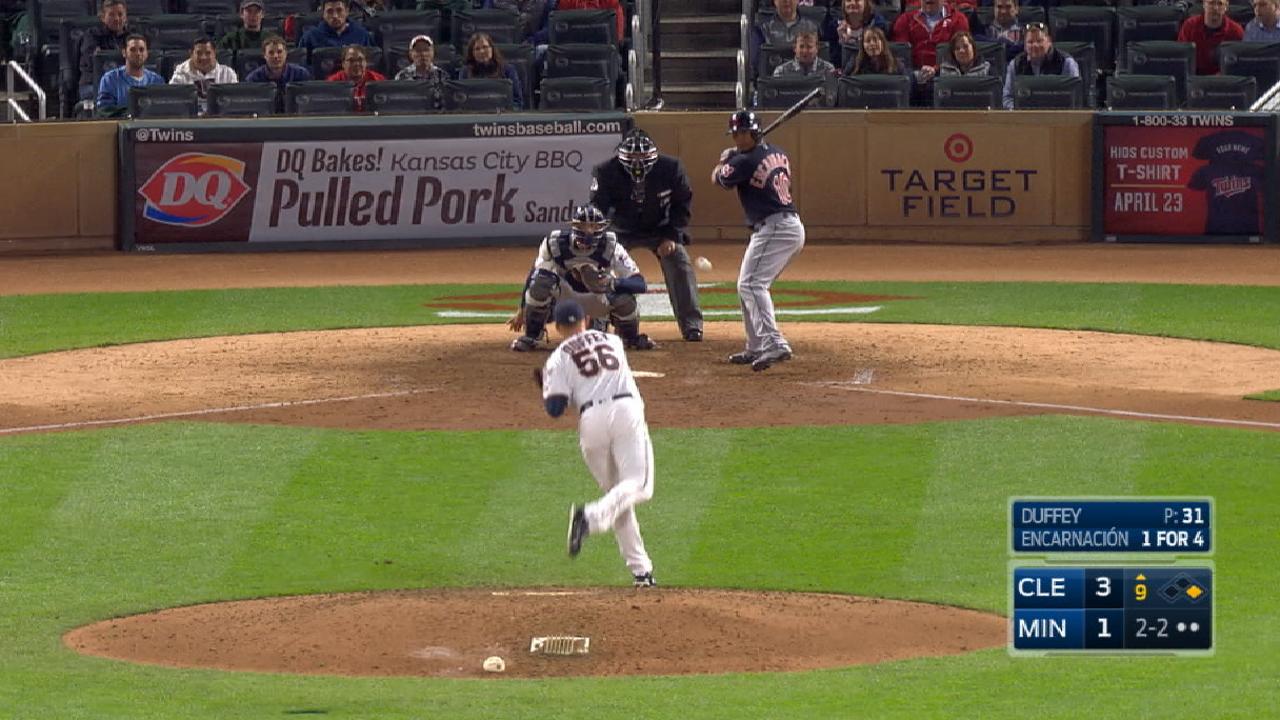 MINNEAPOLIS -- It's only been four relief appearances and 8 2/3 scoreless innings, but right-hander Tyler Duffey is showing positive signs about his move to the bullpen.
Duffey, who posted a 6.43 ERA in 26 starts last year, has struck out seven and walked one, while allowing five hits to the 33 batters he's faced. His stuff is also playing up in the bullpen, according to Statcast™, as he's seen his velocity tick up while increasing his spin rates on his fastball and curveball.
Duffey's average fastball velocity has jumped from 90.99 mph to 93.3 mph, while the spin rate on his fastball has increased from 2,177 RPMs to 2,404 RPMs, which ranks third on the team behind Ryan Pressly and Adalberto Mejia. Duffey's curveball is seeing the same change, going from 2,421 RPMs to 2,533 RPMs, which is also third on the team behind Pressly and Taylor Rogers.
"I think it's allowing me to attack more aggressively," Duffey said. "As a starter you had to try to set things up a little bit differently. But now I can go in there, and throw my best stuff without having to think about it."
Duffey, on the advice of Hall of Famer Bert Blyleven, also moved to the third-base side of the rubber against right-handers to better take advantage of his arm action. Right-handers had an average exit velocity of 91 mph on inside pitches against Duffey last year, but it's down to 86.7 mph this year.
"It's seemed to work so far," Duffey said. "With righties, it gives me a better angle, especially on inside fastballs because I'm low three-quarters. It helps me with my sinker and my curveball."
Duffey is also being more aggressive in the zone, throwing 55.6 percent of his pitches in the strike zone, compared with 43.6 percent last year. And when he gets hitters to chase, he's getting better results, as hitters made contact on 68.3 percent of his pitches out of the zone last year, compared with just 33.3 percent this year.
"He's throwing a lot of strikes," Twins manager Paul Molitor said. "The command has been better. It's still early, but he seems confident he can locate that fastball to either side of the plate and can elevate it. It's a process for young guys on how to use their stuff. He's trusting it and letting it fly."
Duffey also hasn't completely abandoned his changeup despite moving to relief, throwing four this year, and all led to outs, including getting a strikeout looking. It's an improvement on last year, when hitters batted .314 with a .457 slugging percentage against Duffey's developing changeup.
"It's harder to work on things in between [appearances]," Duffey said. "But I'm continuing to tinker with it."
Rhett Bollinger has covered the Twins for MLB.com since 2011. Read his blog, Bollinger Beat, follow him on Twitter @RhettBollinger and listen to his podcast. This story was not subject to the approval of Major League Baseball or its clubs.