Back-to-back 5-hit games for Nats prospect Stevenson
2015 second-rounder collecting hits at historic pace, has eight straight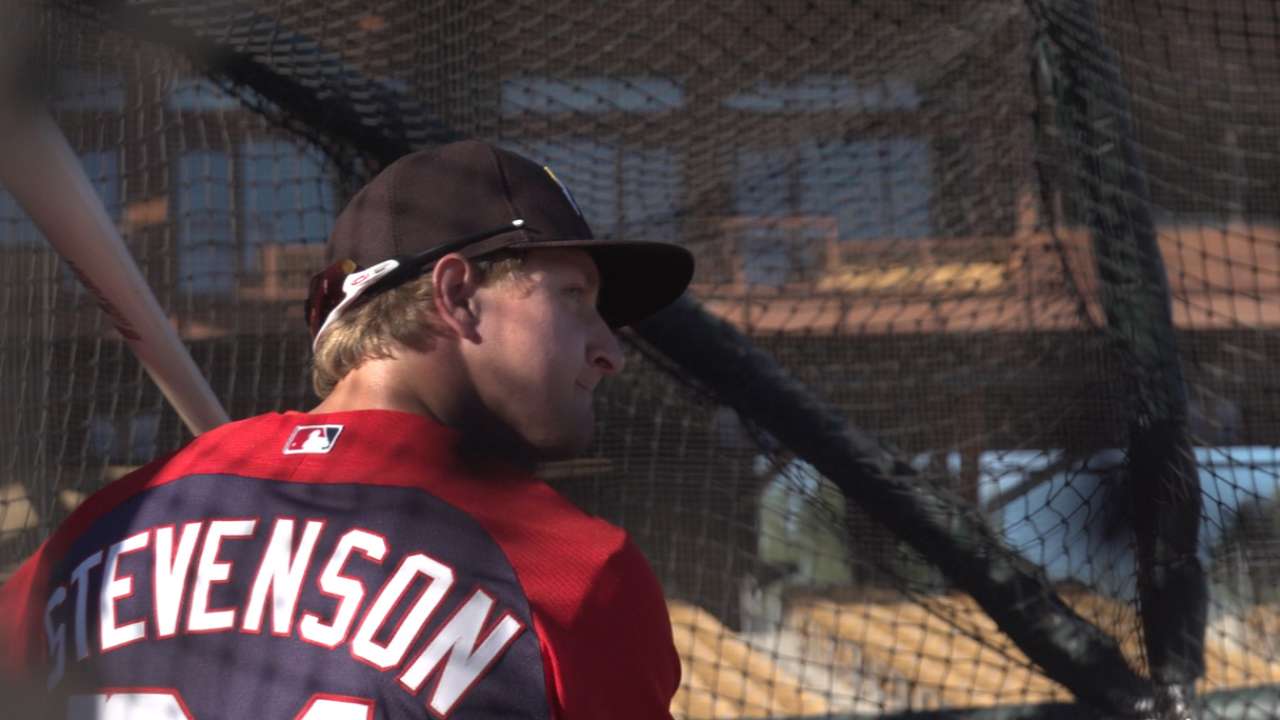 Andrew Stevenson began his week by collecting a career-high five hits in a Double-A Harrisburg's 13-inning win over Hartford on Monday. The Nationals' No. 5 prospect needed just nine innings to match that total on Tuesday night, going a perfect 5-for-5 out of the leadoff spot for the Senators.
Stevenson has now notched a hit in eight straight at-bats, and reached base in nine straight plate appearances, dating back to the eighth inning of Monday's contest, which he finished 5-for-7 with a double, four runs scored and three RBIs.
Stevenson, 22, added two more doubles on Tuesday, as well as a pair of runs and RBIs, bringing his two-game total batting line to 10-for-12 (.833) with three doubles, six runs scored and five RBIs. His average, meanwhile, has improved from .314 to .447 in that span.
"I'm just getting pitches that are good pitches to hit and I'm putting pretty good swings on them and finding holes," Stevenson said.
To put Stevenson's back-to-back five-hit performances in context, Hall of Famer Roberto Clemente was the last big leaguer to accomplish the feat, doing so on Aug. 22-23, in 1970. Before him, it was Hi Myers, on Aug. 21-22, 1917. In the Minors, it has happened just once since 2005, when Emerson Landoni went 5-for-5 for the Mississippi Braves on both July 12 and July 13, 2015.
"That's cool getting thrown in that category," Stevenson said. "Maybe one day I'll have a chance to do it at the big league level, but for now I'm going to keep doing what I can and try to get better every day."
Stevenson's night began with a leadoff single to center field, and he used his 60-grade speed to reach on a bunt single to third base in the third inning. He hit a ground-rule double to left field in his next trip to the plate and then plated a pair of runs with a line-drive single to right field in the fifth. In the eighth, the left-handed hitting center fielder capped his stellar game with another opposite-field double.
"Definitely feeling pretty good," Stevenson said. "I've had a few instances in my career where it's felt like this, so I'm just riding it out, trying to get as many at-bats as I can."
Stevenson's red-hot start to the season comes on the heels of an impressive showing in Spring Training with the Nationals. Playing in parts of 15 games, the 2015 second-rounder batted .333 (8-for-24) with four extra-base hits and five RBIs. What's more, it was an impressive follow-up to a strong Arizona Fall League campaign in which he paced the circuit in hits (30) and finished second in the batting race (.353).
Mike Rosenbaum is a reporter for MLB.com. Follow him on Twitter at @GoldenSombrero. This story was not subject to the approval of Major League Baseball or its clubs.