Profar emerges as primary left fielder
Rangers' Banister says Rua will get starts vs. lefties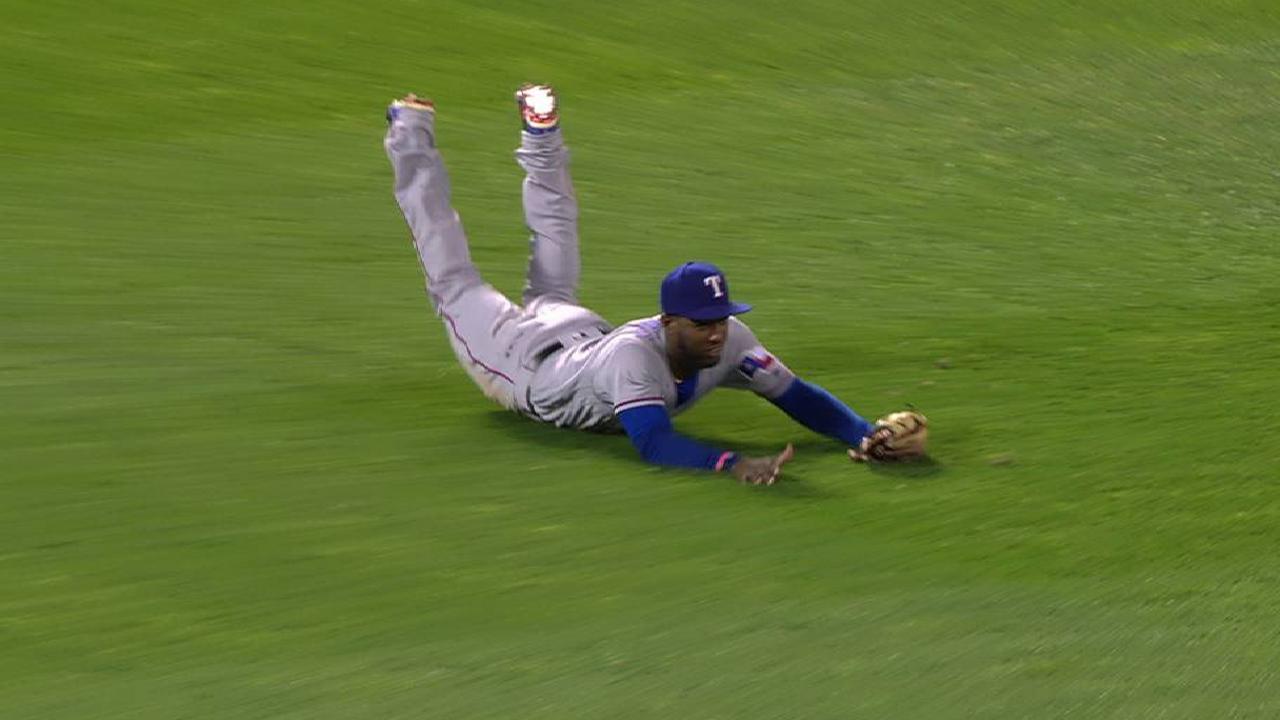 OAKLAND -- Rangers manager Jeff Banister has narrowed down his choices to play left field.
Jurickson Profar has emerged as Banister's primary choice, especially when there is an opposing right-hander on the mound. Ryan Rua will still get his first starts against left-handers, but the three-way platoon appears to be discarded with Delino DeShields on the outside.
"We have been on a run against right-handed starters and that has allowed Jurickson to get more consistent work," Banister said.
Profar started for the sixth time in seven games Tuesday night, and eighth overall. Rua has started three times and DeShields just twice. DeShields also had one start at designated hitter.
DeShields had a tremendous Spring Training, hitting .323 with a .442 on-base percentage and an MLB-leading 14 stolen bases. But that momentum has disappeared with his limited playing time. He was 0-for-9 with six strikeouts going into Tuesday's game.
"We've got to continue to find at-bats for Delino," Banister said. "Find him spots so he can get comfortable at the plate. But it gets down to in these type of situations, they all came out of Spring Training, all three did a great job. Now players have to take advantage of their opportunities."
Mazara makes adjustment
Rangers outfielder Nomar Mazara entered Tuesday's game hitting .352 with four home runs and an American League-leading 16 RBIs. That's tied for the second most RBIs through the first 13 games in club history after Juan Gonzalez, who had 17 in 1998.
Mazara's hot start is a turnaround from the struggles he had in the second half of last season even though Banister said opposing pitchers are still trying to attack him the same way.
"Throw in and then expand [the strike zone] away and up," Banister said. "Get him to chase down. I think he is handling it much better. There have been a number of balls out of the strike zone that he didn't chase. There are times he has looked the other away, and pitcher's pitches, he is able to foul off more than last year. He is in control of his feet. He is not spinning off or getting out too quickly."
Rangers beat
• Triple-A Round Rock third baseman Will Middlebrooks has suffered another injury misfortune and has been placed on the disabled list with a broken left hand. This is sixth time in the past six years Middlebrooks has gone on the disabled list. He was hitting .313 with four home runs and 14 RBIs in 12 games at Round Rock before getting hit by a pitch Monday.
• Elvis Andrus' infield single Monday was the 1,282nd hit of his career. He moved past Ruben Sierra for fifth-most hits in Rangers history. Ahead of him are Michael Young (2,230), Ivan Rodriguez (1,747), Rafael Palmeiro (1,692) and Gonzalez (1,595).
• A.J. Griffin threw six scoreless innings in a 7-0 victory over the Athletics on Monday. He allowed one hit and one walk. He is only the fourth pitcher in Rangers history to throw six scoreless innings in a game with one or no hits and one or no walks. Yu Darvish has done it three times.
T.R. Sullivan has covered the Rangers since 1989, and for MLB.com since 2006. Follow him on Twitter @Sullivan_Ranger and listen to his podcast. This story was not subject to the approval of Major League Baseball or its clubs.