Kepler's misplay on routine fly proves costly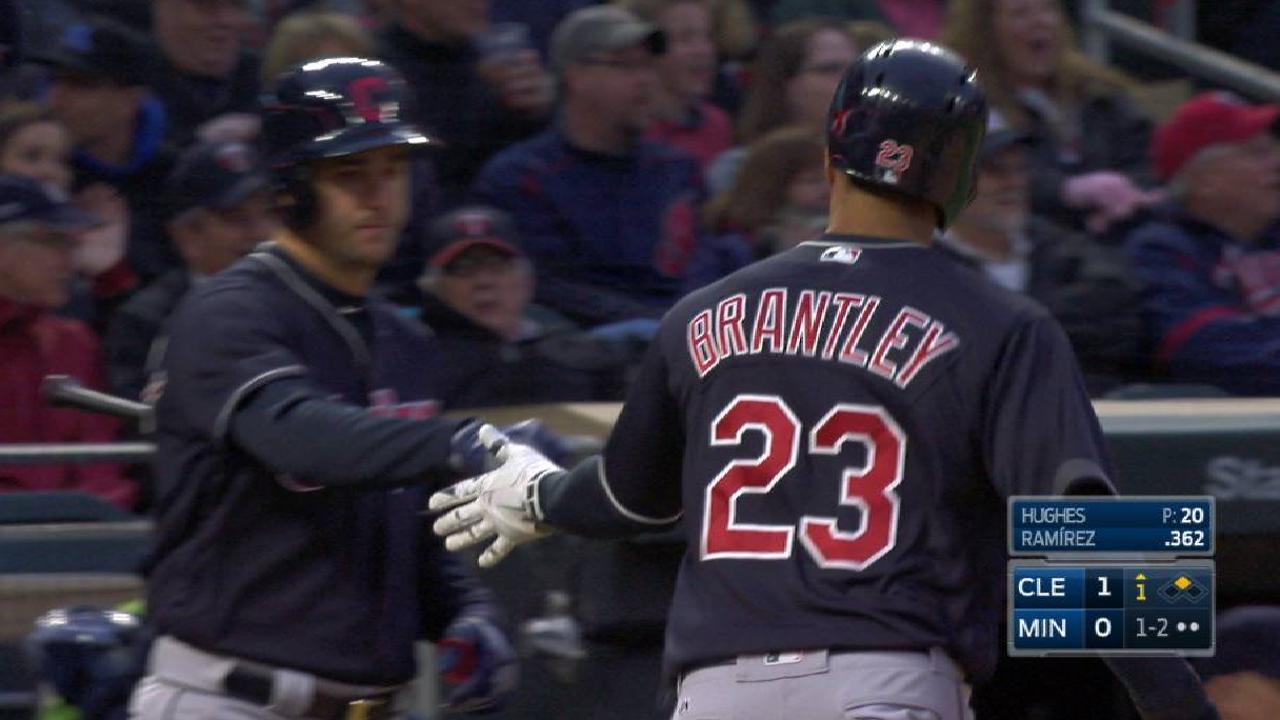 MINNEAPOLIS -- The Twins' outfield defense is one of their major assets this season, but right fielder Max Kepler made a costly error on a routine fly ball from Jose Ramirez in the first inning of Tuesday's 11-4 loss to the Indians, leading to two unearned runs scoring.
With two outs in the first, Ramirez lifted a high fly ball to right off right-hander Phil Hughes, and Kepler camped under it, but it deflected off his glove as he tried to make the catch with one hand. It allowed Michael Brantley to score from second, and Ramirez to reach second with a two-base error. Ramirez later scored on an RBI single from Lonnie Chisenhall, putting the Twins in an early 3-0 hole.
"It doesn't set a very good tone," Twins manager Paul Molitor said. "It's the first inning, and there's a lot of baseball to play. It's not the difference in the game. Errors are going to happen to everybody, but it's more glaring when it seems routine."
Kepler had to travel 85 feet in 6.5 seconds to try to make the play, which is made 98 percent of the time under those circumstances, according to Statcast™. Ramirez's ball also left the bat at 96.8 mph with a launch angle of 38 degrees, and balls hit at a similar speed and trajectory have a hit probability of only 12 percent.
Kepler kept it short when describing what transpired, as there wasn't much to say about the botched play.
"I took my eyes off it," Kepler said. "I made a mistake."
After the error, Chisenhall followed with an RBI single to right, and Kepler threw home to try to get Ramirez, but Ramirez scored easily from second for the inning's third run. Yandy Diaz then hit a liner to right that was caught by Kepler to end the inning.
Hughes put the blame on himself for the final run scoring, saying it was on him to get out of the inning despite Kepler's error on a routine play.
"Obviously, I have to regroup and find a way to limit the damage there, and I wasn't able to do that," Hughes said. "It was a tough way to start. It's been a theme for my first three starts; I need to stop giving up runs in the first inning."
The Twins did come back with two runs in the first inning, including a sacrifice fly from Kepler, but Ramirez hit a two-run homer in the third, and the Indians kept tacking on runs to put it out of reach.
"We were right back in it with a couple," Molitor said. "But then Ramirez hit the homer, and we tried to play catchup and contain at the same time, which isn't a good mix."
Rhett Bollinger has covered the Twins for MLB.com since 2011. Read his blog, Bollinger Beat, follow him on Twitter @RhettBollinger and listen to his podcast. This story was not subject to the approval of Major League Baseball or its clubs.