Peralta finding ways to beat the shift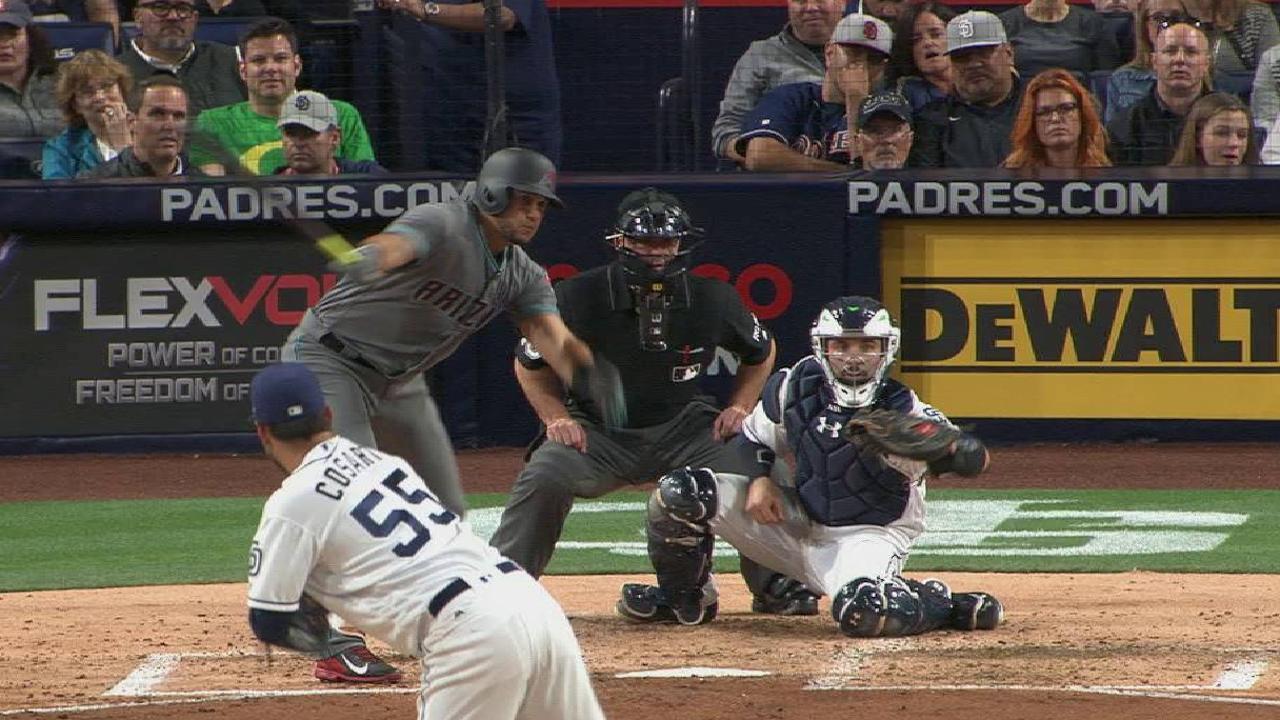 SAN DIEGO -- When he steps into the batter's box, D-backs outfielder David Peralta tries not to look at the large hole that teams are leaving on the left side of the infield.
Teams have been shifting on the pull-hitting, lefty-swinging Peralta the last couple of seasons, generally leaving just the shortstop on the left side of the infield.
Peralta did it again Tuesday, reaching on an infield single in the fourth inning to ignite a three-run inning in a 11-2 win over the Padres.
On Monday night, Peralta twice went the opposite way, hitting a slow dribbler towards third that he easily beat out and grounding a ball that shortstop Corey Seager made a nice play to barely nab him at first.
"It's hard to not think about that when you see this huge hole between third and shortstop," Peralta said. "I'm just trying to not think too much about that because that can get me into bad habits and I'll start swinging at bad pitches. [Monday] night, it worked one out of two times. That's good, but I don't want to get into the bad habit of swinging at bad pitches."
Peralta is content to take try and take outside pitches toward that hole or to even drop down an occasional bunt, but the bad habits he referred to are going out of the strike zone on that side of the plate just to try and hit the ball that way.
That's what happened on the pair of Brandon McCarthy curveballs he tried to go the other way with Monday.
"I don't think they were good pitches," he said. "The first at-bat it worked, but the second at-bat didn't. It's hard to not think about that huge gap they're giving you."
In the ninth, Peralta pulled the ball and wound up getting an RBI triple that gave the D-backs an important insurance run.
"I just have to put a ball into play and something is going to happen," Peralta said.
Injury updates
• Right-hander Taijuan Walker said his back was feeling better after experiencing tightness in his start Sunday. Walker is expected to make his next scheduled start Friday against the Dodgers.
• Reliever Jake Barrett (shoulder) threw a bullpen Tuesday and his next step is still to be determined.
Barrett had been throwing in extended spring games, but switching back to bullpens was planned.
"We pulled back a little bit as was part of the strategy," D-backs manager Torey Lovullo said. "We want to make sure we're ramping up these guys to get out of extended Spring Training. So what we decided to do was as we would in spring training, ramp these guys up, pull back a little bit and then get them ramped up one more time. He's kind of in that lull period right now where he's going to throw again in the coming days."
Steve Gilbert is a reporter for MLB.com. Follow him on Twitter @SteveGilbertMLB. This story was not subject to the approval of Major League Baseball or its clubs.