Cabrera crushes homer in first birthday at-bat
Slugger turns 34, celebrates with fifth career HR off Andriese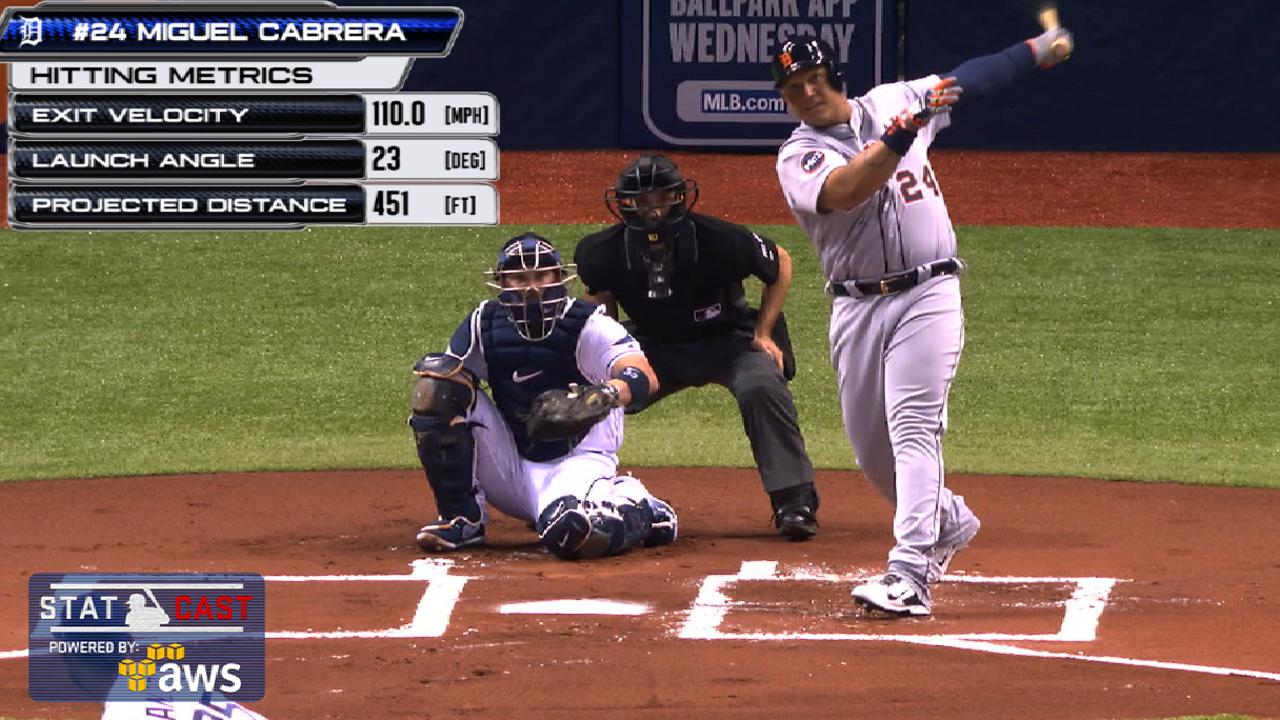 ST. PETERSBURG -- Tigers manager Brad Ausmus forgot to wish Miguel Cabrera a happy 34th birthday when he arrived to the visitors' clubhouse at Tropicana Field on Tuesday. He was more concerned with how his star first baseman was feeling.
Cabrera was questionable after leaving Sunday's game against the Indians with lower back stiffness.
Not only was Cabrera feeling well enough to start at first base, he feasted on Rays pitching like it was a slice of birthday cake in a 5-1 loss to the Rays on Tuesday.
"See the ball, hit the ball. That's what I was looking for every pitch," Cabrera said.
Cabrera took a bite out of a 2-0 fastball served up by Rays starter Matt Andriese, sending it to straightaway center in the top of the first. It was the fifth career hit off Andriese for Cabrera. All five have been home runs.
"If I throw a 2-0 fastball down the middle, he's probably going to hit it a long way," Andriese said. "It wasn't a great location."
The solo shot was Cabrera's third home run of the season and the 449th of his career, tying him with Jeff Bagwell and Vladimir Guerrero for 38th on the Major League all-time list.
According to Statcast™, the home run went an estimated 451 feet -- his sixth farthest in the Statcast™ Era -- and had an exit velocity of 110 mph. The blast tied for fifth-longest in the Majors this year, and tied for fourth-longest at Tropicana Field in the Statcast™ Era.
J. Scott Butherus is a contributor to MLB.com based in St. Petersburg. This story was not subject to the approval of Major League Baseball or its clubs.