Brewers recall Easter miracle, 30 years later
Sveum's walk-off HR set off wild celebration over Milwaukee's 12-0 start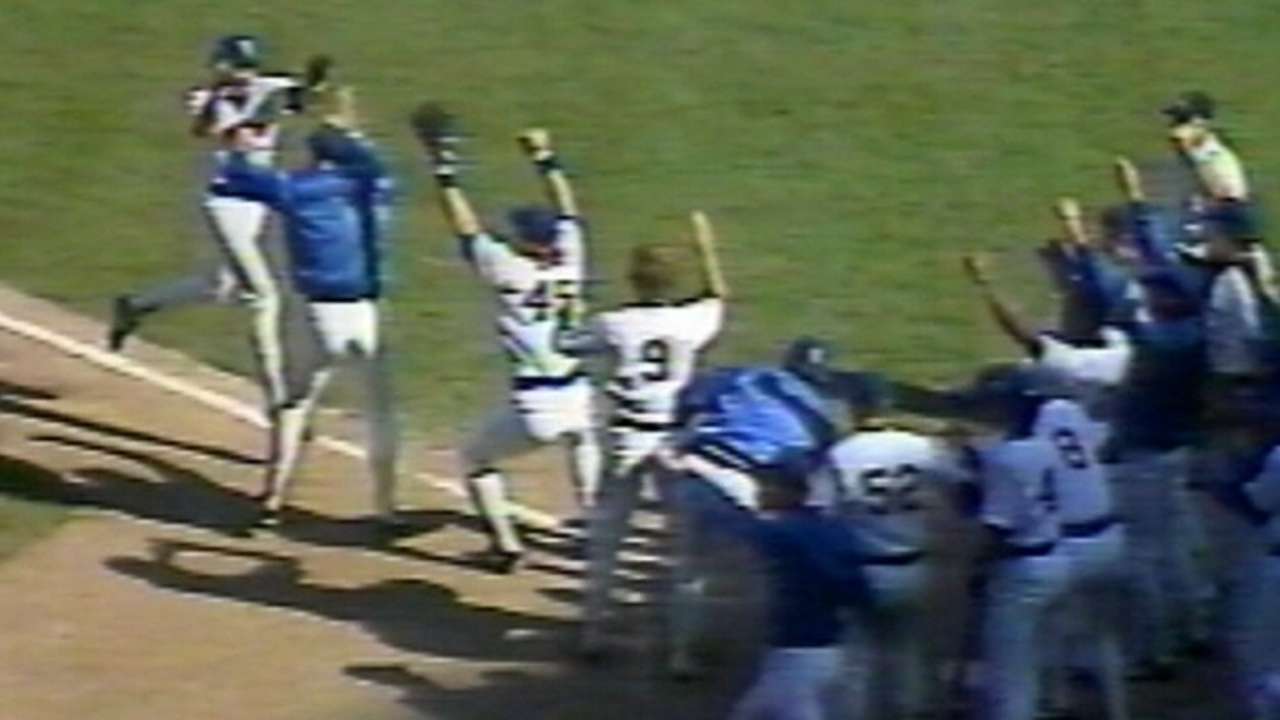 CHICAGO -- Thirty years ago, Rob Deer hit the most meaningful of his mammoth home runs, Dale Sveum delivered his only walk-off homer and a 16-year-old local kid named Craig Counsell celebrated in the stands with 29,356 other fans on a sunny Sunday afternoon at County Stadium.
Wednesday marks the 30th anniversary of that game -- April 19, 1987. Or, as it is known to every Brewers fan over a certain age, the Easter Sunday Game.
"Obviously it was a really beautiful day, Easter Sunday in Milwaukee, must have been like 80 degrees," said Sveum, now the Royals' hitting coach. "We had a feeling we just couldn't be beat."
The Brewers entered that game against the Rangers winners of 11 in a row to start the season, good for a tie with the 1981 A's for the best start by an American League club. It appeared the streak would end there, however. As Rangers reliever Mitch Williams took the mound in the ninth for his third inning, the Brewers trailed, 4-1.
The County Stadium crowd, including young Counsell, who had a seat behind the Brewers' dugout, rose and roared. Second baseman Jim Gantner has said he remembers that sound as much as anything that followed.
Glenn Braggs walked and Greg Brock singled. Williams retired Cooper on a flyout before Texas manager Bobby Valentine called for another reliever, Greg Harris, to face free-swinging Deer.
Harris hung a breaking ball, and Deer, who had already homered once that day, didn't miss it.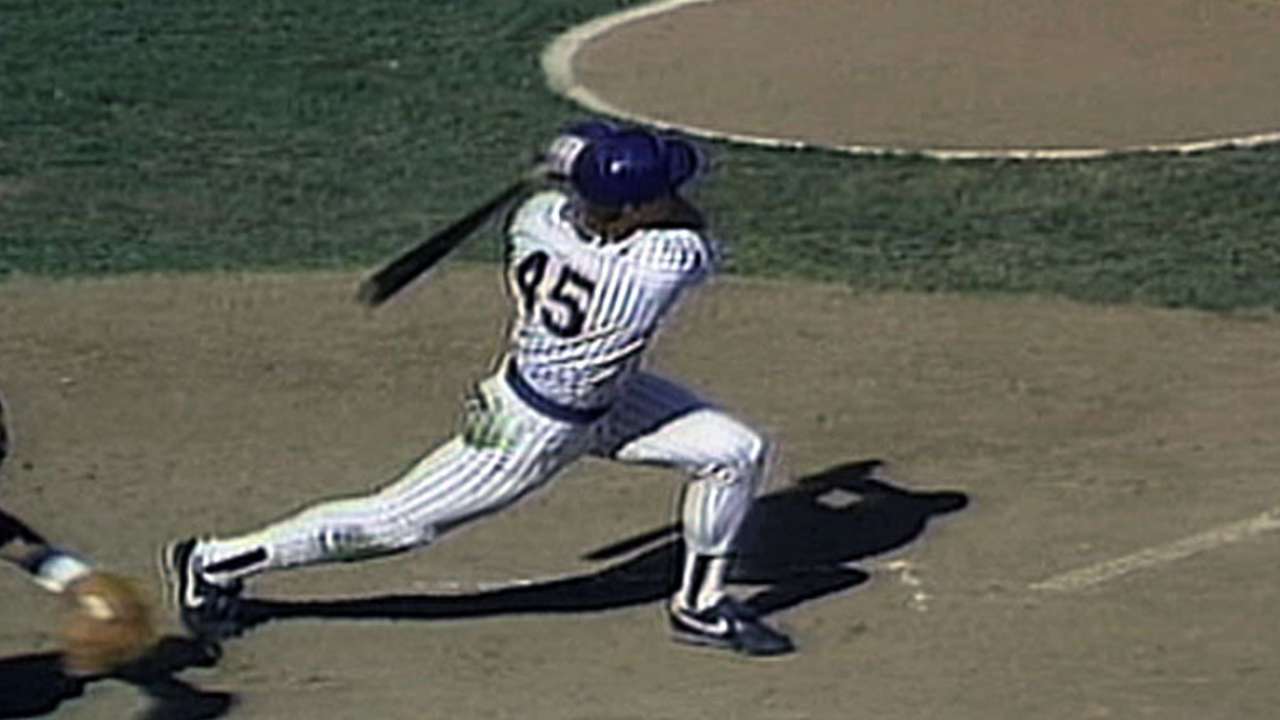 "I hit it as hard as I could hit it," Deer told Fox Sports Wisconsin on the 25th anniversary of the game. "As soon as I hit it, it went up, and I knew it was gone. All I can remember is just total mayhem. I remember stuffed rabbits and banners and smoke all over the field."
With the game tied at 4, Harris restored some order by striking out B.J. Surhoff. But Gantner walked to extend the inning for the switch-hitting Sveum, who smacked a full-count cutter to the bleachers for a 6-4 victory.
"It was probably the biggest hit of my career," Sveum said.
Every time Deer presses play on that highlight, he sees something new.
Chris Bosio, who pitched 1 1/3 innings of hitless relief for the Brewers that day, remembers the Sveum homer most clearly. But Deer's made the cover of the next issue of Sports Illustrated, his fist in the air and long hair flowing from his helmet.
Bosio had the issue signed by all of his teammates. He still has it framed today.
"We had a lot of great memories in that old park, and that was one of the best of them," said Bosio, now the pitching coach of the Cubs. "The thing I remember most about Easter Sunday was the enthusiasm in the crowd and the dugout. It was, 'We can do this.'
"I was just talking about it [with Cubs players] in the series in Milwaukee. We were looking up there at the numbers hanging over Miller Park; Robin Yount, Paul Molitor, and the list goes on and on. Those are the guys who taught me about the game."
The Brewers won again the next day to run their record to 13-0, matching the Major League mark set by the '82 Atlanta Braves.
It would be a season of streaks. That 13-game winning streak in April was all but erased by a 12-game losing streak in May. In July and August, Molitor cobbled together a 39-game hitting streak, the seventh-longest in history.
"If there had been a Wild Card team back then, we would have made it," Sveum said. "It was probably the most exciting season there was in which we didn't go to the playoffs."
Adam McCalvy has covered the Brewers for MLB.com since 2001. Follow him on Twitter @AdamMcCalvy, like him on Facebook and listen to his podcast. This story was not subject to the approval of Major League Baseball or its clubs.