Harwell Field opens in honor of Tigers broadcaster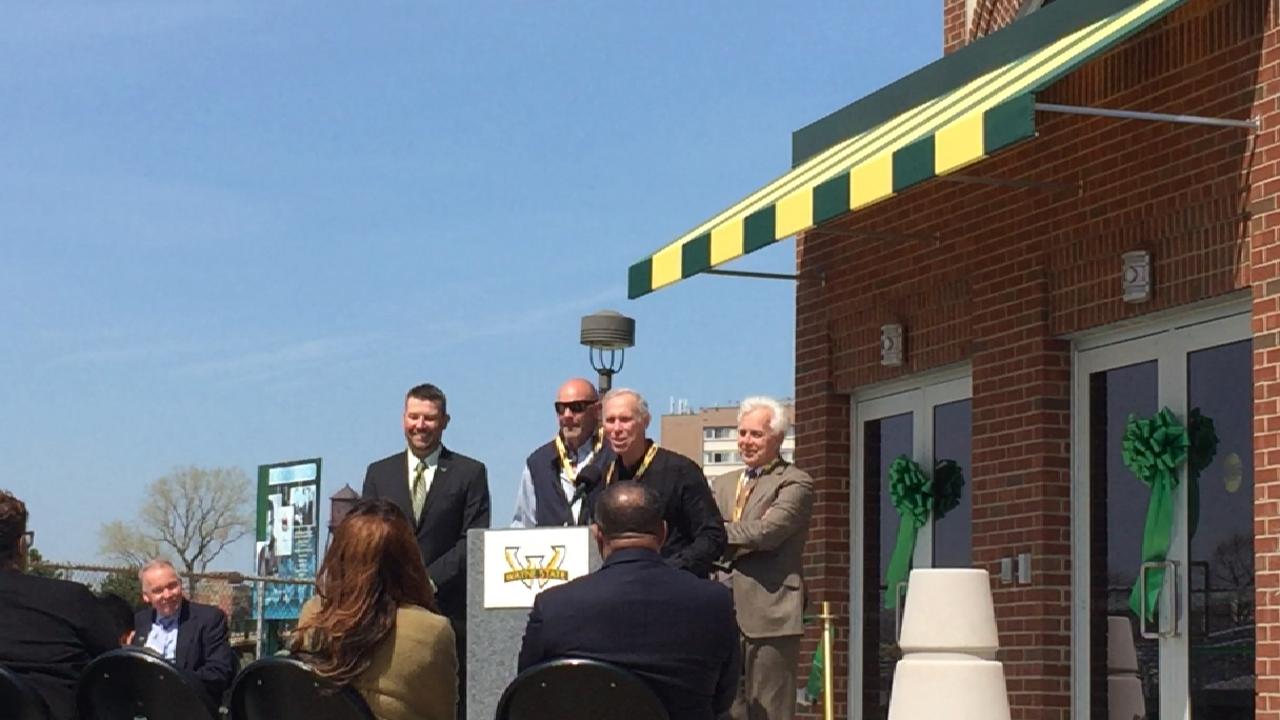 DETROIT -- The idea began with a quandary: How do you repay someone like Ernie Harwell for the generosity the Hall of Fame broadcaster displayed in his life?
Wayne State University athletic director Rob Fournier weighed that idea as he planned out an expansion of the midtown Detroit school's facilities, including a renovation of the baseball field. Harwell received an honorary degree from the school, and made a donation to the university as part of his last wishes.
So Fournier sent a letter to Gary Spicer, Harwell's longtime attorney and himself a Wayne State alumnus. The resulting project, Ernie Harwell Field, was officially unveiled Tuesday.
It's a fitting tribute to the man who was the voice of Tigers baseball for 42 years. But as Fournier and Spicer envisioned, it's more than a name on a ballpark. It's a living, vibrant tribute to Harwell's career and his passion for the game.
"Gary called me immediately," Fournier said of the response to his letter, "and I said, 'I have an idea. Why don't we build a replica of Ebbets Field as a tribute to Ernie Harwell?'"
Ebbets Field, the longtime home of the Brooklyn Dodgers, was where Harwell began his Major League broadcasting career before coming to Detroit. Local architect Marco Silveri replicated its façade for the project, down to the limestone arches, the fabric awning and the lettering atop the building.
But the ballpark includes influences from all over baseball. The left-field wall is modeled after Fenway Park's famed Green Monster. Within the wall is the auxiliary scoreboard from Tiger Stadium, purchased from the city of Detroit.
Thank you to @23KGibby & Alan Trammell for helping to celebrate the Grand Opening of Harwell Field. Proud to support @waynestbaseball. pic.twitter.com/ujIjVNzjah

— Tigers Foundation (@TigersCommunity) April 18, 2017
Between the stadium entrance and home plate is a lobby that serves as a memorial for Harwell and all he loved about baseball. A giant wall includes five of Harwell's signature calls, a monitor that plays Harwell's Ford C. Frick Award acceptance speech at the Baseball Hall of Fame as well as his farewell speech at Comerica Park. Also on display are the Michigan Sports Hall of Fame plaques of Harwell and former Dodgers general manager Branch Rickey, a graduate of University of Michigan Law School.
Toward the first-base entrance is a rendering of the Ebbets Field scoreboard.
"It's cool," said former Tigers great Kirk Gibson, who took part in the ribbon-cutting ceremony with teammate and friend Alan Trammell and Wayne State baseball coach Ryan Kelley. "You could just sit in here and reflect on a lot of things, the history. Of course, I grew up here just north of Detroit, so I'm basically a Detroiter, and Ernie had a lot to do with the contributions of bringing Detroit to where it is today and beyond. So for me, I just sit back and reflect. It makes me think about putting some new things on my bucket list."
The facility, Silveri said, took more than two years to go from concept to project, with a few versions put together.
"There's a challenge in doing a fitting tribute for somebody so important," he said. "That raised the bar for us, I think."
The opening was the culmination of four years of work for Spicer, who helped spearhead the project. More than $2.3 million was raised from private sources, including a $25,000 grant from the Detroit Tigers Foundation, an affiliate of Ilitch Charities.
As Trammell spoke in preparation for the ribbon-cutting, he looked to sky, almost like a player looking up to the press box.
"You're going to be proud, Ernie," Trammell said.
Jason Beck has covered the Tigers for MLB.com since 2002. Read Beck's Blog, follow him on Twitter @beckjason and Facebook. This story was not subject to the approval of Major League Baseball or its clubs.