Bochy undergoes minor heart procedure
Giants manager to miss series against the Royals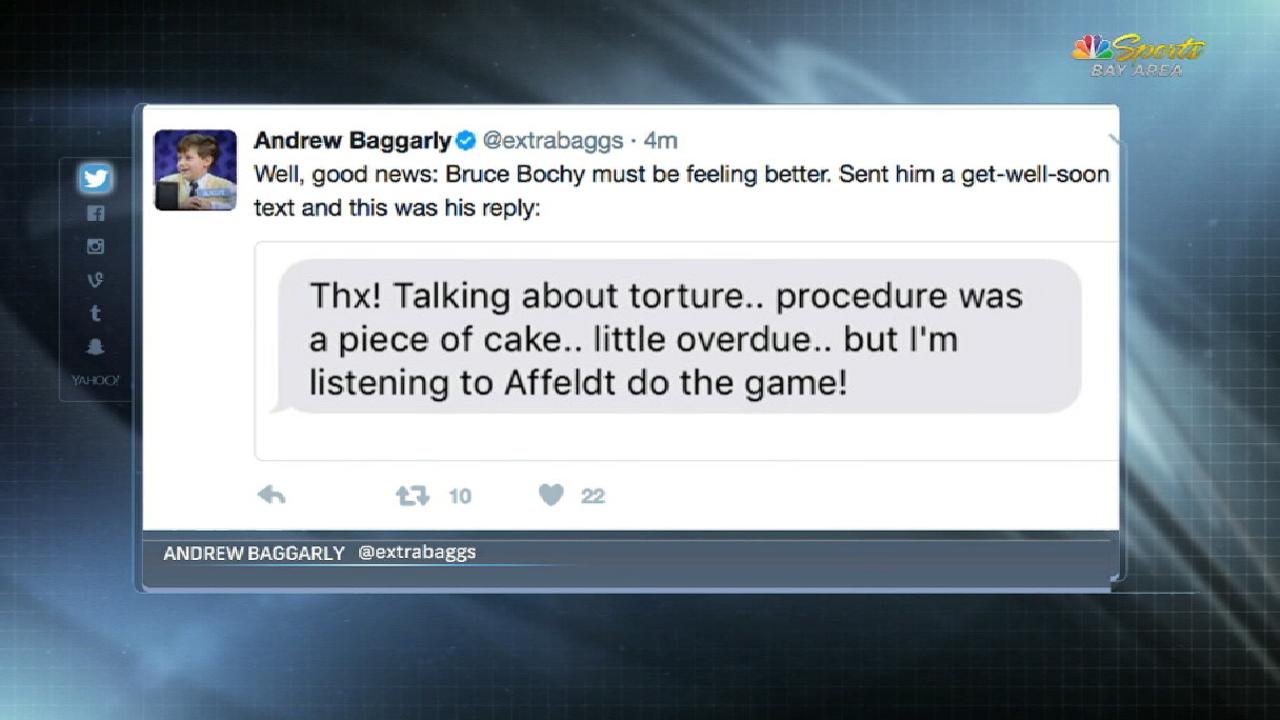 KANSAS CITY -- As they prepared to open a two-game series against the Royals on Tuesday, the Giants had the well-being of manager Bruce Bochy uppermost in their minds.
The Giants announced earlier in the day that Bochy would miss the Kansas City trip after undergoing a minor heart procedure -- an ablation to alleviate discomfort he was experiencing due to an atrial flutter. The procedure, which was performed in San Diego, was deemed a success and Bochy is resting at his home. He is scheduled to rejoin the club Friday in Colorado.
"We just want him to take care of himself," catcher Buster Posey said. "Take his time and make sure he has been cleared and is OK to manage. What we do is secondary to other things in life."
Left-hander Madison Bumgarner said all the Giants are thinking about Bochy.
"He has had a little bit of a tough time the last few years with his health," Bumgarner said. "It seems like he's doing pretty good from what we've heard. Hopefully, it's all taken care of and he gets back to normal, everyday life pretty quick."
Bench coach Ron Wotus, who is taking on managerial duties for the Kansas City series, last spoke with Bochy on Sunday.
"We discussed that he was going in to get checked out and we discussed that this was a possibility," Wotus said. "It is surgery, but from what I know I expect him to be back in Colorado."
Robert Falkoff is a contributor to MLB.com and covered the Giants on Tuesday. This story was not subject to the approval of Major League Baseball or its clubs.