Merrifield makes quick impact after callup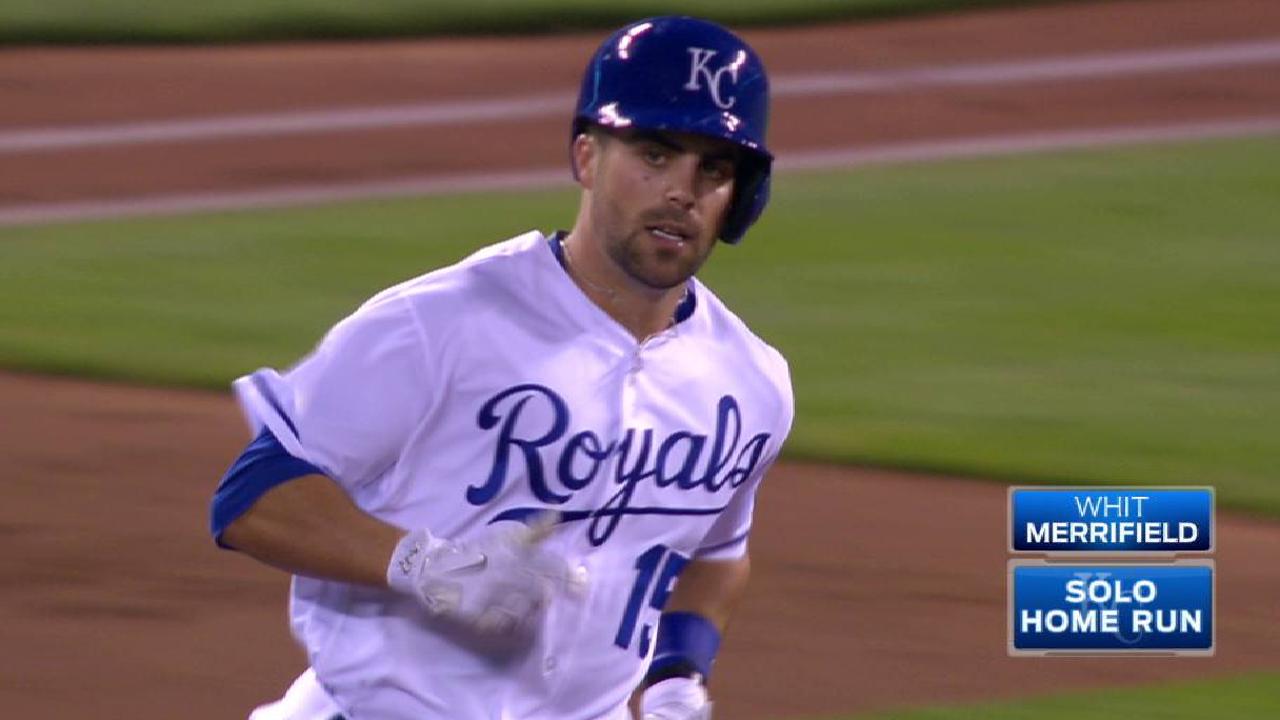 KANSAS CITY -- Royals super utility man Whit Merrifield admits that when he didn't make the Royals out of Spring Training, he was quite motivated to prove everyone wrong.
Merrifield is off to a good start in that regard, getting two hits, including an opposite-field home run, in his first game since being called up Tuesday, a 2-1 loss in 11 innings to the Giants.
"Fighting for something is important," Merrifield said. "It's like any job. If you don't get a promotion, you're disappointed. You don't sulk on it. You just try to change people's minds.
"Guys are motivated by a lot of different things. I definitely put a chip on my shoulders."
Merrifield, who also walked twice, drilled a 3-2 pitch off Giants right-hander Matt Cain into the right-field bullpen.
"I was seeing [Cain] pretty good," Merrifield said. "I got a 3-2 pitch, was a little late on the swing but squeaked it over."
As Merrifield rounded the bases, his family, including his brother, sister, mother and father, was on hand, perhaps screaming the loudest.
"I was lucky that [Jason Vargas] gave up his seats for them," Merrifield said.
Merrifield, 28, was hitting .412 through nine games at Triple-A Omaha before the callup as the corresponding move for right-hander Jake Junis being returned to Omaha on Sunday.
"I just wasn't missing pitches," Merrifield said. "That's the key for anyone to be hitting good."
Merrifield, who was in a four-man competition for the starting second-base job this spring, said he was told at the end of camp to "just go down there [to Omaha] and work."
Merrifield was disappointed.
"Bosses and employees aren't always going to agree," Merrifield said. "But you go on and try to do your best. I just tried to stay prepared."
Merrifield principally was called up to jump-start a sagging offense.
Paulo Orlando has been the primary right fielder so far in place of the injured Jorge Soler, but Orlando entered Tuesday hitting .128 with a .171 on-base percentage.
"Whit is hot right now," manager Ned Yost said. "It's as simple as that. That's why he's here."
Late in spring and before the Soler injury, the Royals did not forsee any situation with the four spring second-base contestants -- Merrifield, Raul Mondesi, Christian Colon and Cheslor Cuthbert -- making the 25-man roster together.
The Soler injury late in spring opened that opportunity, but Yost opted for speedy pinch-runner Terrance Gore over Merrifield. Gore was optioned back to the Minors last week so the Royals could employ an eight-man bullpen.
The bullpen now is rested, allowing Junis to be sent back to Omaha and Merrifield to be called up.
"Circumstances have changed," Yost said. "Circumstances change every day."
Jeffrey Flanagan has covered the Royals since 1991, and for MLB.com since 2015. Follow him on Twitter @FlannyMLB. This story was not subject to the approval of Major League Baseball or its clubs.