Johnson savors first big league victory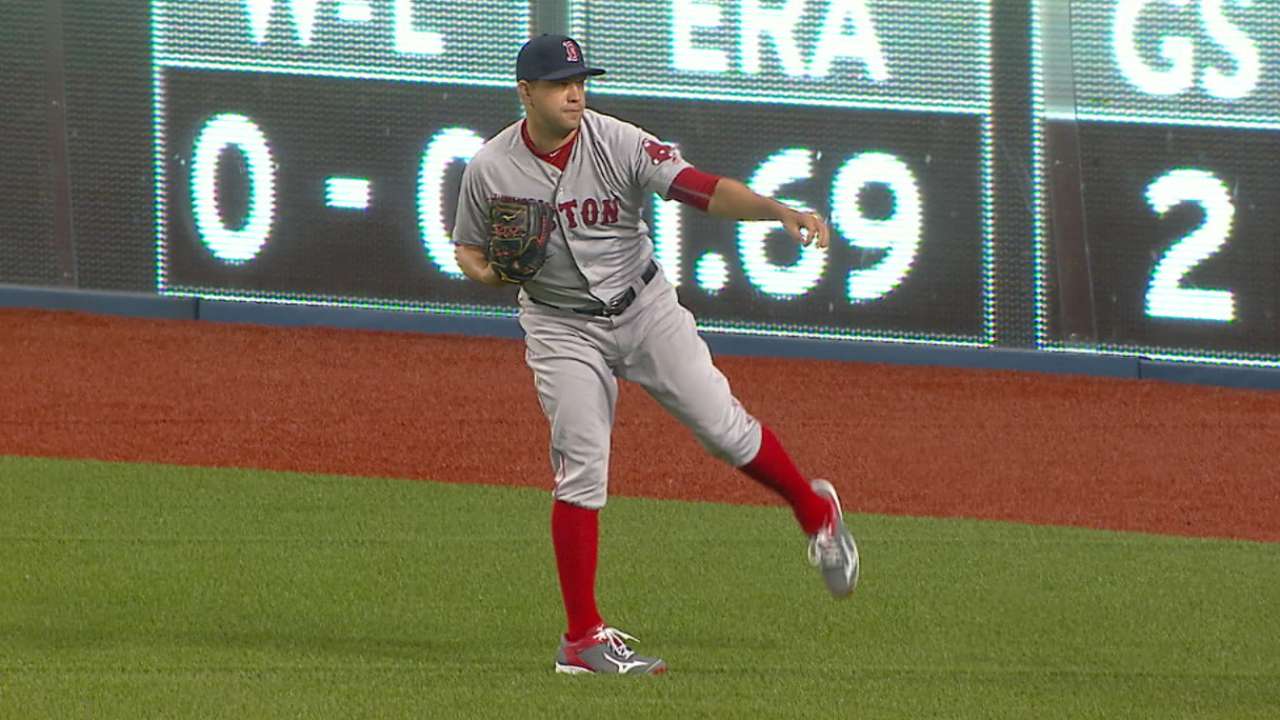 TORONTO -- Unlike his Major League debut 21 months ago, which was, in many respects, a night he would like to forget, Brian Johnson savored the aftermath of his long-awaited encore performance on Tuesday night at Rogers Centre.
Afforded an opportunity to be called up from Triple-A Pawtucket for one night only due to Eduardo Rodriguez going on the paternity list, Johnson's second career appearance for the Red Sox resulted in his first win -- 8-7 over the Blue Jays.
It wasn't a piece of art that Johnson turned in. But after throwing 35 pitches in the first inning, the fact the lefty was able to go five innings was crucial for a Boston team that had taxed the bullpen of late. The 26-year-old scattered seven hits and four runs, walking three and striking out six.
In a way, the outing was symbolic of the way Johnson has persevered over the last couple of years, dealing with arm issues and a bout with anxiety/depression that led to him taking a medical leave in the middle of last season.
All that Johnson has gone through had to make it sweeter, right?
"Without a doubt," said Johnson, who is ranked Boston's No. 11 prospect by MLBPipeline.com. "I think what I've been through helped me get through those first two innings and knowing that even if my back is against the wall, I could do it."
And even though Johnson was optioned back to Triple-A Pawtucket after the game, he proved that he is someone the Red Sox can call on the next time the need arises. Also, he has a win to take with him back to the Minors.
"Oh, it's awesome," said Johnson. "It's everything I dreamed it would be."
As for the night of July 21, 2015, when Johnson took the loss at Houston and gave up three hits and four runs over 4 1/3 innings, he doesn't have to think about it anymore.
In that debut, Johnson was going through left elbow woes, but he didn't tell anyone until after the fact.
"I had no feeling in my hand at that point in time on certain innings, certain pitches to where I'd throw one and not know where the ball was going because I couldn't feel my fingers. But today I felt like myself," said Johnson.
And he has the win to prove it.
"I didn't even think about a win until about the seventh," said Johnson. "I didn't even put it together. Especially the last inning, I felt like my heart was racing a little bit, just because of the adrenaline. But it was exciting."
Ian Browne has covered the Red Sox for MLB.com since 2002. Follow him on Twitter @IanMBrowne and Facebook. This story was not subject to the approval of Major League Baseball or its clubs.