Griffin shows Rangers pitchers how it's done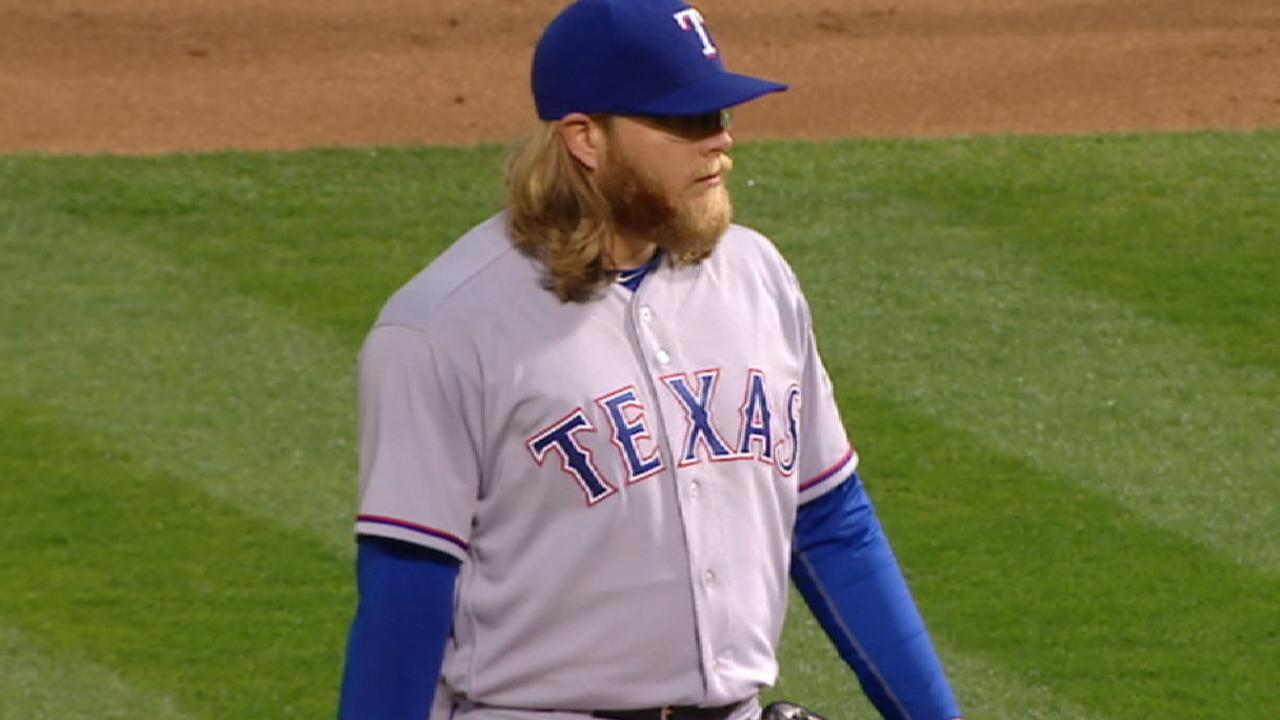 OAKLAND -- The Rangers' "fifth starter" gave a tutorial in pitching Monday. It was a timely lecture for a pitching staff that began the night fourth in the league in walks allowed.
A.J. Griffin pitched six scoreless innings, allowing just one hit and one walk while striking out eight in the Rangers' 7-0 victory over the Athletics at the Coliseum. Alex Claudio, Jeremy Jeffress and Keone Kela finished up for the Rangers' first shutout of the season.
Griffin did everything the Rangers ask of their pitchers, beginning with throwing first-pitch strikes. Griffin faced 19 hitters and threw strike one to 15 of them, mixing both the curve and the fastball. Nothing will make Rangers manager Jeff Banister happier than that.
"You go out there and try to do that every single time," Griffin said. "You don't want to be falling behind. Being able to pour the curveball in there for strikes on the first pitch really helped. It's good to be in the driver's seat like that."
The 78.9 percent of first-pitch strikes was way ahead of the curve for Rangers pitchers. They entered the night averaging 57 percent on first-pitch strikes, second lowest in the American League and fifth lowest in the Majors.
"It is very good but even better is getting 23 of 30 from all our pitchers," Banister said. "That's about as good of ratio as we have had all year."
Griffin did it with a fastball that was clocked at an average of 87.7 miles per hour. But he was able to put the fastball where he wanted it, particularly on the inside corner. Working inside is another expressway to Banister's heart.
"He had a really good curveball tonight, and when it's that slow, it makes his fastball play that much harder than the velocity would suggest," Athletics manager Bob Melvin said. "When you're throwing 65 to 68 mph curveballs, changeups, then all of a sudden a chest-high 87 mph fastball -- and he had us in between."
The combination allowed Griffin to get a high number of swing-and-misses, both with the fastball and the offspeed breaking pitches. Griffin got swing-and-miss on 13 of 91 pitches, or 14.3 percent according to Statcast™. He had a ratio of 10.1 percent last year, which ranked 91st among 151 pitchers with at least 1,500 pitches thrown.
Ten of those swing-and-misses were in the strike zone and seven were on his fastball. That's a Statcast-era high for Griffin on the fastball.
"It was huge to get ahead of hitters, keep them off balance and be able to pitch my game," Griffin said. "I just wanted to get our guys back in the dugout and make it feel like we were at bat the entire game."
T.R. Sullivan has covered the Rangers since 1989, and for MLB.com since 2006. Follow him on Twitter @Sullivan_Ranger and listen to his podcast. This story was not subject to the approval of Major League Baseball or its clubs.