Cubs unconcerned by recent tough stretch
Schwarber: 'It's super early in the season still, no panic'
CHICAGO -- Last year, the Cubs went 17-5 in April and didn't have a losing record the entire season. On Monday, they lost their fourth in a row at home, something the Cubs haven't done since May 2014. Maybe there is something to the World Series hangover?
"I don't remember what our record was at the beginning of last year," pitcher John Lackey said, dismissing any talk of worry over the slow start. "People are going to come here gunning for us, for sure. We're the world champs, and people want to come here and play well. We'll have to match that intensity and play better."
The Brewers belted three homers Monday at Wrigley Field to pin a 6-3 loss on the Cubs, who did not lose back-to-back games in the month of April last year. Eric Thames hit his seventh homer of the season for Milwaukee; Chicago has nine home runs total this year, fewest in the National League.
The Cubs are below .500 for the first time under manager Joe Maddon, if you don't count two Opening Day losses in 2015 and this year.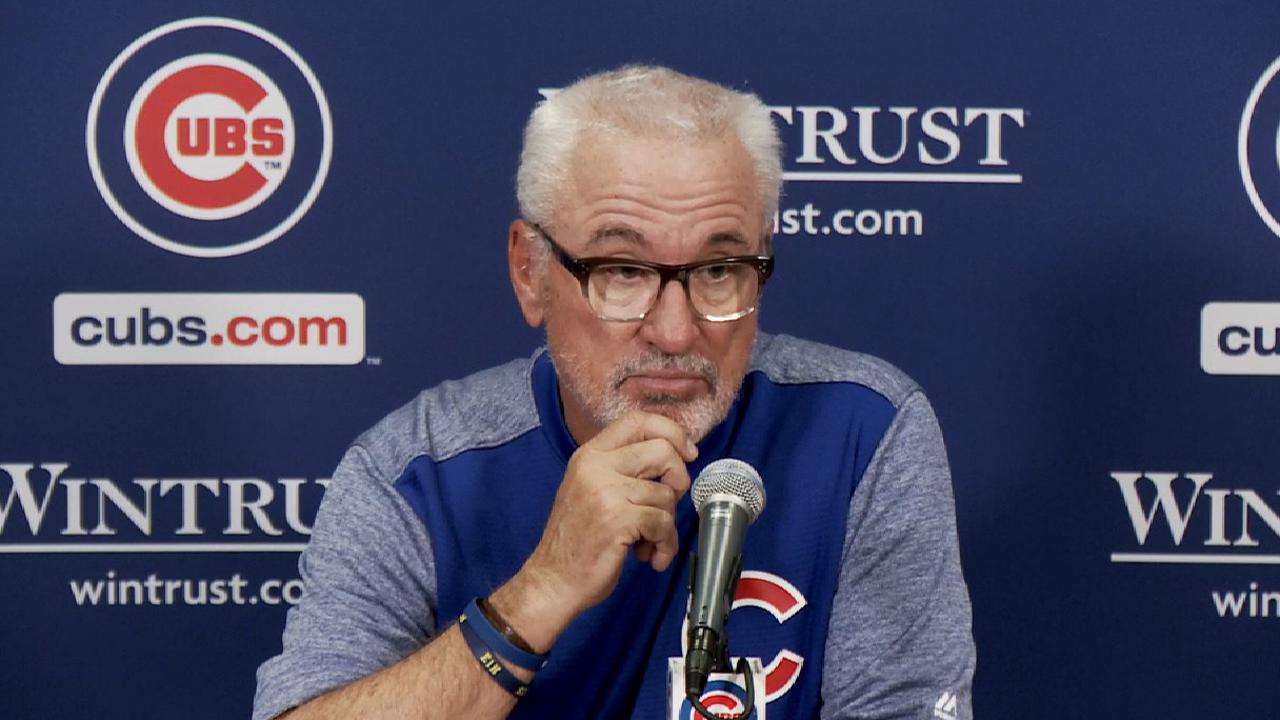 "Obviously, when you're a competitor, you want to win," Kyle Schwarber said. "That's why we're out there, we want to win. Losing's not our strong suit. We want to go out there and put in team at-bats, team defense, and end up with a win at the end of the day.
"It stinks [to lose], but we have to turn the page," Schwarber said. "It happened to us last year right before the All-Star break when we hit the skids. Hopefully, we're hitting it maybe early. It's super early in the season still, no panic."
The Cubs lost nine of 11 games right before the break last year, but still had a 53-35 record and significant lead in the NL Central standings.
"It's too early to panic about anything right now," Lackey said. "We have a lot of talent on this team. We'll get into it a little bit here. The last 10 years or so, I break the season up in quarters. Until you get to about 40, 50 games, we'll see where we're at then. Right now, it's pretty early."
Jason Heyward doesn't use Lackey's timetable, but he also wasn't concerned.
"I say it's one series at a time, one game at a time," Heyward said. "Up until the last series [against the Pirates], we won every series. It's just the beginning [of the season]."
Carrie Muskat has covered the Cubs since 1987, and for MLB.com since 2001. She writes a blog, Muskat Ramblings. You can follow her on Twitter @CarrieMuskat and listen to her podcast. This story was not subject to the approval of Major League Baseball or its clubs.