Agent zero: Angels' bats stuck on repeat
Struggling offense hasn't scored in the last 20 innings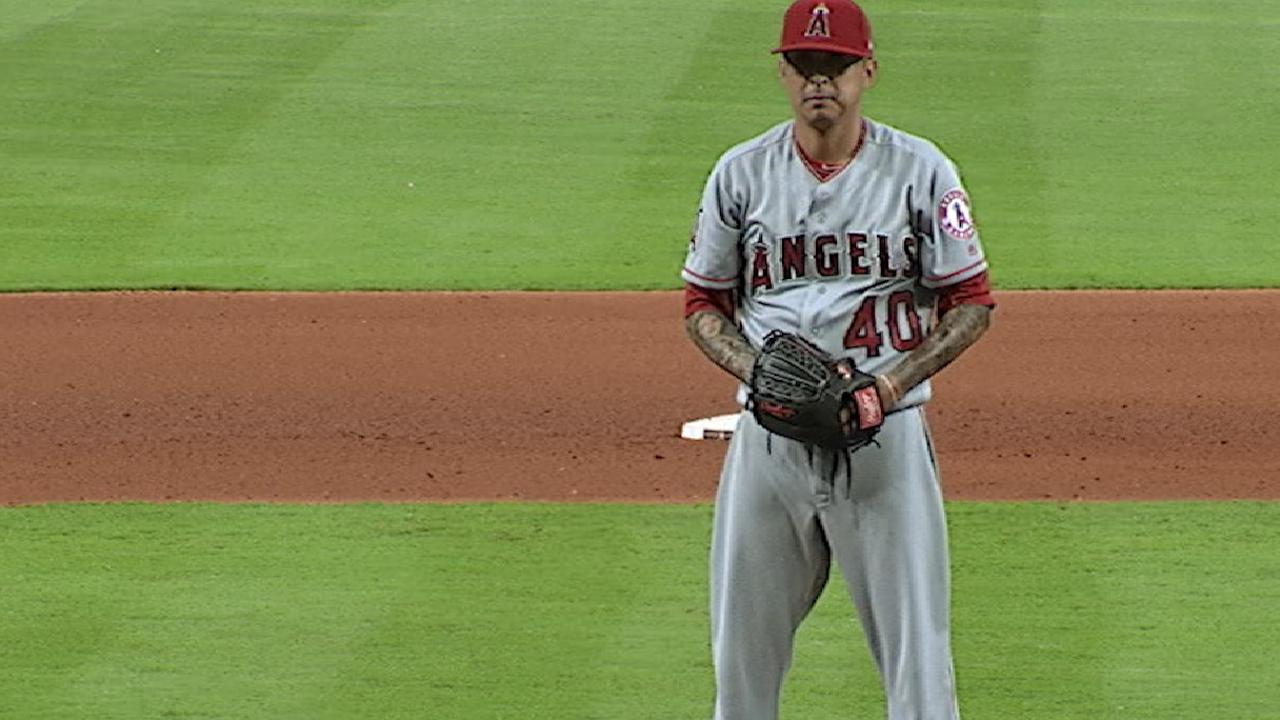 HOUSTON -- The Angels saw two unsavory streaks continue following their 3-0 loss to the Astros in Monday night's series opener at Minute Maid Park.
After being shut out for a second consecutive game, the Angels' scoreless streak grew to 20 innings. Their lineup, which is projected to be a strength this season, has not produced a run since the seventh inning of a 3-2 defeat in Kansas City on Saturday. The cold bats have been the primary culprit behind the losing skid, which extended to six games on Monday and dropped the Angels to 6-8.
"It's not ideal," first baseman C.J. Cron said. "We haven't been hitting it like we know we should or like we know we can. Unfortunately, this type of stuff happens."
The Angels generated multiple scoring opportunities against Astros starter Charlie Morton, but they finished 0-for-6 with runners in scoring position and left nine men on base.
"I think we had a bunch of good at-bats at times and then a couple that obviously we didn't get it done," Angels manager Mike Scioscia said. "But I thought we hit the ball hard a couple of times with guys in scoring position. I thought we got into a situation where we worked some counts, got [Morton's] pitch count up. We just left a lot of guys on base early in the game."
The Angels wasted another strong outing from their rotation, which appears to be rebounding from its rough start to the season. Right-hander Jesse Chavez allowed two runs on seven hits over seven innings, walking two and striking out five, but he came away with the tough-luck loss.
"Jesse pitched with his back against the wall," Scioscia said. "He really pitched a terrific ballgame for us, but we couldn't get that hit early with some guys in scoring position."
The Angels are hitting just .160 (30-for-188) over their six-game losing streak, but one consolation is that the starting pitchers have posted a 1.89 ERA over their last three games, allowing four runs over 19 1/3 innings. It's a significant improvement from their first 11 games, when they struggled to get deep into games and combined for a gaudy 6.27 ERA.
"I think the last three starts are what we're going to need," Scioscia said. "Like we said, that can turn quickly as we get around this rotation one or two times with these good starts. We're going to be fine. It started with [Matt Shoemaker], and [Tyler Skaggs] and now Jesse. We're going to put up a lot of wins if we pitch like that."
Maria Guardado covers the Angels for MLB.com. This story was not subject to the approval of Major League Baseball or its clubs.