MLB.com Columnist
Phil Rogers
Flowing Thames quells doubts with onslaught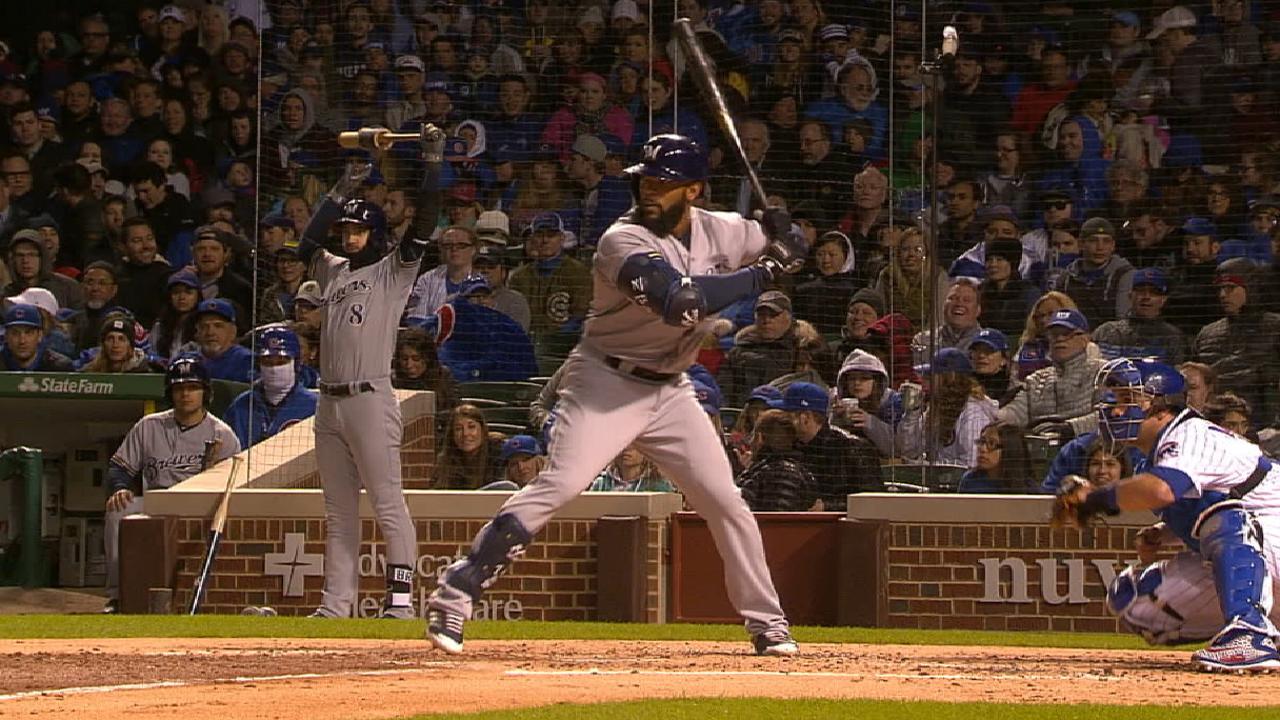 CHICAGO -- No one doubted Eric Thames' power. He'd hit 124 home runs the last three seasons, after all, albeit in the Korea Baseball Organization.
But the question remained: Could the new Brewers first baseman handle Major League fastballs? Even his manager wondered.
"He has an adjustment [ahead of him], and he knows that," Craig Counsell said during Spring Training. "The adjustment is the velocity. This league has the best velocity in the world. That's the adjustment."
• Thames becomes 2nd Brewer to HR in 5 straight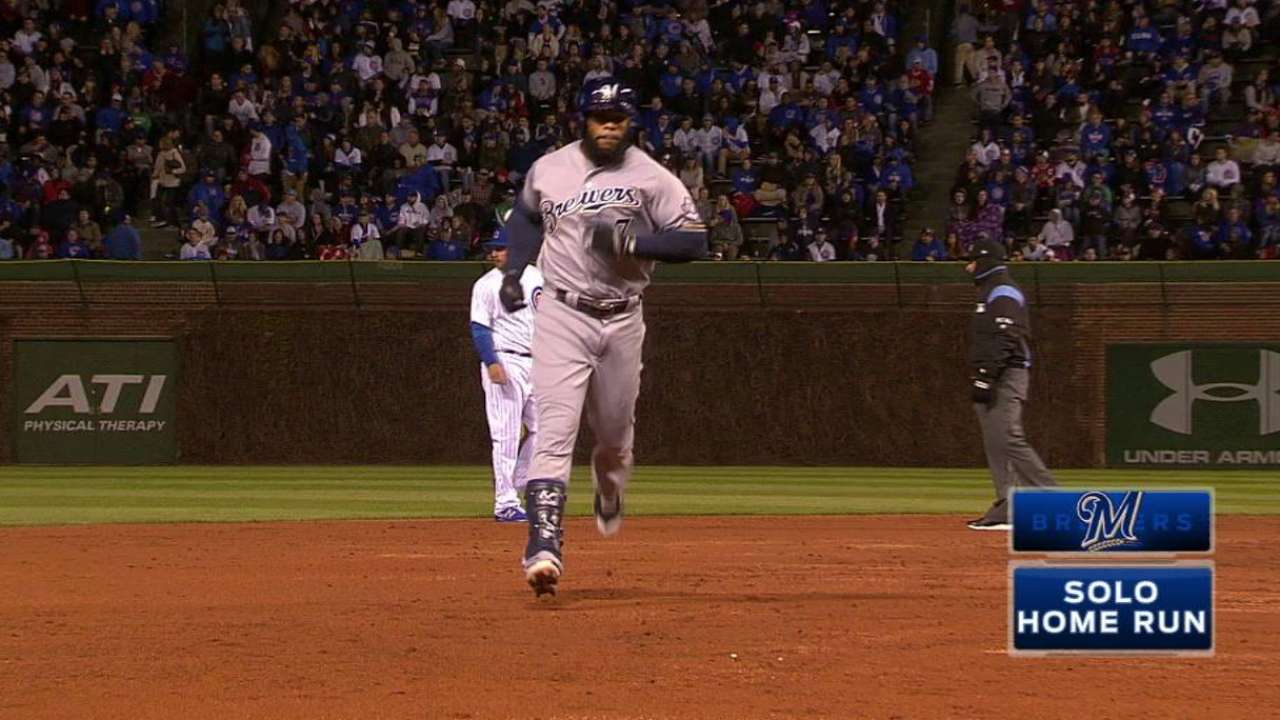 Consider the test passed with flying colors, like all others that the 30-year-old has faced since returning to North America.
Thames has hit a Major League-high seven home runs, including a barrage of six in his past five games. He shot a slider from John Lackey into the first row of the left-center-field bleachers at Wrigley Field in Milwaukee's 6-3 win Monday night, an opposite-field line drive that confirmed the opinion Joe Maddon offered a few hours earlier.
"Right now, he's scary every time he swings the bat," Maddon said. "Give it to him. He really has made himself into a more dangerous hitter. … That swing is very lethal."
Three of Thames' home runs have come on fastballs of 95-plus mph, giving him the Major League lead in that category, according to Statcast™. Two of those were on 96-mph fastballs from Reds lefties Tony Cingrani and Wandy Peralta.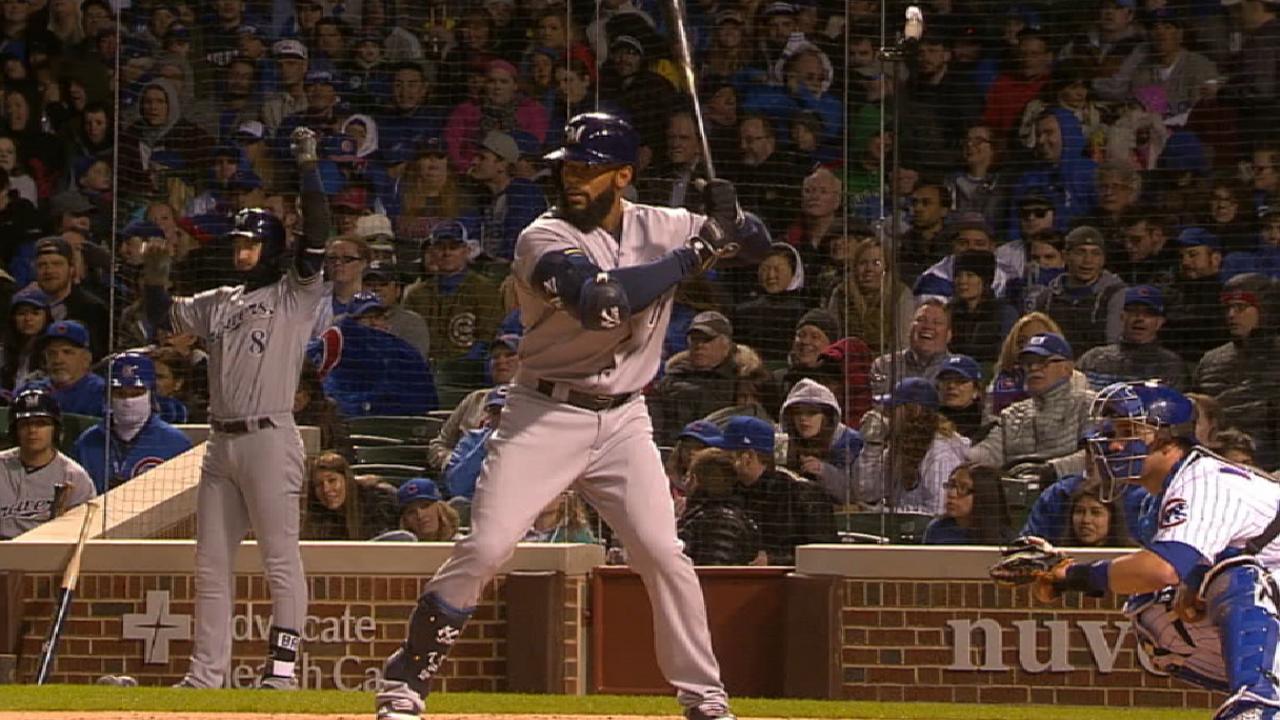 Thames, who was signed to a three-year, $16 million deal with a club option for a fourth year, wasn't considered a good breaking-ball hitter when he played for the Blue Jays and Mariners in 2011 and '12. He says he had to learn to hit those pitches to survive in Korea.
Thames never doubted that he could hit fastballs.
"Velocity is just seeing it," he said. "The human body adapts. I've always had fast hands. It's funny, even seeing 88 to 91 [mph] in Korea, with split fingers, they throw so much off-speed, then 91 looks like 101.''
Thames says he was 12 years old when a Minor League player told him and some other young players that it wasn't impossible to hit fastballs that traveled 90 mph or faster.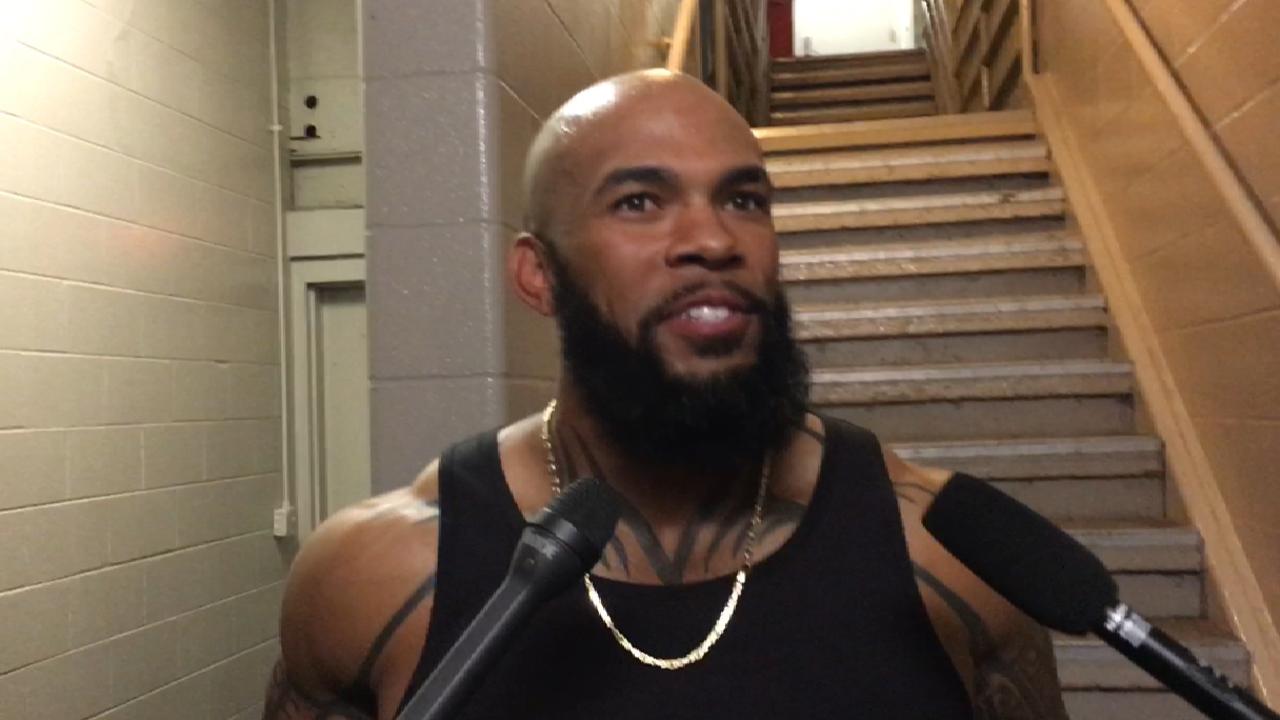 "He said, 'When you see it every day, it looks a lot easier,'" Thames said. "That's true. I'm not saying it's easy to hit 95-plus, but it gets easier. You can react better. Playing more and more, I got used to it, acclimated."
Not all home runs are created equal.
Thames amazed himself with his home run off Peralta last Friday in Cincinnati.
The Reds reliever got ahead of him with two hard sliders in the dirt, on the outside of the plate. Thames figured he'd get another slider down and away, but Peralta instead came back with a 96-mph fastball low and on the inside part of the plate.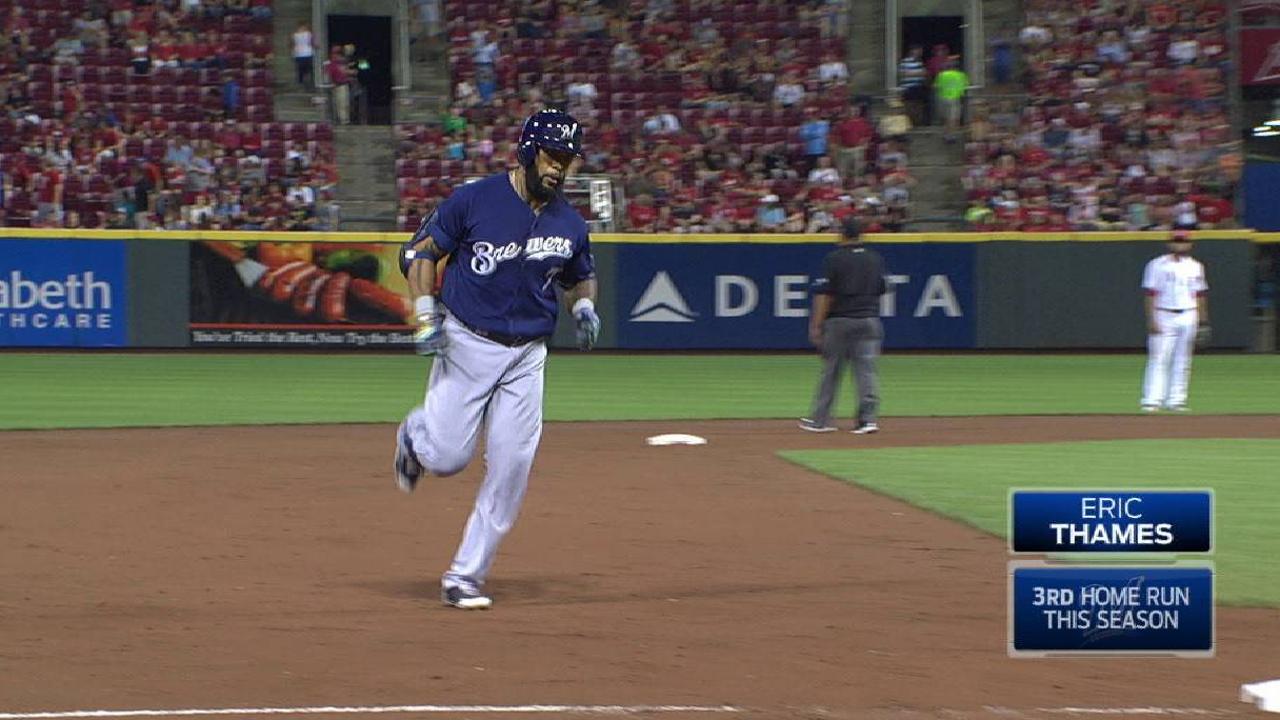 "He threw me a fastball in and I just reacted," Thames said. "I wasn't sitting on the fastball. I told [hitting coach Darnell Coles], 'That was the craziest thing.' When you just react, it's just like a flash. The ball was over there, and you're like, 'How did I hit that?' I look at the video, and it was a two-seamer in from a lefty, hard in, and I'm like, 'How did I get to that?' But I'm starting to adapt. I'm working to get better every day."
Counsell expects the fast start to do wonders for Thames, who has Ryan Braun hitting behind him. He agreed that the home run off Peralta was a big moment for Thames, who hit only one home run in Spring Training.
"Any hitter is going to be protecting slider right there," Counsell said. "He threw it down and in, and he got to it really easy. Those are the kind of at-bats that give hitters so much confidence. You might not have been sitting off-speed but you were thinking off-speed, and you still hit a fastball. That gives hitters a lot of confidence.''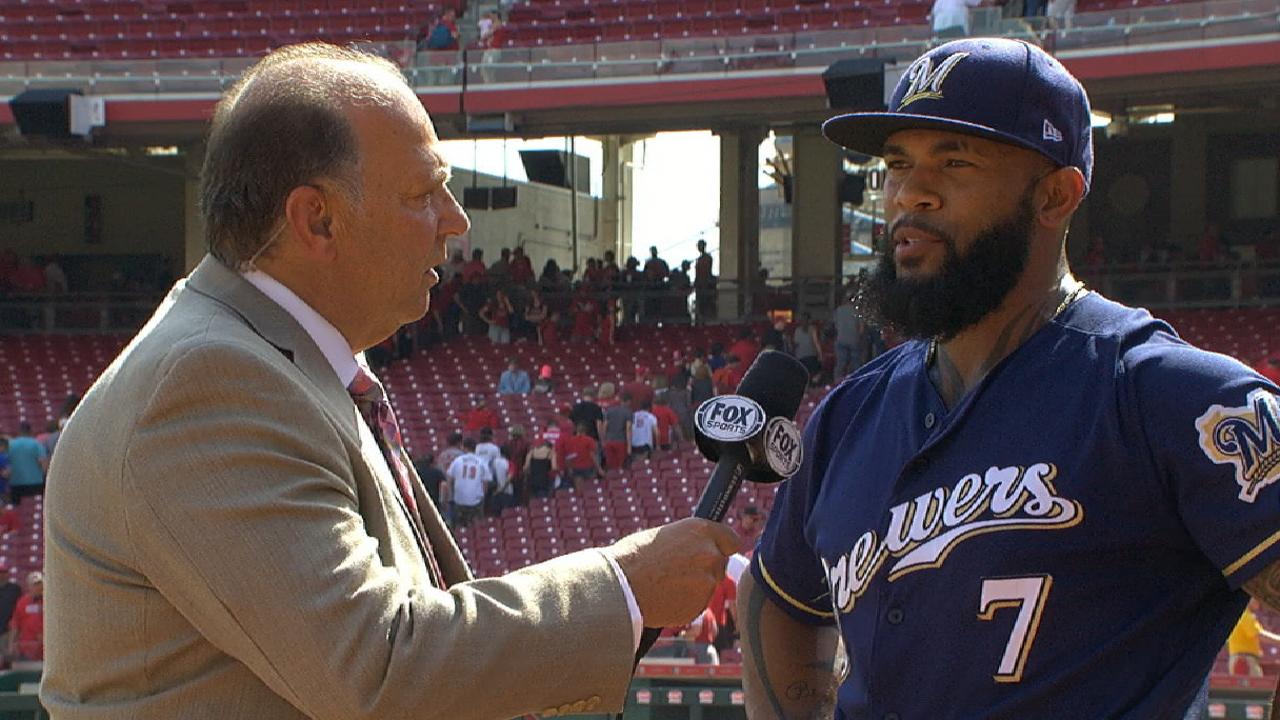 Thames says he knows there are slumps in his future -- 0-for-15s, maybe even 0-for-20s -- but he believes he will be an impact hitter over the long haul, like he was for the NC Dinos in Korea.
"I think everybody's kind of shocked that I'm hitting better than when I was first in The Show," Thames said. "I don't know. See, for me, I feel like I have this confidence. I know I can play. … I feel like I'm just doing my job."
Lethal seems an apt description.
Phil Rogers is a national columnist for MLB.com. This story was not subject to the approval of Major League Baseball or its clubs.