Tebow adjusting to Class A life in Columbia
Former NFL quarterback is using leadership to help clubhouse, make impact
ROME, Ga. -- Two weeks into Tim Tebow's Class A career with the Columbia Fireflies of the South Atlantic League, the former NFL quarterback and 2007 Heisman Trophy winner is still adjusting to his new career.
Tebow entered play Monday night hitting under .200 with two home runs and nine RBIs, and is fresh off a three-RBI performance Sunday night in Augusta, Ga. His raised his batting average to .184 after going 1-for-4 with a single in a 3-2 loss to the Rome Braves on Monday, and he has reached base in nine of his 10 games after reaching on a throwing error in the fifth inning.
Making consistent contact at the plate is priority No. 1 for the left-handed-hitting Tebow.
"I feel like I'm improving," Tebow said. "I feel like I'm getting there with timing, rhythm and things that I've been working on."
The former NFL first-round draft pick spent two years with the Broncos and won a playoff game as the team's starting quarterback in January 2012. He was traded to the Jets to make room for Peyton Manning after the season, and his career came to a close after practice squad stints with the Patriots and Eagles during the 2013 and 2015 seasons.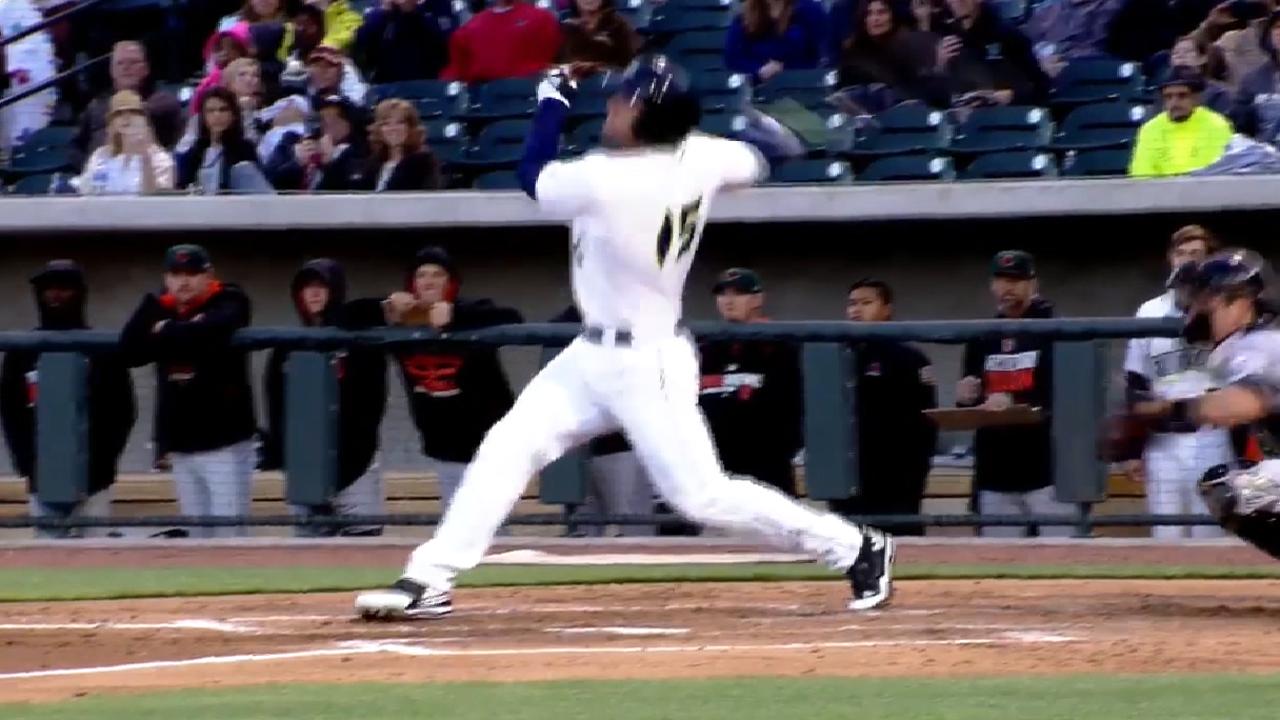 The left fielder -- who at 29 is four years older than the second-oldest player on the current Fireflies roster -- is still a work in progress on the baseball front. His leadership skills, though, are serving as a major asset to his current team and the Mets organization.
"I try to be myself, love all the guys, be passionate, show up to work every single day," Tebow said. "Try to be somebody who works extremely hard, and if others see that, that's great, and show encouragement to these guys.
"And also use my experience, because I have been through a lot in sports, and not all the guys have been. So I try to give those experiences to the younger guys so maybe they don't have to go through all of the highs and lows that I have."
Getting his bearings in the midst of Minor League attention that hasn't been seen since Michael Jordan played for Double-A Birmingham in 1994 hasn't been easy for Tebow, who spent about 10 minutes signing autographs and taking pictures with fans prior to Monday's game. His stardom on the gridiron combined with curiosity about his baseball skills, created a circus-like atmosphere at State Mutual Stadium on Monday night. That show will likely continue for the Fireflies as long as No. 15 is in uniform.
"I don't try to think about it or have anything to do with it," Tebow said. "I just try to get used to my new process. If I have the opportunity to make some people smile or happy by shaking hands or signing an autograph, that's pretty awesome."
For Tebow, that serves his goal.
That goal isn't to play in Citi Field for the Mets or any other Major League franchise. His goal is to make an impact in society through his talents via the Tim Tebow Foundation, which held its "Night To Shine" prom for special needs children in February.
"I've always wanted to be somebody who transcends the sport I'm playing," Tebow said. "At the end of the day, if all you do is get a base hit, strike out, throw a touchdown or interception, it's just a game. But if you can do more than that with the platform that you're given, that's something really special."
On the field, Tebow is still a question mark. He struggled with offspeed pitches from Rome starter Bryse Wilson on Monday night, and he is still working to get his timing back after more than a decade off from the sport.
Off it, though, he's a champion.
Barrett Sallee is a contributor to MLB.com based in Atlanta. This story was not subject to the approval of Major League Baseball or its clubs.