Marshall quickly fits in with Mariners' bullpen
Reliever has thrown four scoreless innings since promotion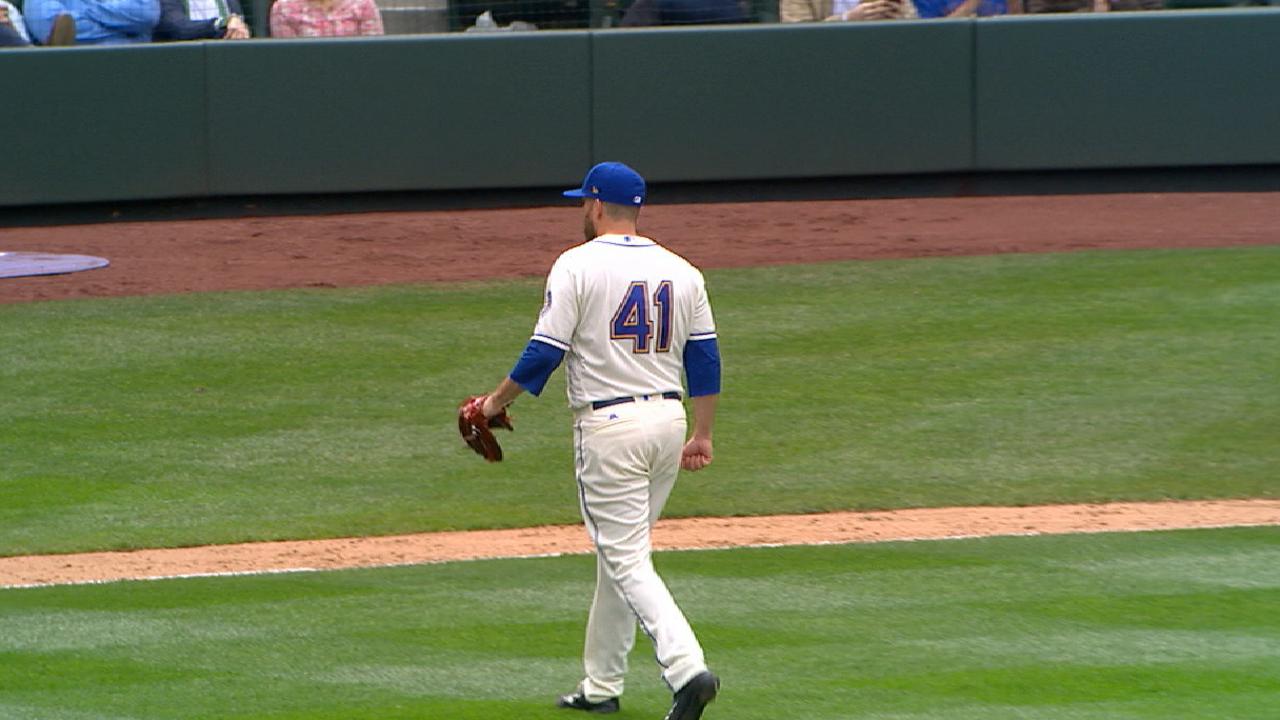 SEATTLE -- Evan Marshall didn't wait long to make an impact on the Mariners' bullpen, throwing 2 1/3 perfect innings of relief in Sunday's 8-7 victory over the Rangers to provide a huge boost after starter Hisashi Iwakuma fell behind, 6-1, after three innings.
Marshall, a 26-year-old right-hander, was claimed off waivers from the D-backs on April 4, and then promoted to the Mariners on Wednesday from Triple-A Tacoma. The sinkerballer had a big year for the D-backs in 2014 as a rookie, but struggled in '15 and suffered a skull fracture when hit in the head by a line drive late that season for Triple-A Reno.
While 2016 didn't go particularly well for Marshall either, Mariners general manager Jerry Dipoto believed Marshall is better than his numbers indicated and could be a nice addition. And first impressions have certainly been positive.
"He throws strikes and has pretty good stuff," manager Scott Servais said. "I didn't know anything about him before we got him, but he's pitched a couple times for us, and I like the way he's handled himself.
"He fits a nice niche in our bullpen, because he does it a little differently. He's got a little more run and sink to his fastball, where most of our guys ride the ball and cut it. It's nice to have somebody who does it a little different down there."
Marshall threw 1 2/3 scoreless innings in his Mariners debut last Wednesday against the Astros, then impressed again Sunday against the Rangers.
Though sinkerballers typically get ground balls, Marshall retired six of the seven Rangers hitters he faced on fly balls, and struck out the other, in an efficient 24-pitch outing.
"I pitched to contact," Marshall said. "That's a great low-ball hitting team, and me being a sinkerball guy, sometimes that doesn't work. But I just set my sights a little higher, and tried to work in on their hands a little bit and get off the barrel. We've got some great athletes in the outfield, and let them run and get it."
Marshall was disappointed to be designated for assignment by Arizona, but he likes the way things have worked out.
"It's definitely been a whirlwind," Marshall said. "I was real close to making the team in Arizona, and then getting shown the door right at the end, that was a tough break. But the Mariners called, and it was a perfect matchup. It's nice to be able to say thank you and contribute right away."
Worth noting
• Reliever Steve Cishek made his first rehab outing for Double-A Arkansas on Monday as he works back from October hip surgery, throwing a perfect inning at San Antonio by getting a flyout and two ground balls in an 18-pitch frame. He'll likely take the next two days off and then pitch again, with the goal eventually to get back-to-back outings soon at either Arkansas or Triple-A Tacoma. If all goes well, Cishek could join the Mariners around the start of May.
• Shortstop Jean Segura continued taking ground balls and early batting practice as he recovers from a strained right hamstring, and Servais remains hopeful he can rejoin the club in Oakland this weekend after his 10-day DL stint ends Friday.
Greg Johns has covered the Mariners since 1997, and for MLB.com since 2011. Follow him on Twitter @GregJohnsMLB and listen to his podcast. This story was not subject to the approval of Major League Baseball or its clubs.