Best bunt ever? Schwarber surprises Crew
Cubs teammate Rizzo also exploits shift, lays one down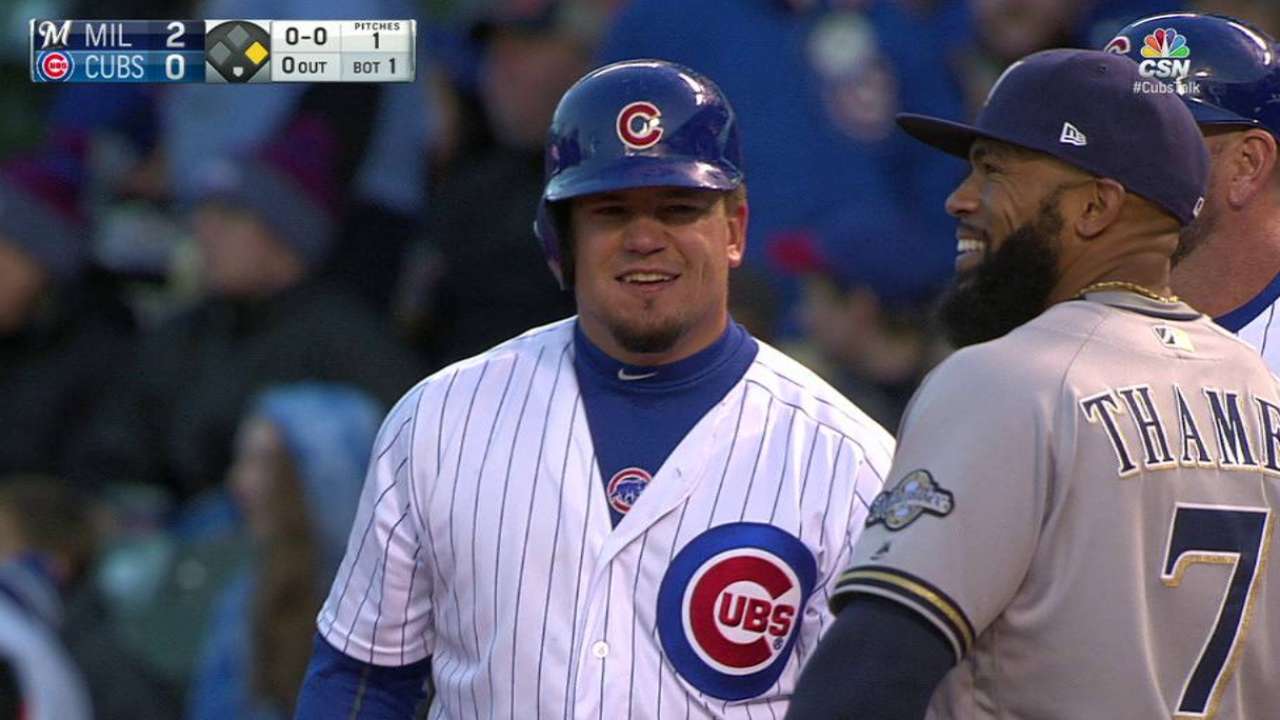 CHICAGO -- Not only can the Cubs' Kyle Schwarber hit balls to the top of the right-field video board, he can also bunt, and he showed off his small-ball skills in the first inning of Monday night's 6-3 loss to counter the Brewers' defensive shift.
Schwarber dropped a perfect bunt down the third-base line that stayed just fair. Brewers pitcher Chase Anderson and third baseman Travis Shaw watched the ball, expecting it to roll foul, but it didn't do so until it hit the third-base bag. That's all the time Schwarber needed to safely reach first.
"It was going foul, and then all of a sudden it hugged the line all the way down," Shaw said. "Good grounds crew."
Bunting is not something Schwarber does very often. Actually, never. This was his first bunt hit in the Majors.
The surprise attack by the Cubs' leadoff man worked as Schwarber scored two outs later on Ben Zobrist's single to center.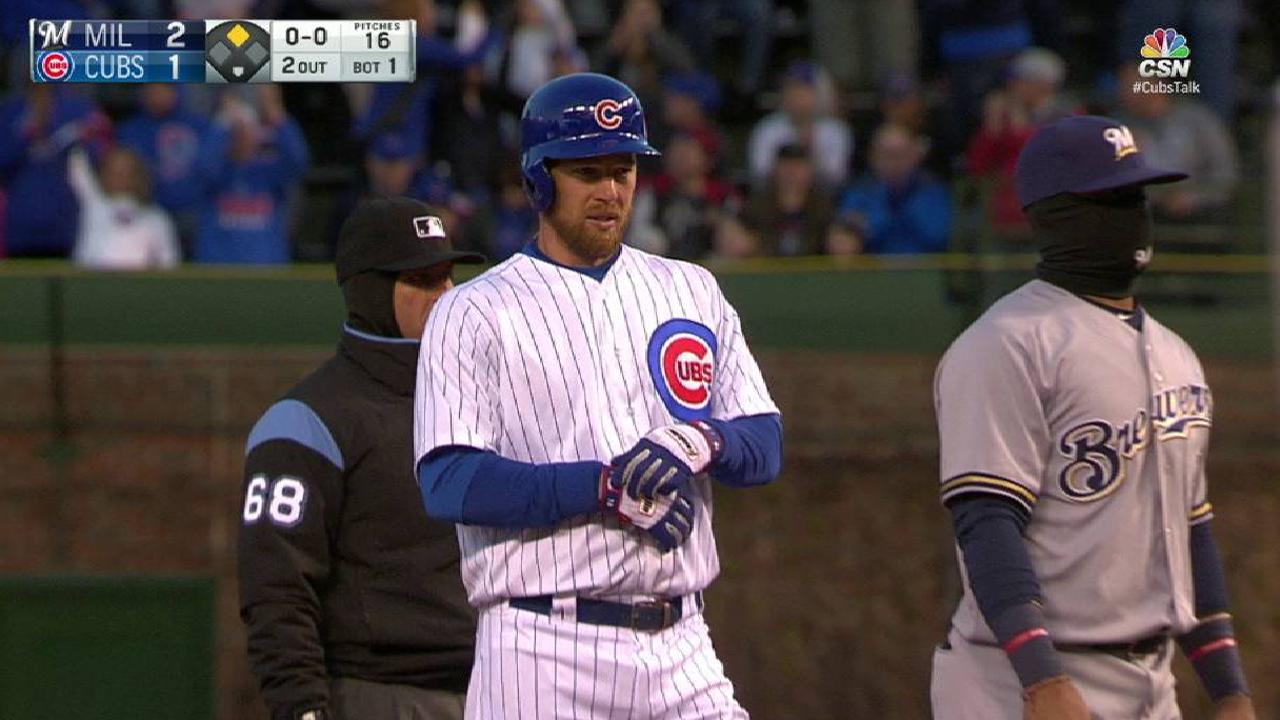 "The situation dictated it right there," Schwarber said. "We're down two runs and I needed to get on base. If it's wide open in that spot, I'm going to take it.
"It's only going to help us with everyone shifting," he said. "It might open up something later on down the road. If it's going to be there, we're going to take it."
The Cubs exploited the Brewers' defensive shift again in the fifth when Anthony Rizzo bunted for a base hit. His ball didn't stay as close to the line as Schwarber's did, but was just as effective.
"That's on their own," Cubs manager Joe Maddon said. "We do it in Spring Training. We talk about situations. It's another thing to put in the other team's mind."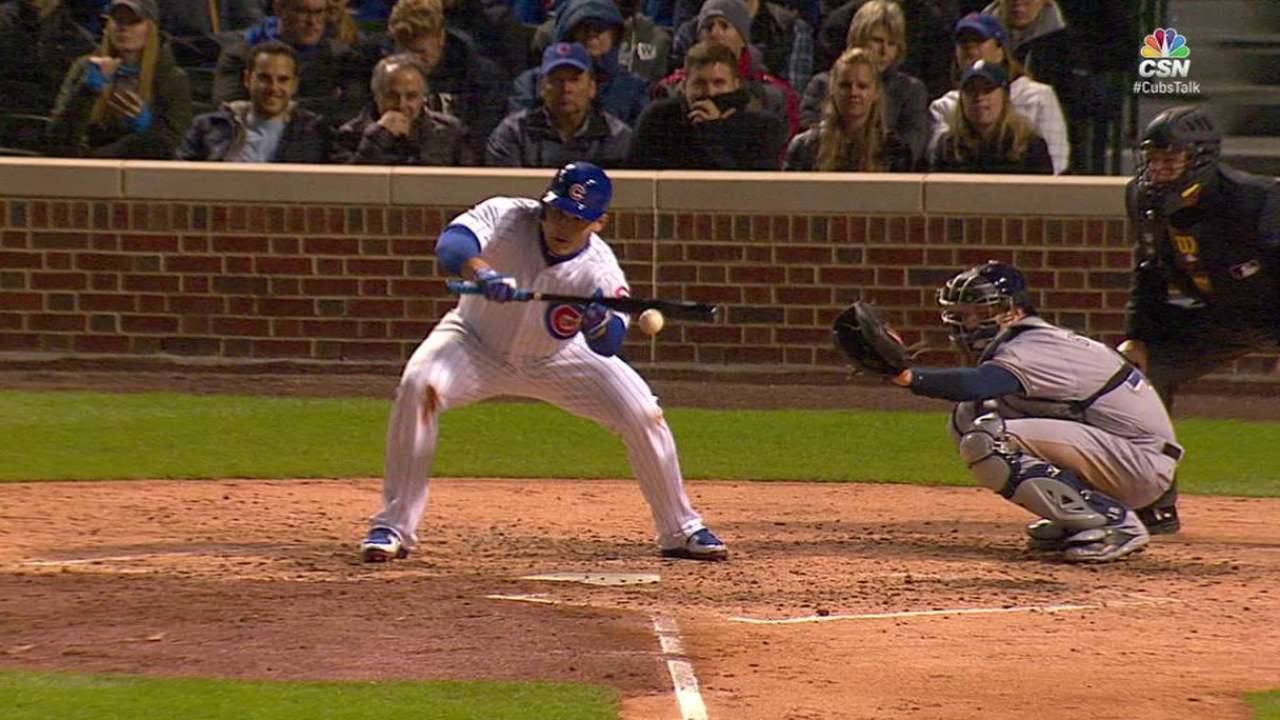 Brewers manager Craig Counsell said they may make some changes.
"The players that are being constantly shifted against are going to adjust, and we have to adjust with them," Counsell said. "You definitely take note of it. But you still get outs on it; we got an out on the shift with [Jason Heyward] in the eighth. You're living and dying with it."
Maddon said the Cardinals tried to bunt against the Cubs' shifts, but their balls went more foul than fair.
"Sometimes you don't mind when a guy does that," Maddon said. "If [Eric Thames] wants to bunt five times tomorrow, that's fine with me. It's just a matter of the situation."
That's not likely regarding Thames, who homered in his fifth straight game Monday, collecting three hits, including a solo blast leading off the third.
"I like what Schwarber did," Maddon said of the bunt. "Anderson is kind of a reverse split guy. I was fine with that versus that pitcher. Not every situation is the same. People have a tendency to put every item into the same group of baskets. That's why in our game, you have to understand, this guy is good against lefties, and he's good against us, so go ahead and bunt."
Carrie Muskat has covered the Cubs since 1987, and for MLB.com since 2001. She writes a blog, Muskat Ramblings. You can follow her on Twitter @CarrieMuskat and listen to her podcast. This story was not subject to the approval of Major League Baseball or its clubs.