Memories won't cloud Giants' task in KC return
Posey, Bumgarner adamant winning will be top priority at site of '14 WS title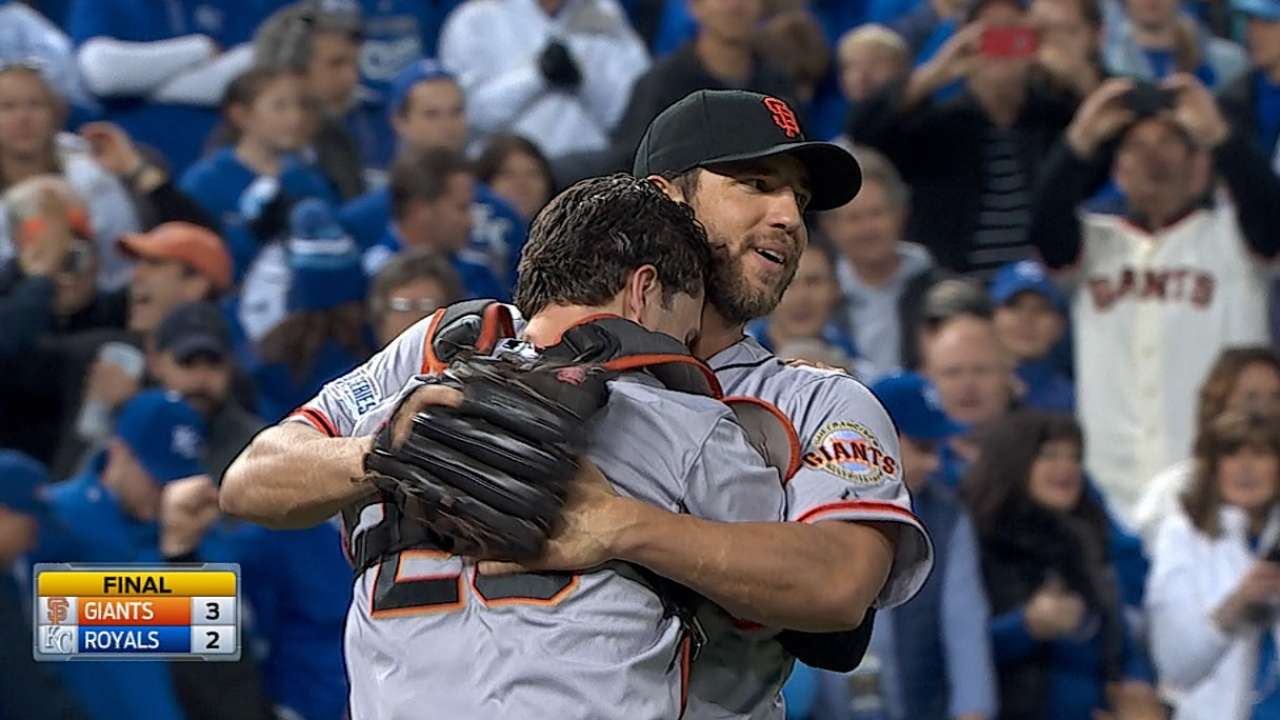 More than two years since Game 7 of the 2014 World Series progressed toward its dramatic conclusion, Buster Posey can recall the noise generated by the pro-Royals crowd at Kauffman Stadium. It conveyed energy, optimism, even a hint of impending triumph, though Kansas City never led.
Moreover, the cheering almost never stopped, with one exception. There was, Posey said, "kind of a gut check when the Big Fella came strolling in."
That, of course, was Madison Bumgarner, who completed his matchless postseason performance by pitching five shutout innings of relief on two days' rest to seal the 3-2 victory that gave San Francisco its third World Series triumph in five years.
Tuesday, the Giants will open a two-game Interleague encounter at Kauffman Stadium, marking their first visit to Kansas City since their Series-clinching win on Oct. 29, 2014. "Obviously," Posey said, "that's a lifetime memory."
Bumgarner made it that way by allowing two hits and stranding the tying run on third base by coaxing Salvador Perez's foul popup for the final out. His effort out of the bullpen complemented his victories in Games 1 and 5 as a starter and lowered his Series ERA to 0.43 (one earned run in 21 innings).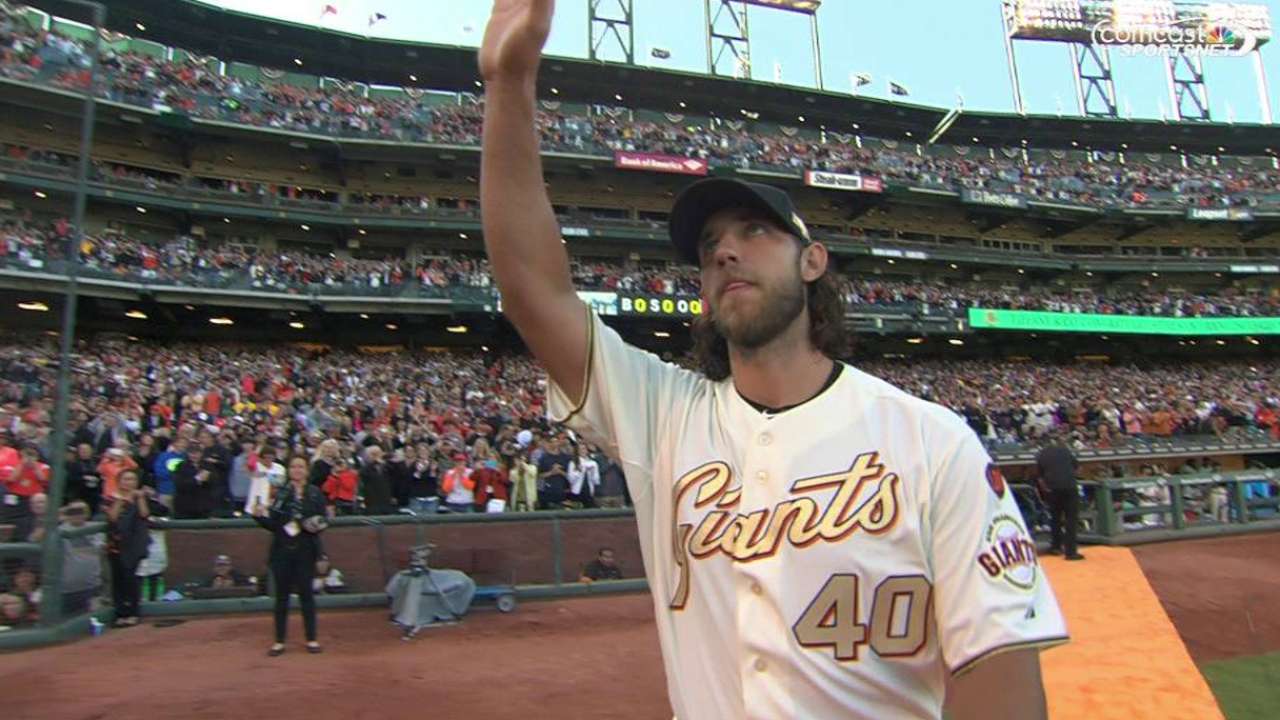 Posey, who's expected to return from a stint on the seven-day concussion disabled list on Tuesday, can easily summon "the excitement and relief to get that last out. ... The feeling of that ball being popped up, seeing it going up in the air, and it seemed like it was up for an eternity. [I was] kind of looking at the ball and looking back and forth to Bum."
Asked to rekindle similar memories, Bumgarner politely said that nothing particularly pushed its way to the forefront of his mind.
"Last time we were there was Game 7. That's about as special as it gets on a baseball field," said Bumgarner, who's scheduled to start Wednesday. "But I'm pretty boring. I'll be trying to ignore all that."
Come Wednesday, Bumgarner will try to win just as fervently as he did in the World Series. The Giants have lost all three of his previous starts, accounting partly for their 5-9 record. The priorities that Bumgarner and the Giants must address in Kansas City obscure their glorious past.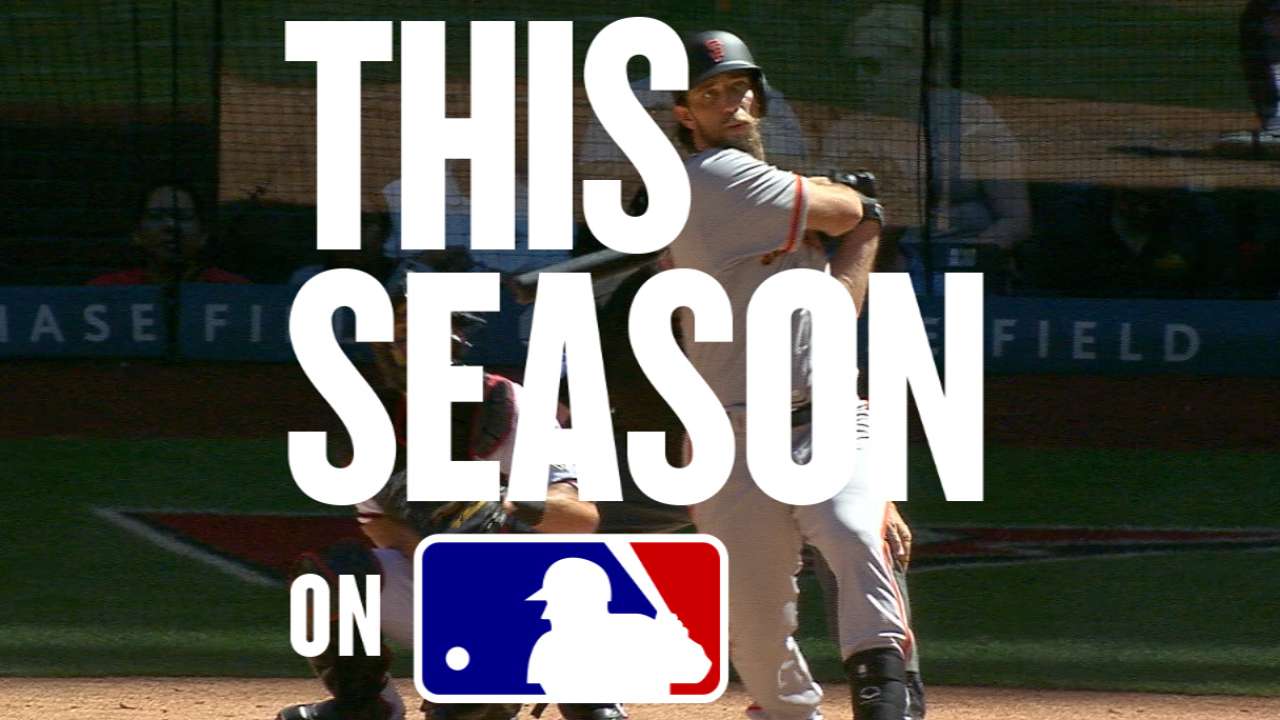 Nine current Giants received significant playing time in 2014, Besides Bumgarner and Posey, the group includes right-handers Matt Cain, George Kontos and Hunter Strickland, first baseman Brandon Belt, second baseman Joe Panik, shortstop Brandon Crawford and right fielder Hunter Pence.
"So much has happened since then," said Bumgarner, who's 0-2 with a 3.43 ERA. "It's just not a major thought in our heads, I believe. Obviously, the memory -- we'll never lose that. But just because we're going back there now, it's not a big thing, I guess. I don't know if that sounds bad or not."
Bumgarner acknowledged that simply entering the ballpark will trigger certain memories.
"It'd be tough not to let that happen," he said. "I'm sure the first time we walk in the clubhouse or the first time we walk out on the field, you're going to have immediate flashbacks of certain things that stuck out to each individual. I don't know what that might be yet, but I know that's probably going to happen. I also know that it's not going to linger, because we know why we're going there."
Chris Haft has covered the Giants since 2005, and for MLB.com since 2007. Follow him on Twitter at @sfgiantsbeat and listen to his podcast. This story was not subject to the approval of Major League Baseball or its clubs.