Injured finger keeps Carpenter out of lineup
Lyons nearing return to Cardinals; Molina gets day off for Pirates opener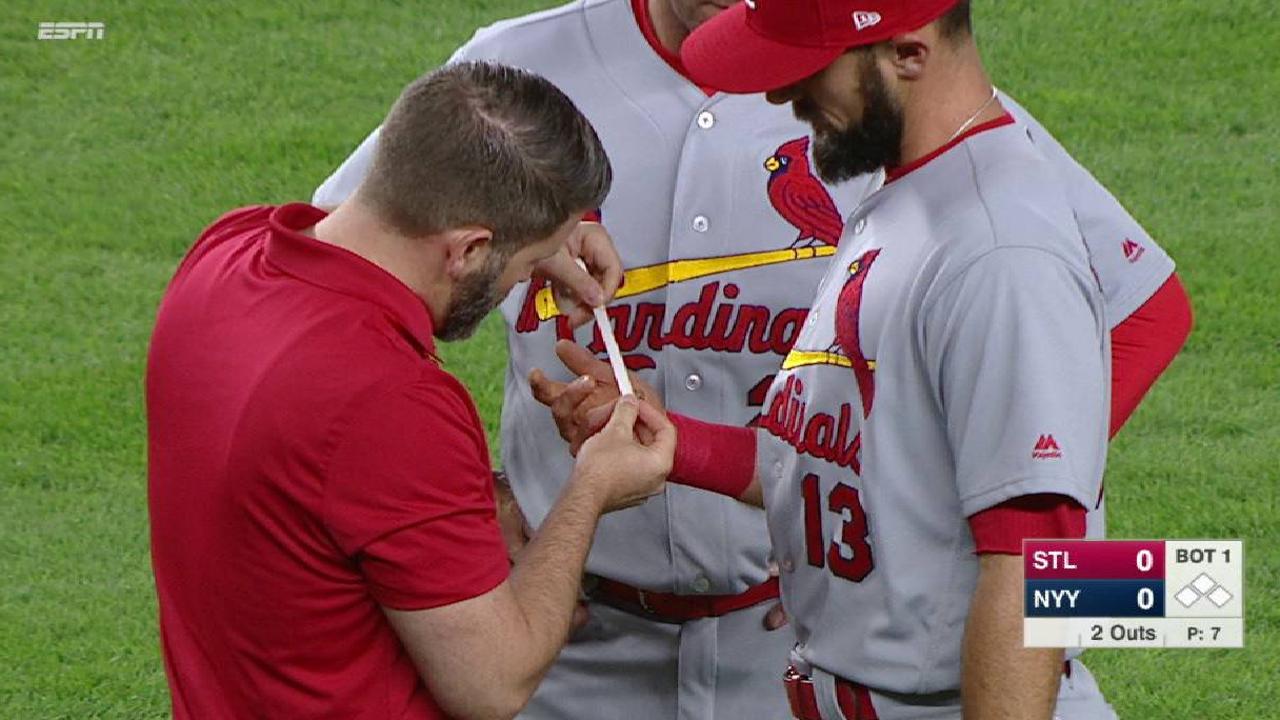 ST. LOUIS -- With his right hand still swollen after it was hit by a grounder a day earlier, Matt Carpenter had to be scratched from the Cardinals' lineup in Monday's 2-1 win over the Pirates because of concerns about how well he'd be able to throw.
The injury happened in the first inning of Sunday's 9-3 loss to the Yankees when a hit by Aaron Hicks caught Carpenter around the nail of his ring finger. He made the play, but the game was delayed several minutes while the Cardinals' training staff tried to manage the bleeding. Carpenter finished the game with that finger wrapped.
"We've got to get the swelling down," manager Mike Matheny said before the game. "[The medical staff] is hopeful he can be ready [Tuesday] and still hopeful, potentially, to be a bat off the bench today if we need [him in] a big situation. But he's still getting treatment on it to know exactly what we're dealing with."
Jose Martinez replaced Carpenter at first base Monday and went 1-for-3 with a key RBI single.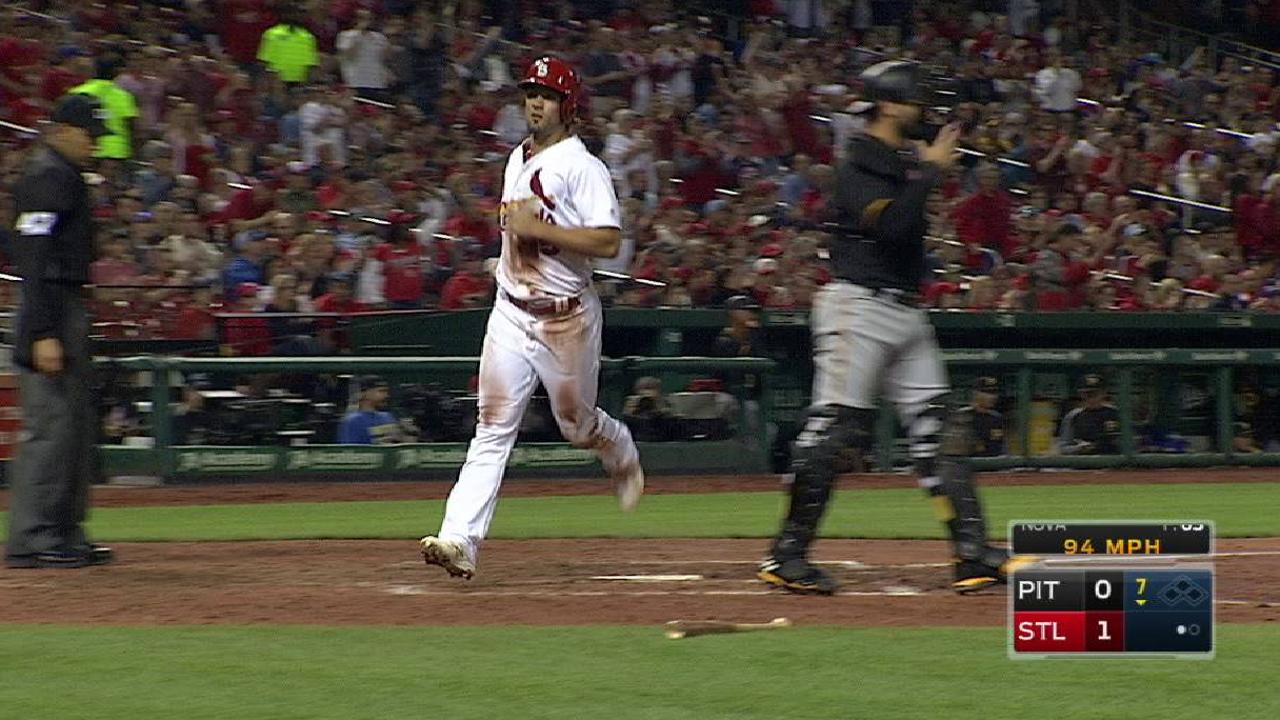 Lyons nearing return
Though the Cardinals could extend Tyler Lyons' rehab assignment into early May, general manager John Mozeliak indicated that Lyons will be ready to rejoin the team later this week.
That move won't be made for at least a few days, as Lyons will need time to recover after throwing 73 pitches (49 strikes) over 4 2/3 innings for Triple-A Memphis on Monday. He scattered six hits, allowed two runs, walked one and struck out four in his third rehab start with that club.
Lyons will likely return in a relief role, which means the Cardinals will have to send someone out to clear a spot. They don't have great roster flexibility, either, since Miguel Socolovich, like Lyons, is out of options.
Still, the Cardinals could use a fresh arm. The club entered the day ranked last in the Majors with a bullpen ERA of 7.34.
Rest for Molina
Coming off a series in which he looked uncharacteristically challenged behind home plate, Yadier Molina was out of the lineup on Monday. It marked the second time in four games that Molina was on the bench, an unusual frequency for a catcher who has become an ironman behind the plate for St. Louis.
Last season, for example, he didn't draw his second day off until the team's 24th game of the season. He ended up starting a Major League-most 142 games at catcher.
But both Mozeliak and Matheny acknowledge that Molina hasn't looked like himself out of the gate. He allowed passed balls in both games over the weekend and gave up four stolen bases in the series.
"Certainly, when you think about this from a defensive catching standpoint," Mozeliak said, "it's been a little bit surprising."
Molina did take multiple foul balls off his thumb during the road trip, which could have played into some of the defensive troubles. It's also why the Cardinals wanted to be aggressive in giving him a break.
"That sort of stuff," Matheny said, "just kind of adds up over time."
Jenifer Langosch has covered the Cardinals for MLB.com since 2012, and previously covered the Pirates from 2007-11. Follow her on Twitter, like her Facebook page and listen to her podcast. This story was not subject to the approval of Major League Baseball or its clubs.