Same Story, more emphasis on defense
Offensive slump means Rockies' shortstop needs balance
SAN FRANCISCO -- There's no way around Rockies second-year shortstop Trevor Story's .114 batting average, which includes a 37.7 percent strikeout rate (20 in 53 plate appearances) and the 1-for-25 slump he will carry into Tuesday's opener of a two-game set at Dodger Stadium. But his response -- make that his requirement -- is simple:
Story can't let his glove go south, also.
Story's start on offense is the opposite of his performance last season, when he homered 10 times in April. But if Colorado is truly different, if the club is going to pitch and defend its way to contention after six straight years of low runs and sub-.500 records, then Story's defense is going to be more important, anyhow.
How has it been? It's hard to measure, since the Rockies play defensive shifts often enough that metrics for Story's position are less relevant (they only measure plays from traditional alignments). His fielding percentage (.969) is affected by two errors, but a burgeoning study of defensive metrics (which is still in its infancy) has arisen because fielding percentage says little.
But what is apparent is Story is making enough plays -- and is doing a good enough job leaving his offensive woes in the dugout when he takes his position -- that manager Bud Black has started him every game but one this season.
"A premium defensive position ... with any middle-of-the-diamond defender, and I'll include the catcher, we need defenders there," Black said. "Trevor's played great defense, which is what we need every day from our shortstop.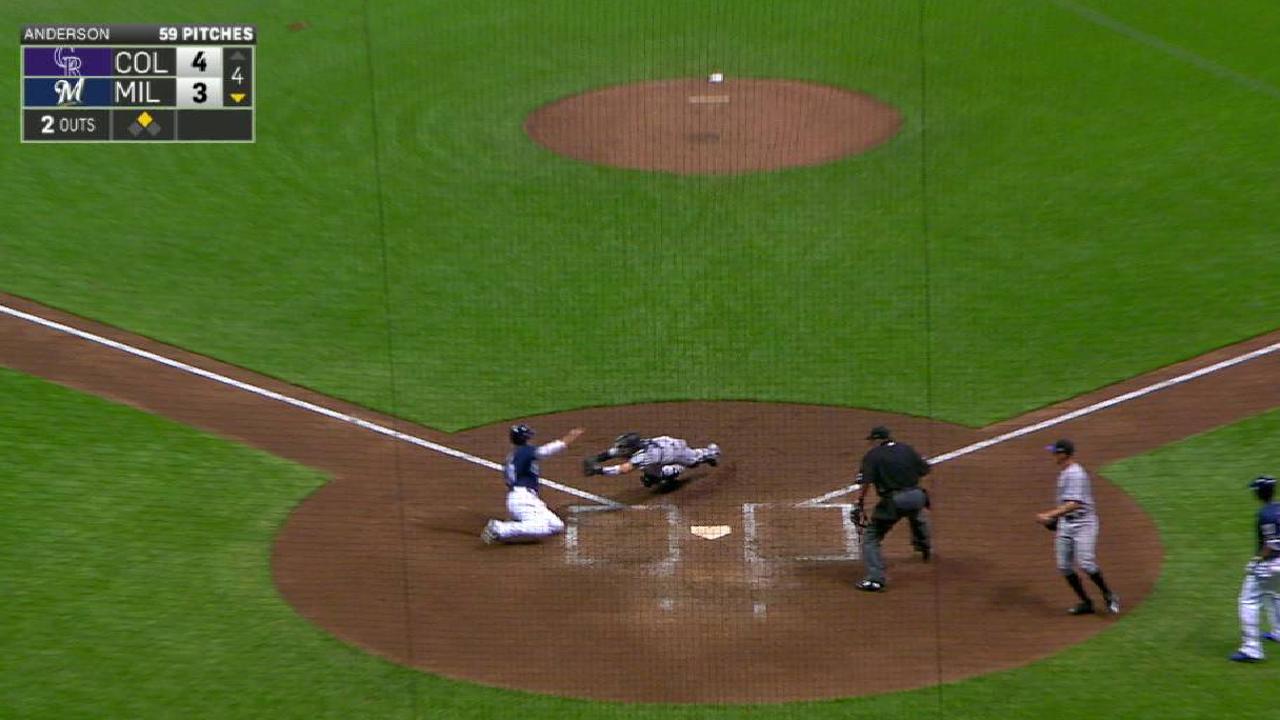 "I think hits will come. We have exchanges every day with different things, but I know that this guy is a very good all-around baseball player, and that will show up -- the offense, because the defense has already shown up."
Searching for offensive highlights, Black said, "He's leading our team in walks."
Story, 24, said repeatedly last year when the bat was working that he takes pride in his defense. In that respect, he doesn't believe anything has changed.
"That's the most important part about it," Story said. "I try to separate the two and I've done that. What I'm doing at the plate, I won't let it affect me; and vice versa."
Story led Major League rookies with 27 homers -- a National League record -- before sustaining a season-ending left thumb ligament injury at the end of July. The Rockies were at the edge of contending for an NL Wild Card spot, but they didn't have a strong enough bullpen to achieve the goal.
But Story's absence exposed another issue. Colorado believed, with an infield that included defensive stalwarts Nolan Arenado and DJ LeMahieu, it lost considerable range and continuity.
The club signed Alexi Amarista, who has started at short for stretches, partly in case they need someone to step in for a stretch. Beyond Amarista, the Rockies have Cristhian Adames in the Majors and Pat Valaika at Triple-A Albuquerque, but they have been used as multi-position players rather than shortstops.
After Story recovered from thumb surgery, he spent most of the offseason at the team's training center in Scottsdale, Ariz. He took grounders and made throws when Colorado was converting newly signed Ian Desmond to first base during the offseason, and he has spent extra time with Arenado and LeMahieu trying to practice every scenario they can think of in which they may struggle when they're stationed in odd places.
"I feel confident," Story said. "I want the ball hit to me. Behind our starters, we take pride in knowing that ground balls are going to be outs."
Thomas Harding has covered the Rockies since 2000, and for MLB.com since 2002. Follow him on Twitter @harding_at_mlb, listen to podcasts and like his Facebook page. This story was not subject to the approval of Major League Baseball or its clubs.