Correa sidelined by bruised hand after HBP
Astros' shortstop fights pain while swinging during warmups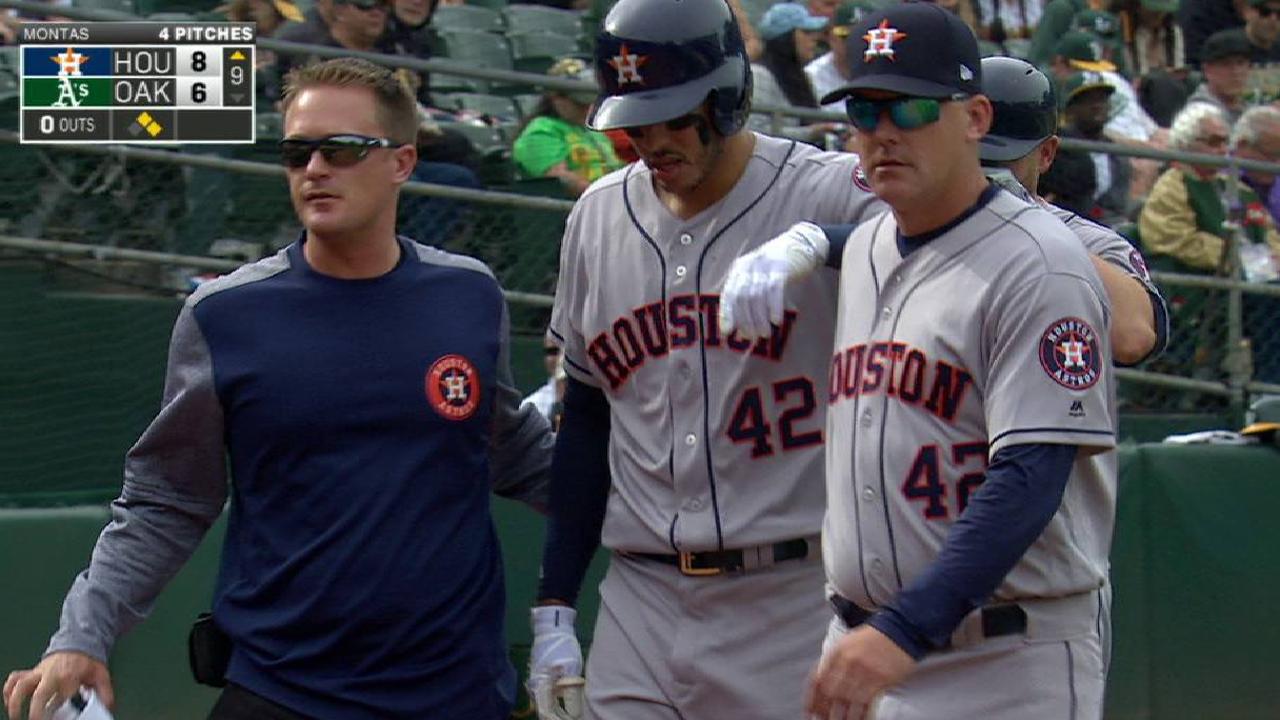 HOUSTON -- Shortstop Carlos Correa was out of the Astros' lineup in Monday night's 3-0 win over the Angels, two days after being removed from a game in Oakland with a right hand contusion after being hit by a pitch.
"I didn't feel comfortable swinging the bat today; it bothered me a lot," Correa said prior to Monday's game at Minute Maid Park. "So they give me another day. Hopefully, it will heal soon and I'll be ready to go back out there.
"It's just bruised, it just hurts. I got hit by a 95-mph fastball."
Correa, still battling soreness in the hand, did not take batting practice on Monday. Initially the Astros were hopeful that their star shortstop would be in the lineup.
"We planned on playing him [Monday] and we got back last night from the long flight, he felt OK; he woke up this morning, didn't feel great, still a little lingering soreness," Astros manager A.J. Hinch said. "So it's a fairly easy decision. To have as much soreness as he has, to give him another day off.
"We're optimistic that he's going to be able to play any given day. So he's day to day."
Alex Bregman started at shortstop in place of Correa and batted sixth. Marwin Gonzalez took over for Bregman at third base and was hitting seventh.
"The good part of any of these situations is we've got enough guys on the bench that deserve to play," Hinch said.
Correa was hit by a fastball from reliever Frankie Montas in the ninth inning on Saturday.
"The way the ball hit, I was just pleased that there was no fracture," Correa said. "I should be able to play soon."
Correa was not going to play in Sunday's game versus the A's that was postponed and didn't do any baseball activities.
The 22-year-old, who hit a 449-foot home run off Mariners right-hander Felix Hernandez on Opening Day, said he was disappointed that he was not in Monday's lineup.
"You want to go out there and be able to compete," Correa said. "I can't wait to get back."
Richard Dean is a contributor to MLB.com based in Houston. This story was not subject to the approval of Major League Baseball or its clubs.