Conforto thriving in reserve role for Mets
With path blocked to start, fourth outfielder has become go-to pinch-hitter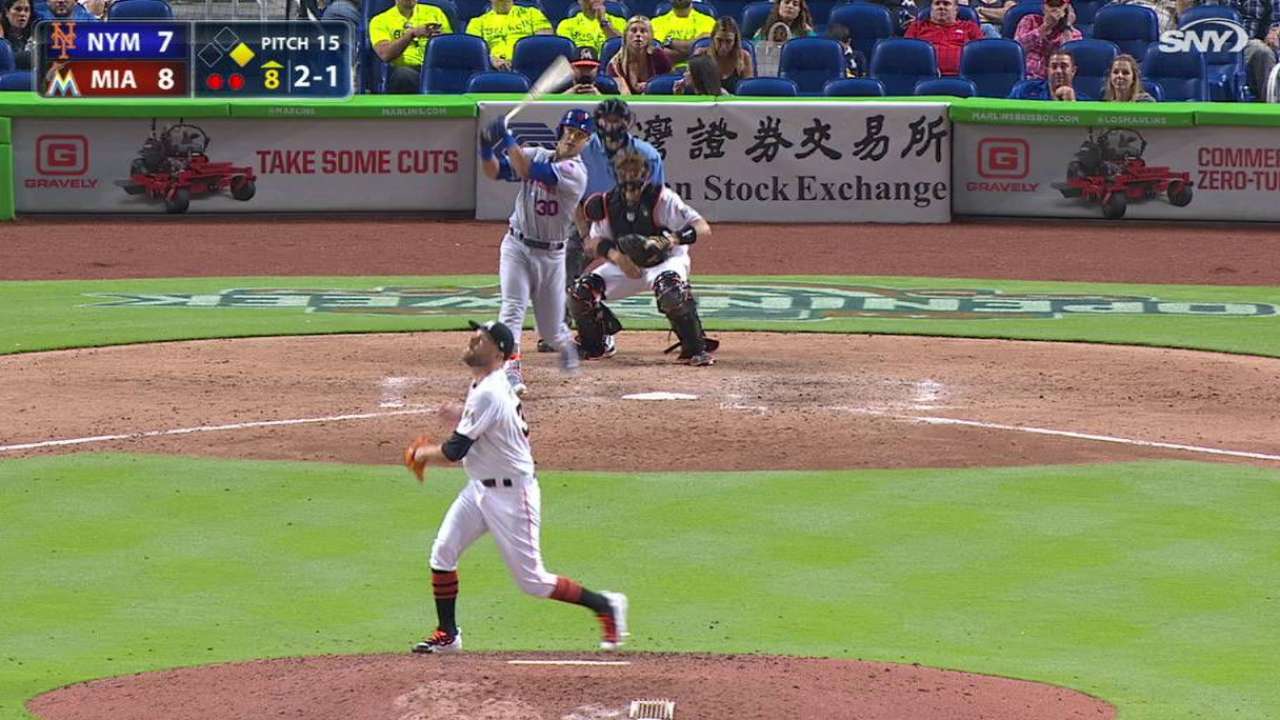 NEW YORK -- In the end, it was a mere footnote to the absurdity of a 16-inning game. Not even halfway through Thursday's loss to the Marlins, Michael Conforto came to the plate, jolted a 95-mph sinker off the wall on a hop and cruised into second base with a game-tying double. He would go on to drive home a run in four consecutive games, despite starting only two of them.
This is Conforto's niche now. More than that, it is his platform to excel. Lacking a regular starting spot in the outfield, Conforto has become the Mets' go-to pinch-hitter, racking up more total bases in that role than all but seven big league hitters.
"I'd say I feel comfortable, but I wouldn't say it feels natural," Conforto said. "I think what would feel natural is to play every day. But with all the guys that we have, all the talent in this clubhouse, it's just not the situation right now, and I'm completely fine with that. As long as I can be a part of a winning team and play an important role, I think that's the most important thing for me."
Like any bench player, Conforto relies on routine. Assistant hitting coach Pat Roessler directs his daily agenda, running down the list of possibilities for Conforto's insertion into a game in the middle innings. After he stretches, either with a trainer or on a stationary bike, he and Roessler watch the game on television in an indoor batting cage.
There, Roessler throws Conforto batting practice, often standing as close as 30 feet to simulate the upper-end velocities Conforto will see in-game. When he believes his swing is "where I want it," he moves to the dugout bench, waiting for manager Terry Collins to call his name.
More often than not, Collins calls; Conforto has appeared in 11 of New York's first 13 games, seven of them as a pinch-hitter.
"The one thing he has done is shown us he can actually handle the role off the bench," Collins said. "To the other teams, he's dangerous. They know it."
Conforto is batting .353 with a .409 on-base percentage, a .765 slugging mark and six RBIs in 22 plate appearance, all of which begs the question of why the Mets don't start him more often. In contrast, 36-year-old starting center fielder Curtis Granderson is batting .174/.235/.261 in 51 plate appearances -- numbers exacerbated by his active 2-for-21 funk. The calls for Granderson's benching are growing louder.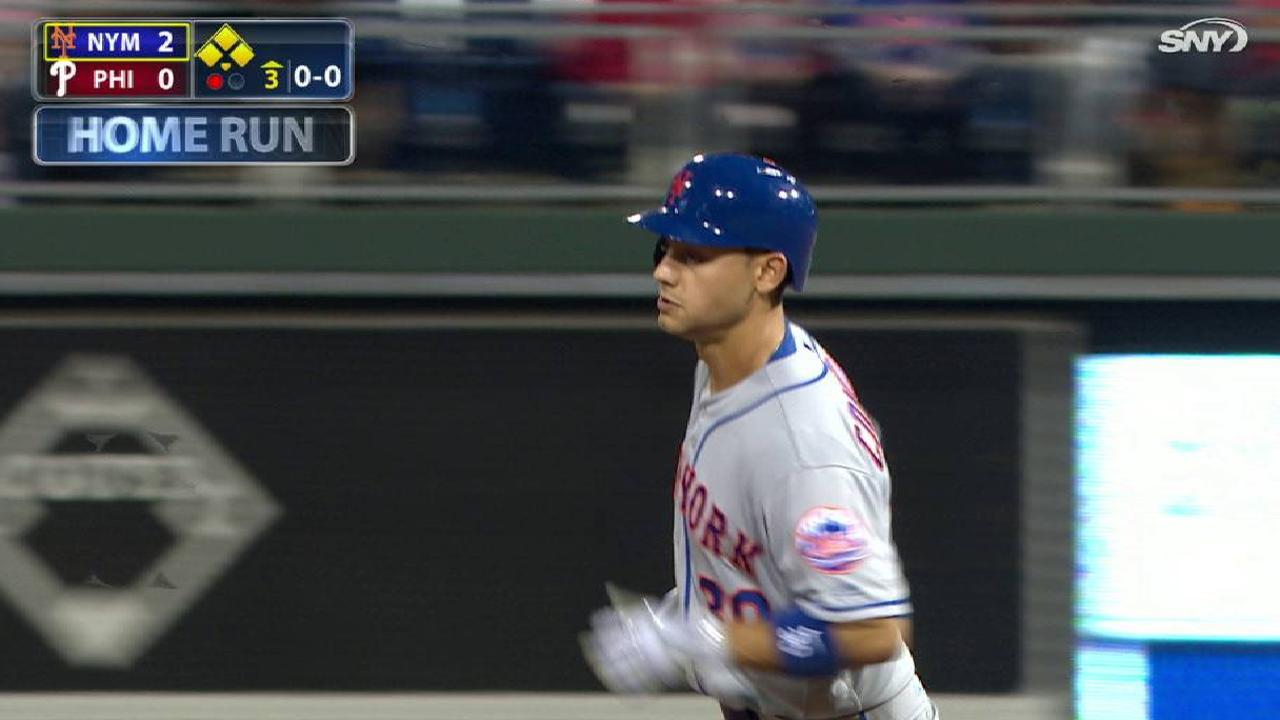 But the club is not willing to make decisions based upon a two-week sample size. Last year, Granderson swatted 30 homers in 150 games, prompting New York to deflect all offseason trade offers -- and there were several -- for him. Conforto, meanwhile, lost his job by hitting .148/.217/.303 in 44 May and June games. So deep was Conforto's slump that the Mets, incapable of depending on him, traded for Jay Bruce in August.
Bruce, like Granderson, now blocks Conforto's path to regular playing time, forming a knot that isn't likely to untangle anytime soon. The compromise is something similar to the current landscape: a situation in which Conforto starts one to three times per week, appearing in most other games off the bench.
Besides, as club officials like to say, injuries happen. Fatigue happens. These situations have a way of working themselves out. In the interim, Conforto will continue plying away at the routine that works for him.
"That was the tough part, was trying to do what you think you're supposed to, as opposed to what feels right for you," Conforto said. "It's trial and error. You've just got to find what works for you."
Anthony DiComo has covered the Mets for MLB.com since 2008. Follow him on Twitter @AnthonyDiComo and Facebook, and listen to his podcast. This story was not subject to the approval of Major League Baseball or its clubs.