May: No negatives, only learning experiences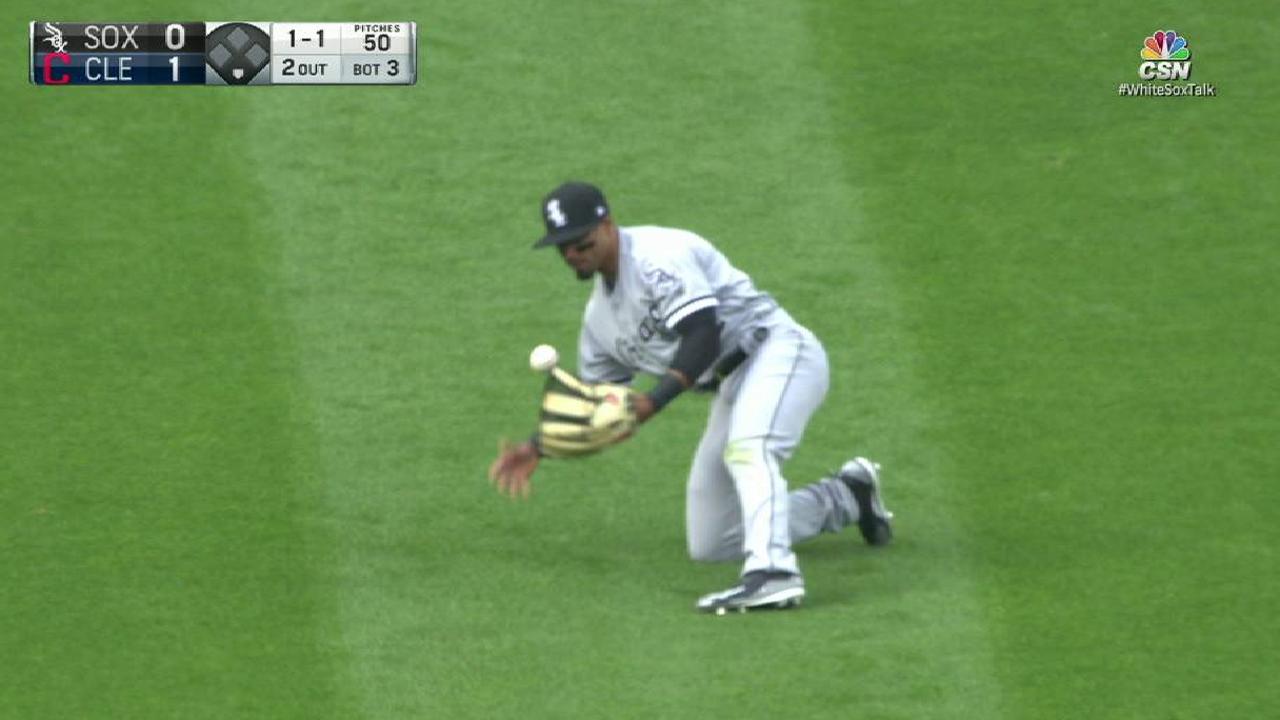 NEW YORK -- Despite an 0-for-21 start (24 plate appearances) to his rookie 2017 campaign, neither Jacob May's confidence nor positive demeanor have taken a hit.
But the switch-hitting center fielder had a reason to laugh a little prior to Monday's series opener at Yankee Stadium when informed by the media that his grandfather, Lee May, started his big league career in an 0-for-14 funk.
Lee May finished with 354 home runs and 1,244 RBIs over 18 seasons.
"Maybe it's a family thing," a smiling May said. "He had a pretty good career so, you know, that's cool. That's cool to know. I didn't know that. I'll have to call him on that one. That's a really good one. That's relaxing."
May has embraced that first-hit challenge as opposed to being frustrated and weighed down by the pressure. He looks at the situation as a learning experience.
White Sox manager Rick Renteria gave three days off to May last week, during which May did extra work offensively and was able to take a step back and just view the game. He went 0-for-7 over his past two games prior to Monday.
"It's only going to make me better," May said. "When it's all said and done, it will be a pretty cool story. You have to fight through it. I'll never quit.
"I'll show up every day and I'm going to put in my best effort and work hard. I've had a lot of guys, teammates, people reaching out to me, telling me to relax and it will happen when it happens. All I can do is keep coming out here and giving my best effort. At the end of the day, I'm blessed to even be in this locker room. I'm going to keep coming at it, working hard, and things will happen."
Renteria plans to use a mix of May and Leury Garcia in center, but the manager wants May to know he's going to be out there.
"Try to manage that so he still gets enough at-bats and do the things he needs to do to improve and know he's part of us," Renteria said.
Since 1900, the longest hitless streak to begin a career by a position player is 0-for-43 by shortstop Chub Aubrey of the Boston Beaneaters in 1903.
"If you keep looking at it as a negative, then it's going to be a negative," May said. "If you feel like there is no such thing as a negative, you can learn from any experience you are going through. It's going to make me a better person, a better player, a better teammate. It is what it is. At this point, I'm going to keep attacking it."
Scott Merkin has covered the White Sox for MLB.com since 2003. Read his blog, Merk's Works, follow him on Twitter @scottmerkin, on Facebook and listen to his podcast. This story was not subject to the approval of Major League Baseball or its clubs.