Ozuna named NL Player of the Week
SEATTLE -- It might have just been coincidence, but the second winner of the National League Player of the Week award for 2017 was sitting in the visiting clubhouse right next to the first recipient before Monday night's game between the Marlins and Mariners at Safeco Field.
Miami outfielder Marcell Ozuna was announced Monday as the winner of the honor, joining teammate and road-locker neighbor J.T. Realmuto, who took home the hardware a week ago.
"J.T. had a good week, and then Marcell had a big week," manager Don Mattingly said. "It's good to see our guys having those kind of weeks, honestly, and that's why we've been playing pretty good. After those first couple of losses to start the season, we've been pretty good, so hopefully we get another guy next week, or one of those guys can do it again."
Ozuna batted .435 (10-for-23) with four home runs (including one grand slam) and 12 RBIs last week, when the Marlins won four of six against the Braves and Mets. Coming off his first All-Star season, Ozuna made several adjustments to his swing in an attempt to be more consistent at the plate in 2017.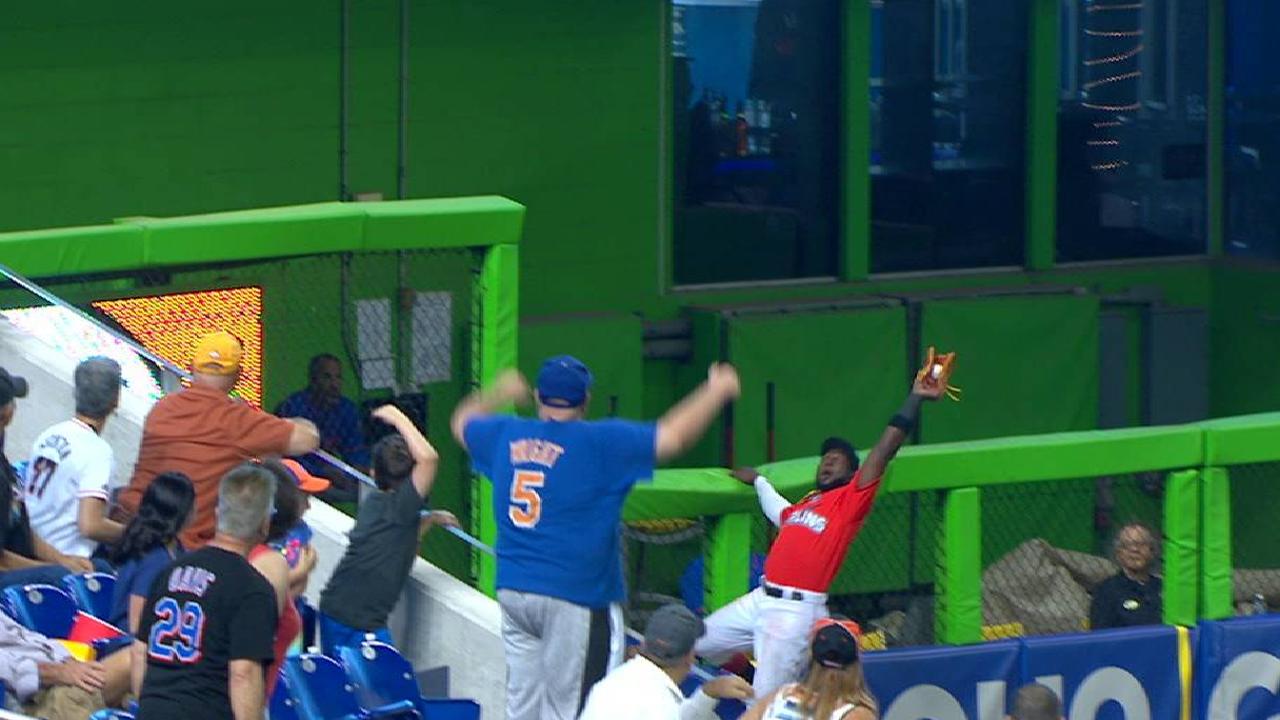 Ozuna said he worked during the winter at home in the Dominican Republic with Mariners second baseman Robinson Cano on honing his approach at the plate.
"I'm trying to bring everything from the offseason to the game here, and I've been having success," Ozuna said. "Right now, I'm not focused on the results. I'm just focusing on staying on my pitch, look at my pitch, get my pitch and swing at my pitch. That's what I'm doing right now."
After a disappointing 2015, Ozuna bounced back as one of the Marlins' most productive hitters last season, when he swatted 23 homers. Now, he's off to another good start.
"That's cool when you work hard in the offseason and you see those awards coming," Ozuna said.
It's also cool for teammate Martin Prado, a veteran presence on the Marlins who has been counting on the club's young hitters to keep improving.
"Sometimes, something like this has to happen for them to realize how good they are, how good they can become," Prado said. "Now, they're starting to mature more and more, and getting to that stage where … they know what they can do at this level.
"So having more guys like that creates a really good environment."
Doug Miller is a reporter for MLB.com. Follow him on Twitter @DougMillerMLB. This story was not subject to the approval of Major League Baseball or its clubs.