MLB.com Columnist
Jonathan Mayo
3 Dodgers, 2 Cubs lead Prospect Team of the Week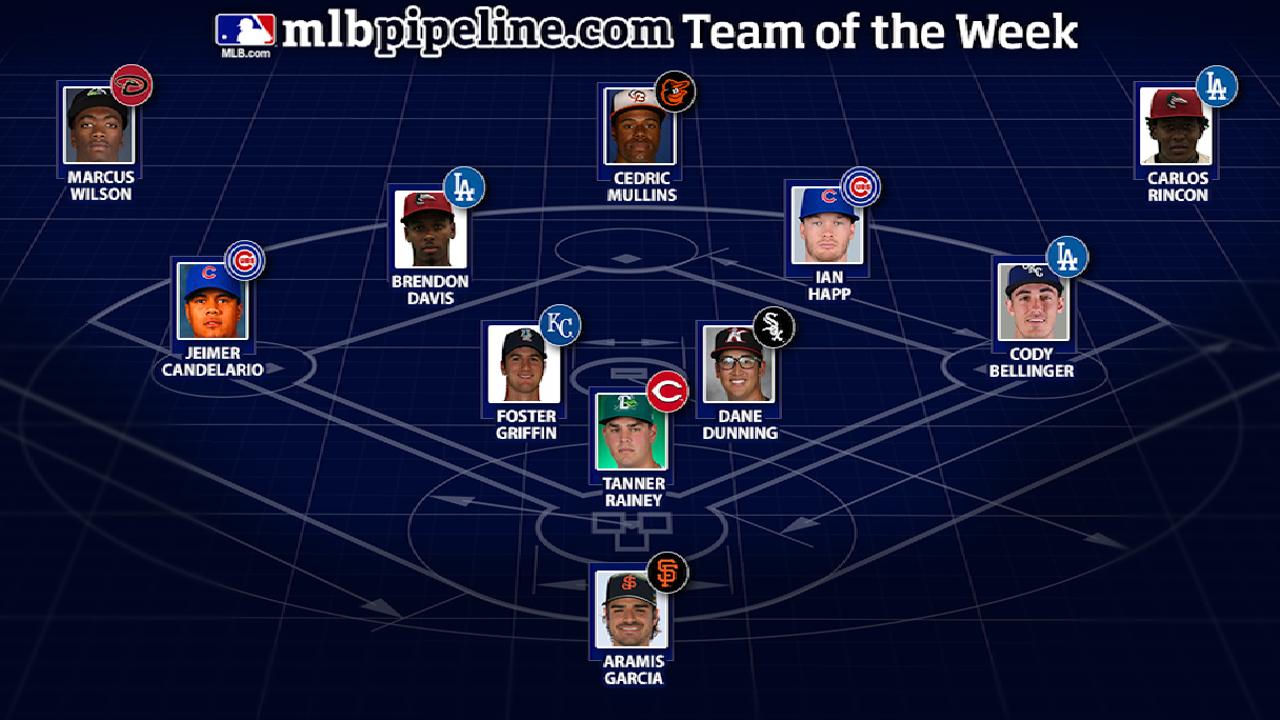 MLBPipeline.com's Prospect Team of the Week honors the best performances in the Minor Leagues from the previous seven days. Any player on an organization Top 30 Prospects list on our Prospect Watch is eligible.
Welcome back to the MLB Pipeline Prospect Team of the Week. Each week, the Pipeline staff will choose the top performers at each position in the Minor Leagues. This first edition covers a week and a half since the Minor League season began mid-week, giving us a slightly larger sample from which to choose. One new wrinkle in 2017: A reliever of the week will be chosen for the first time.
The Dodgers and Cubs systems are off to good starts. Los Angeles has a trio of prospects on our first PTOW, while Chicago has two representatives.
C: Aramis Garcia, San Jose Giants (Class A Advanced)
Giants' No. 15 prospect
8 G, .351/.400/.622, 11 R, 1 2B, 3 HR, 12 RBI, 2 BB, 10 SO
Garcia had injury problems in 2016, but he is trying to put them behind him back in San Jose. A seven-game hit streak to open the season (he went 0-for-3 to break it on Saturday) certainly doesn't hurt, and he drove in 10 runs in a four-game span from April 8-11. Garcia had 10 hits over those four games as well.
1B: Cody Bellinger, Oklahoma City Dodgers (Triple-A)
Dodgers' No. 1 prospect
10 G, .395/.465/.737, 9 R, 4 2B, 3 HR, 11 RBI, 5 BB, 12 SO, 4 SB
It looks like Bellinger is starting off his first full season of Triple-A the way he finished things in 2016: red hot. The 21-year-old got hits in eight of his 10 games played since the start of the season, with five of them of the multihit variety. He hit his first home run of the season in game 3 on April 8, then added another two on the 13th and 16th. Bellinger has driven in runs in four straight games and has even gone 4-for-4 in stolen-base attempts.
2B: Ian Happ, Iowa Cubs (Triple-A)
Cubs' No. 2 prospect
11 G, .311/.367/.733, 11 R, 1 2B, 6 HR, 10 RBI, 4 BB, 6 SO
Happ leads the Minor Leagues with six home runs, continuing to swing the bat well after a strong showing in big league camp during Spring Training. The 2015 first-rounder had five two-hit games and went deep in six contests.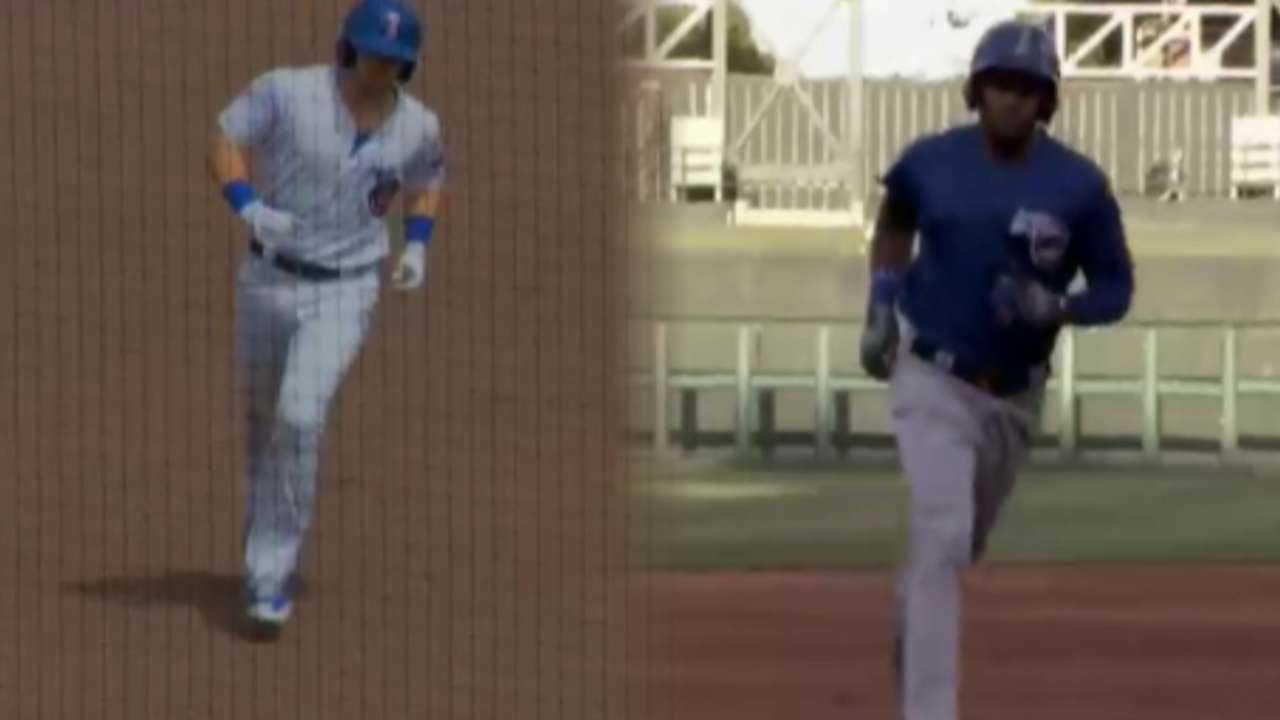 3B: Jeimer Candelario, Iowa Cubs (Triple-A)
Cubs' No. 4 prospect
11 G, .316/.409/.763, 7 R, 7 2B, 2 3B, 2 HR, 16 RBI, 6 BB, 15 SO
The Minor League leader in RBIs with 16, Candelario did most of his run-producing damage in three games, driving in five runs in each of the first two games of the season and then again on April 12. The corner infielder had 12 hits over his first 11 games; 11 of them were for extra bases.
SS: Brendon Davis, Great Lakes Loons (Class A)
Dodgers' No. 27 prospect
9 G, .444/.595/.741, 6 R, 3 2B, 1 3B, 1 HR, 4 RBI, 8 BB, 9 SO, 1 SB
Not only did Davis pick up 12 hits over his first nine games, he also drew eight walks, leading to a Minor League-leading .595 on-base percentage to start the year. He leads the Midwest League in that category and batting average while standing second to teammate Carlos Rincon (more on him in a bit) in OPS. Davis had four multihit games and finished the week with a three-hit performance on Saturday.
OF: Cedric Mullins, Bowie Baysox (Double-A)
Orioles' No. 19 prospect
10 G, .455/.489/.818, 15 R, 5 2B, 1 3B, 3 HR, 8 RBI, 3 BB, 5 SO, 3 SB
Mullins started off the year with a four-hit game and hasn't stopped, carrying a 10-game hitting streak into this week's action. His 20 hits lead the Minors and his .818 slugging percentage is good for fourth. Mullins' three homers came in his first five games and he had six multihit games over his first 10.
OF: Marcus Wilson, Kane County Cougars (Class A)
D-backs' No. 21 prospect
10 G, .405/.511/.811, 11 R, 1 2B, 1 3B, 4 HR, 12 RBI, 8 BB, 5 SO, 2 SB
The toolsy Wilson continues to put things together, and if the start of his 2017 season is any indication, he could be poised for a breakout campaign. His four home runs surpassed his career total (3) heading into the season and he walked more than he struck out. Wilson finished off last week with a bang: two home runs and six RBIs on Saturday.
OF: Carlos Rincon, Great Lakes Loons (Class A)
Dodgers' No. 24 prospect
8 G, .367/.457/.900, 7 R, 1 2B, 5 HR, 11 RBI, 5 BB, 14 SO, 1 SB
Rincon teamed with Davis for a formidable duo in the Midwest League. The 19-year-old outfielder leads the Minors with his .900 slugging percentage and is tied for second with five homers. Davis had a two-homer, four-RBI game on April 12.
LHP: Foster Griffin, Wilimington Blue Rocks (Class A Advanced)
Royals' No. 22 prospect
1-0, 0.82 ERA, 2 GS, 11 IP, 5 H, 1 R, 1 ER, 0 BB, 14 SO, 0.45 WHIP
Griffin had two solid starts in his return to the Carolina League. On April 7, the 21-year-old southpaw gave up one run on two hits over five innings, striking out eight. He followed that up on the 12th with six shutout frames, striking out a half dozen more. What's more impressive is that Griffin didn't allow a walk across both starts.
RHP: Dane Dunning, Kannapolis Intimidators (Class A)
White Sox's No. 10 prospect
0-0, 0.64 ERA, 2 GS, 14 IP, 7 H, 2 R, 1 ER, 0 BB, 21 SO, 0.50 WHIP
The "other" guy in the Adam Eaton trade, Dunning certainly got off on the right foot with his new organization. The 2016 draftee gave up a run over six innings, striking out eight in his debut, then really turned it on in start No. 2, striking out 13 over eight shutout innings. Like Griffin, Dunning also didn't walk anyone, and it's easy to wonder how long it will be before the University of Florida product pitches his way out of the South Atlantic League.
RP: Tanner Rainey, Daytona Tortugas (Class A Adv)
Reds' No. 28 prospect
0-0, 0.00 ERA, 5 G, 7 IP, 0 H, 0 R, 0 ER, 0 BB, 16 SO, 0.00 WHIP
It's hard to imagine a reliever being more dominant than Rainey, who is returning to a bullpen role he once had in college after starting his pro career as a starter. Rainey made five perfect appearances out of Daytona's bullpen, striking out at least two in all five outings. Rainey struck out 16 of the 21 batters he faced without walking anyone.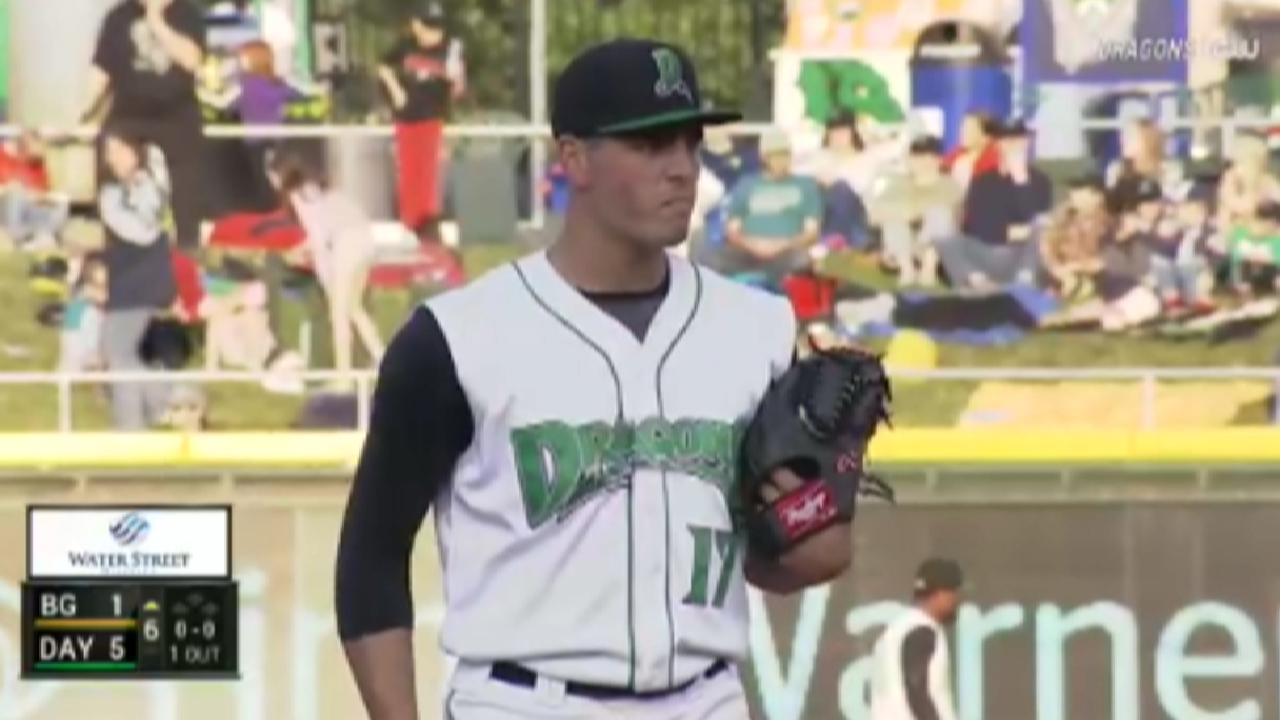 Jonathan Mayo is a reporter for MLBPipeline.com. Follow him on Twitter @JonathanMayo and Facebook, and listen to him on the weekly Pipeline Podcast. This story was not subject to the approval of Major League Baseball or its clubs.