Smith begins rehab work with light running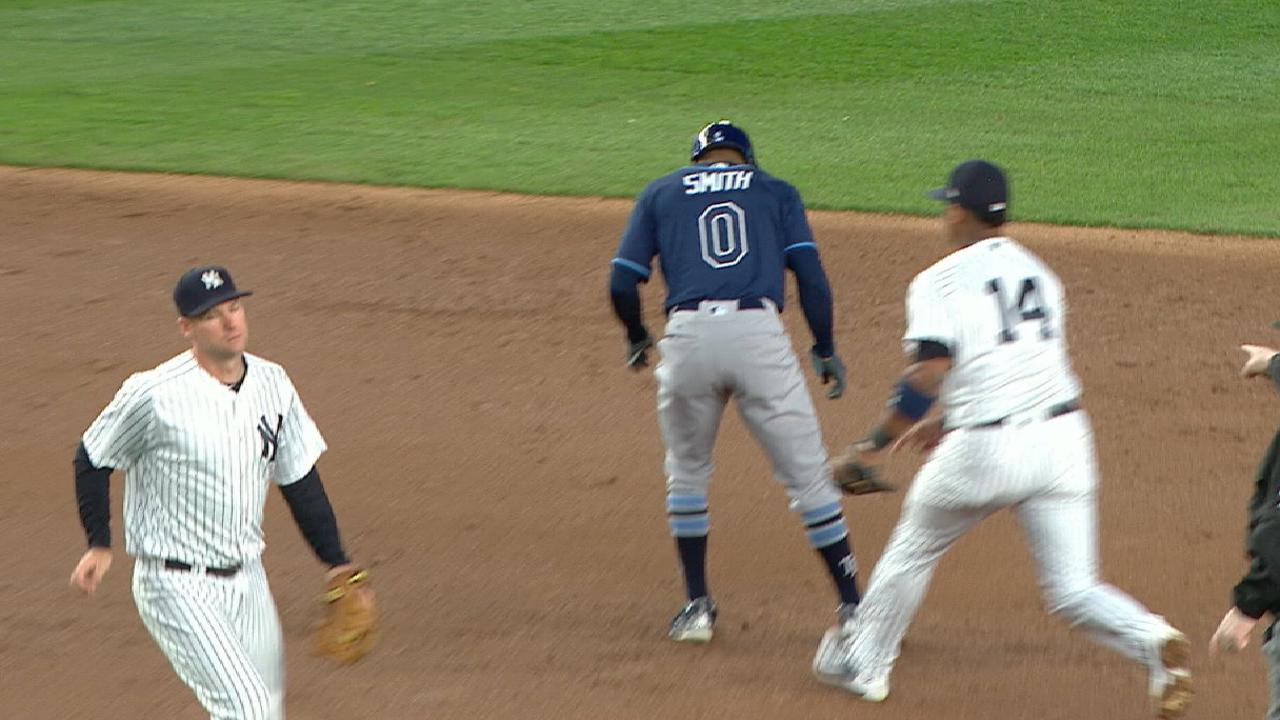 BOSTON -- As thousands of runners were lining up some 26 miles from Fenway Park for the start of the 121st Boston Marathon on Monday, the Rays' Mallex Smith was doing a little running of his own inside the ballpark.
Placed on the 10-day disabled list last Friday with a right hamstring strain suffered during a rundown on Thursday vs. the Yankees, the speedy outfielder began taking the first steps toward a return.
"Day by day it's coming along a lot better. Got to do a little bit of running today, so I'm feeling good," Smith said. "For the most part, I've just been building up my core. Today I was able to get out and run. It felt good to get out and run and not be on the elliptical or anything. Not necessarily sprints, just mobility, a little bit of change of direction and whatnot. It's all coming along."
Prior to landing on the disabled list, Smith had impressed, playing eight games in left field while holding things down in the bottom part of the order. The 24-year-old earned praise from Evan Longoria, who called him "a spark plug for us."
Smith was hitting .273 with three stolen bases on three attempts prior to the injury, including a highlight game versus Toronto when he went 2-for-2 with a double, three walks and two swipes.
Smith, who missed a chunk of last season while with Atlanta due to a broken left thumb, was also able to get in a little additional work other than running.
"I'm going to swing a little bit today," Smith said, with a hint of excitement.
With the 11:05 a.m. ET start time to Monday's game versus the Red Sox, there was no batting practice, so he just took some cuts at the air out in left field before the game, showing no ill effects during or after.
Smith, who said there is no pain with the injury, remains confident that he will able to return without issue once his DL stint is up, which will coincide with the first game of the Rays three game set in Baltimore on the 24th.
"There's just a little tightness, he said. "I'm just working through that, but other than that, just progress."
Because everyone knows that the season is as much a marathon as the one set to pass by Fenway Park.
Craig Forde is a contributor to MLB.com based in Boston and covered the Rays on Monday. This story was not subject to the approval of Major League Baseball or its clubs.