Patriots' Day brings special buzz to Fenway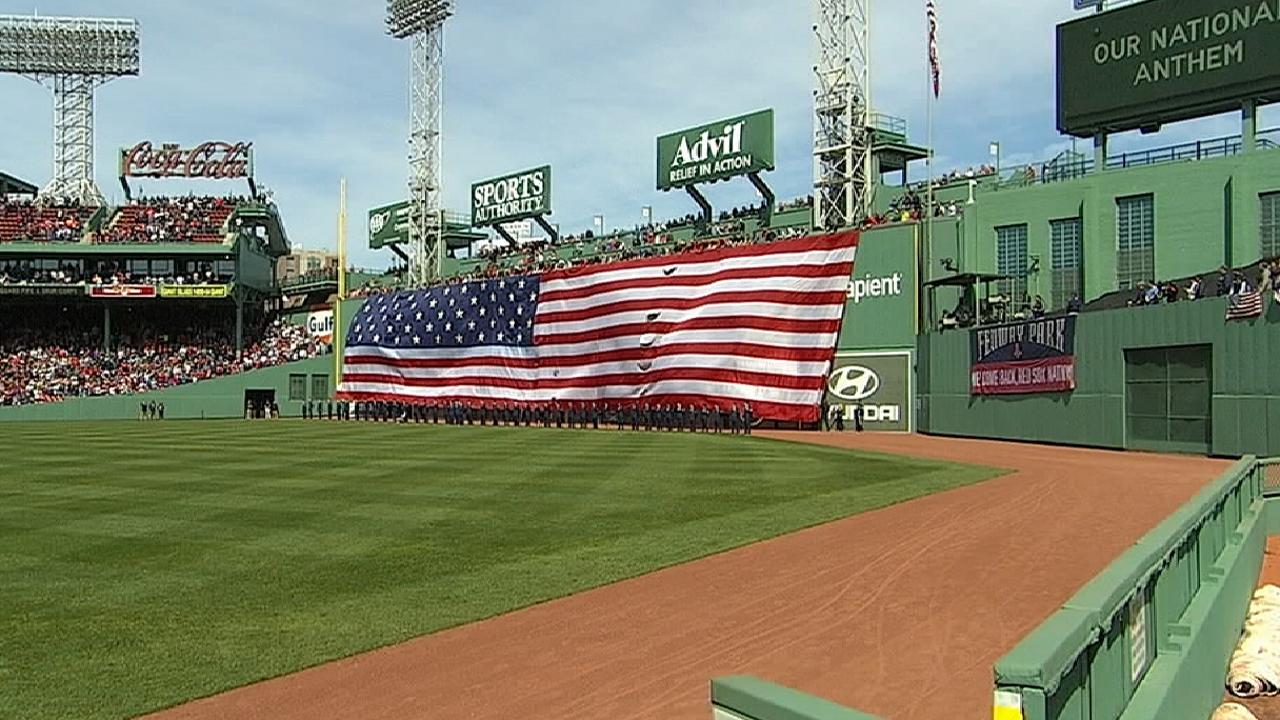 BOSTON -- On most days in the morning around Fenway Park, it's a quiet atmosphere. A handful of cars are driving down Yawkey Way, a slew of people are walking to work.
Not on Monday. Thanks to Patriots' Day and a traditional 11:05 a.m. ET start between the Rays and Red Sox, fans lined the streets waiting to get into restaurants and bars, a brass band played outside on Yawkey and the sizzle of onions from vendors could be heard and smelled. Those fans went home happy as the Red Sox inched past the Rays in a 4-3 win.
Steven Wright tossed six-plus solid innings for his first win of the season and Andrew Benintendi went 3-for-4 with two RBIs.
With Boston Marathon runners just a few hundred yards away in Kenmore Square, fans were decked out not only in Red Sox gear, but marathon attire. One man even walked the streets in a Revolutionary War outfit.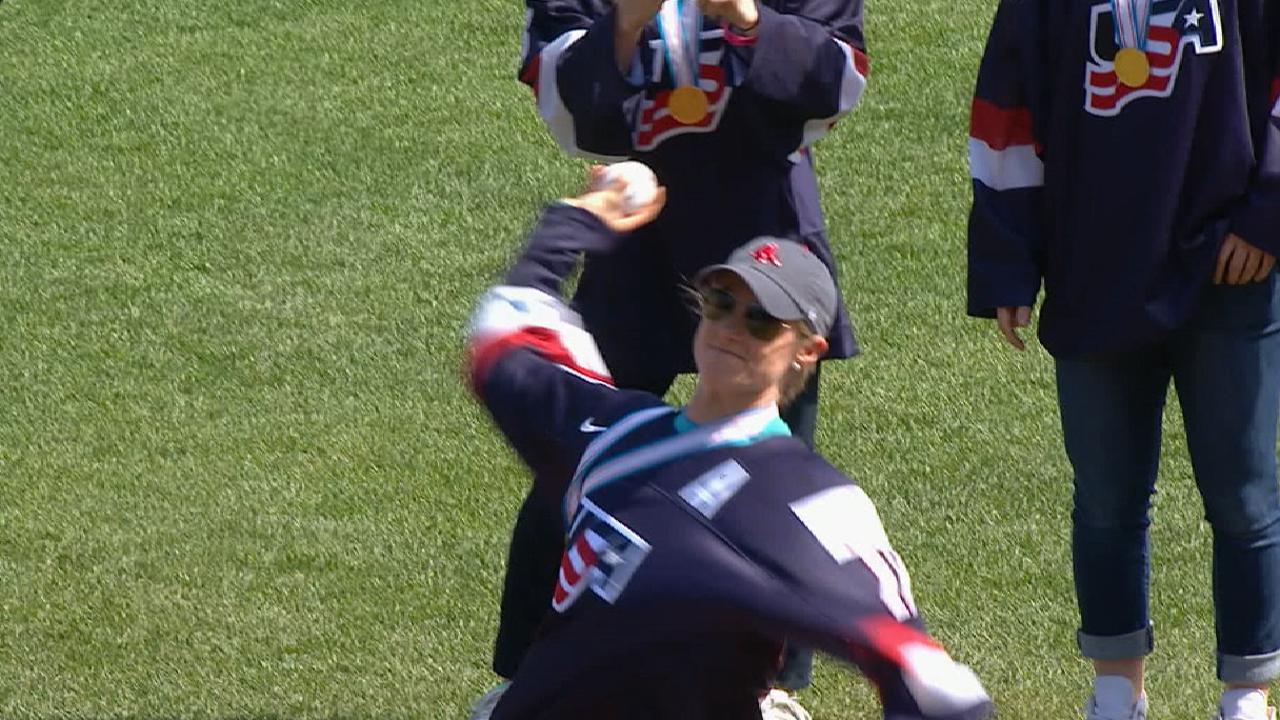 "This is such a traditional day here in New England. The centerpiece obviously being the marathon, but our game, as unique as it is at 11 o'clock in the morning -- there's no other game like this," Red Sox manager John Farrell said. "While it is early, it's out of the normal schedule for us, even for a day game, it's one that there is a historic element to this and a lot of celebration that goes on around it. So we're more than happy to be a part of it."
Before the game, the Red Sox draped an American flag over the Green Monster, staff sergeant Melissa Lackore sang the national anthem and the United States women's hockey team threw out the first pitch.
Tanya Collen, from Boston, came with her husband and son. They made sure to take a picture on the David Ortiz Bridge before heading inside Fenway.
Collen worked at Cask'n Flagon when the Red Sox won the World Series in 2013, so she knows what the excitement of a Red Sox game can feel like.
"This is all so nostalgic," Collen said. "I love getting to celebrate a day like this with my family. All of my cousins are in town, and they got here at 7 a.m. to take in everything in and around Fenway."
Ben and Julie Hollingsworth, from Bedford, Mass., surprised their three children on Easter with tickets to the game. It marked the first Patriots' Day game for their twin daughters, Emma and Lyla.
Happy #PatriotsDay! pic.twitter.com/hcnHkNd1yf

— Boston Red Sox (@RedSox) April 17, 2017
Emma yawned frequently on the family's walk to the ballpark because of a 7 a.m. wakeup call, but her parents still knew the experience would be worth it.
"It is so fun and everyone on the streets are smiling," Julie said. "You really get a sense of the heritage of the city and what the Red Sox mean to the city."
Judy Johnson, from Nottingham, N.H., is a balloon artist on Yawkey. She said on Patriots' Day she uses many more red, white and blue balloons.
"I get chills thinking about the day. How can it not be emotional?" Nottingham said. "How can you not get emotional because of everything that's happened on this day? We are all patriots at heart."
It wasn't just Red Sox fans who enjoyed Patriots' Day, but the players on both teams.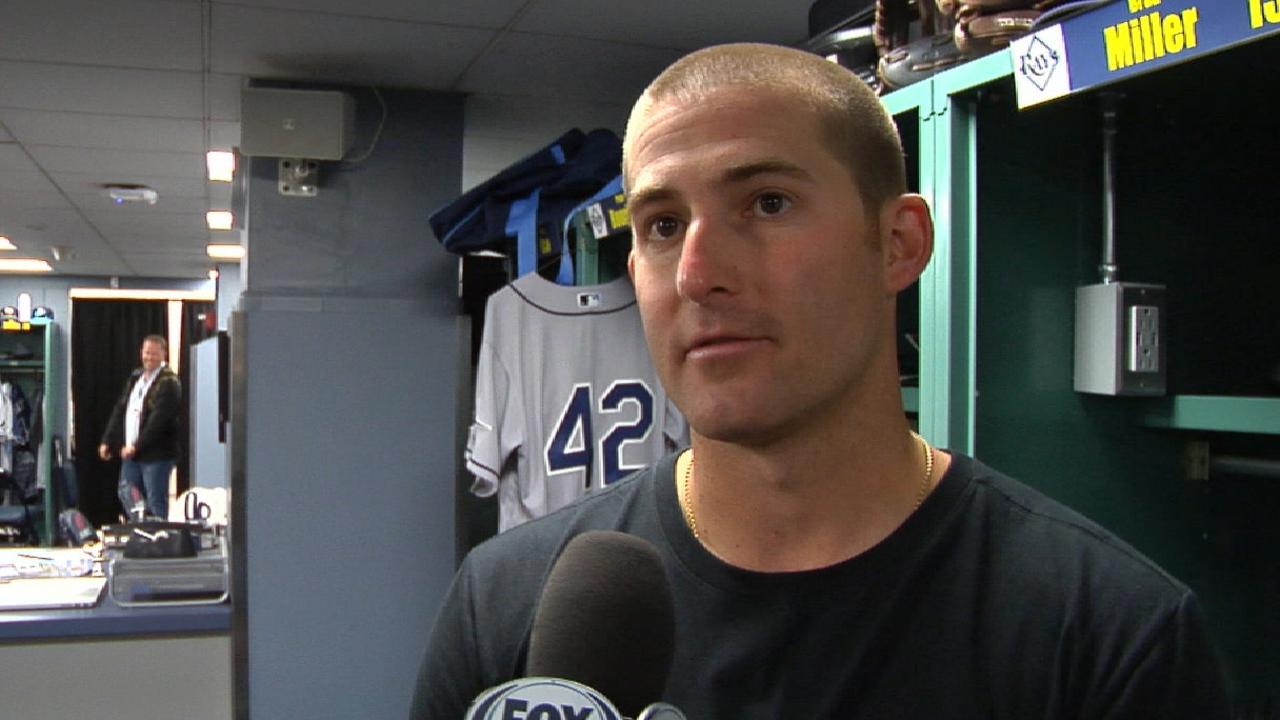 Rays first-base coach Rocco Baldelli, a Woonsocket, R.I., native, never made it to a Patriots' Day game growing up, but he always knew of friends and family who were involved in the festivities.
"It's a good day for the community up here. It's a fun time," Baldelli said. "It's a very lively day and I think there's a lot of people out there who enjoy it every year."
Wright admitted that the game time was a bit unusual, but he didn't mind.
"With it being so close to Spring Training, it wasn't so bad. It definitely was a little different waking up at 7:30 a.m., but it was fun," Wright said. "Any time the game is sold out, it doesn't matter what time it is. It is really easy to get up for these games."
Benintendi, who's in his first full season with the Red Sox, tried to take in everything going on around him.
"It was awesome. The energy in the stadium was so high," Benintendi said. "It was an early game, but it was awesome. Everyone is sort of united around one another."
Quinn Roberts is a reporter for MLB.com. This story was not subject to the approval of Major League Baseball or its clubs.