Statcast spotlight: 5 players to watch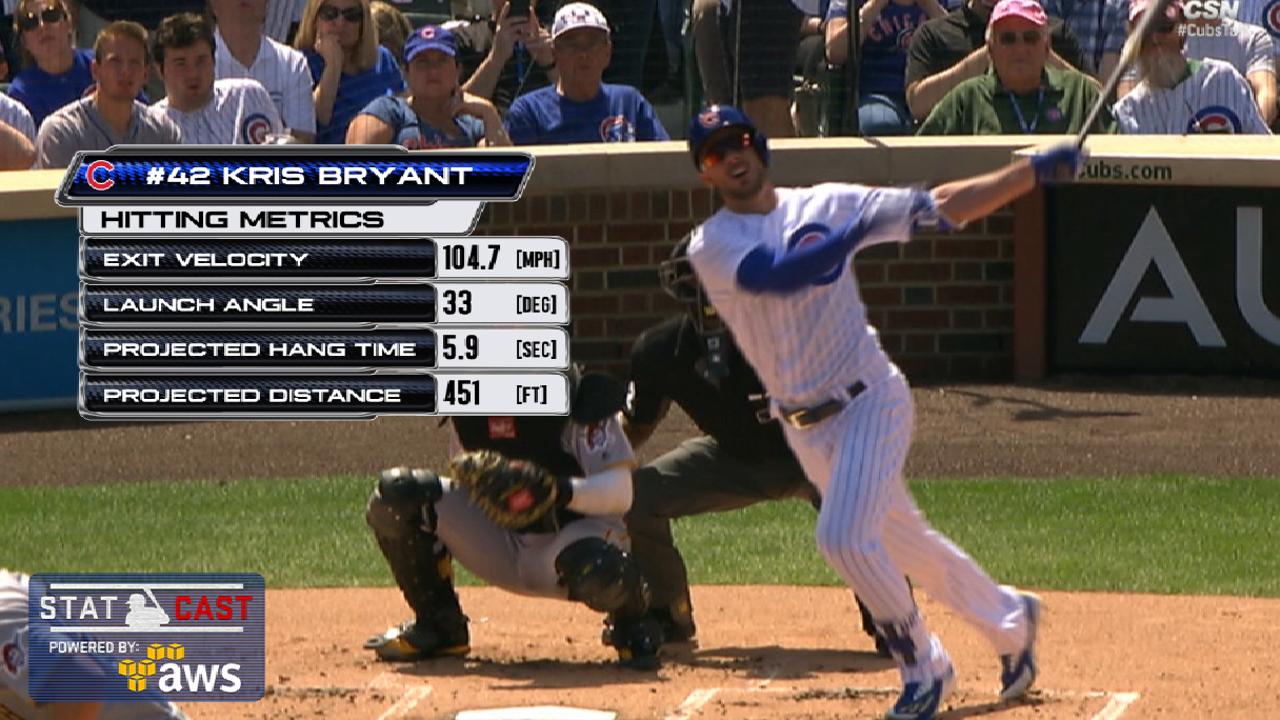 Using revolutionary Statcast™ data, here are five players to keep an eye on Monday. Watch it all on MLB.TV.
Aroldis Chapman, Yankees
Only two weeks into the 2017 season, Chapman is already crowding everyone else out of the pitch velocity leaderboards. Over his five appearances, the left-hander is averaging a crisp 100 mph with his fastball, the highest in baseball. He's thrown the 10 fastest pitches of the season, topping out at 102.1. (The first non-Chapman names on the leaderboard? Noah Syndergaard at 100.9 mph, sneaking in at a tie for 11th, and Neftali Feliz, a fraction of a mph below him.)
Fastest average fastball velocity in 2017
1. Chapman: 100 mph
2. Trevor Rosenthal: 98.5 mph
3. Joe Kelly: 98.4 mph
4. Craig Kimbrel: 98.0 mph
5. Tommy Kahnle: 97.8 mph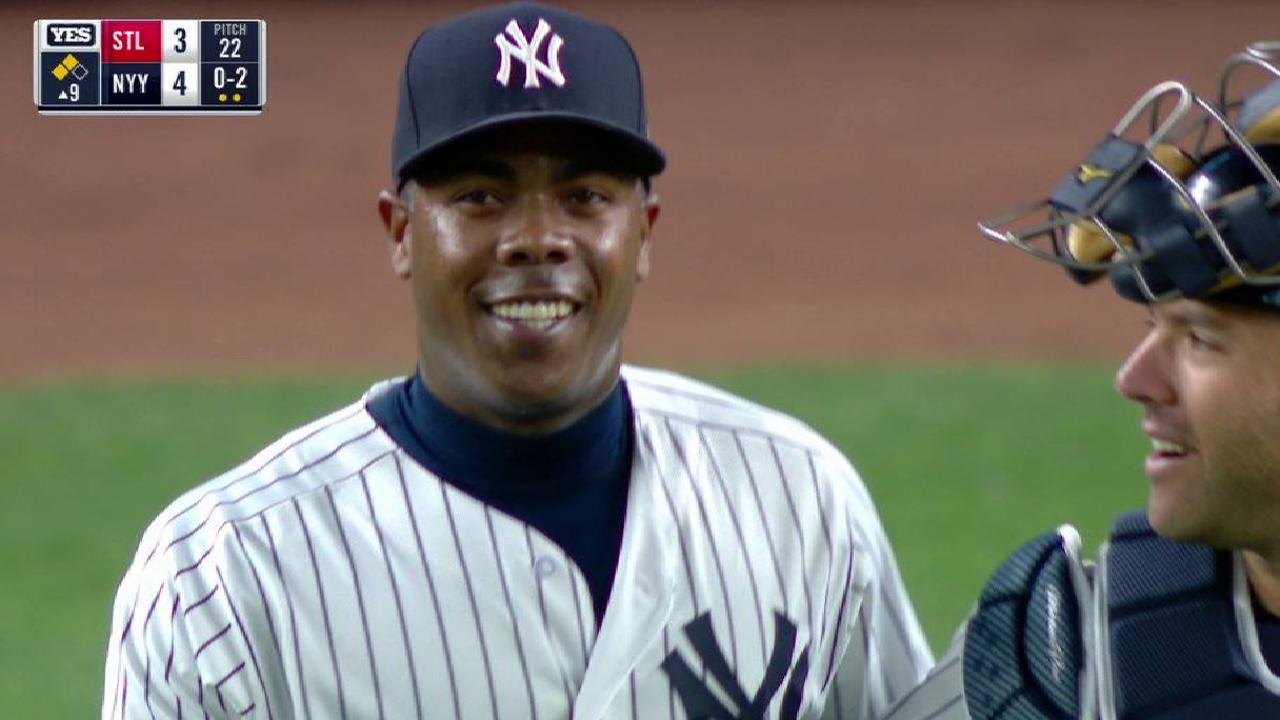 Kris Bryant, Cubs
Bryant finally got on the board with his first home run of the season on Saturday, then added a second later in the game for good measure. But the two big flies did not have much in common, besides both being hit at a 33-degree launch angle. The first was a 104.7-mph, 451-foot drive off the left-field scoreboard at Wrigley Field. That made it the fourth-longest homer of Bryant's career, and to that point, the fourth-longest in the Majors this season. The second, which the wind helped push just over the left-field wall and into the basket, was hit at 89.9 mph -- his lowest on a homer by more than 4 mph -- and went 383 feet. Its combination of exit velocity and launch angle gave it a hit probability of only 6 percent.
Bryant's longest home runs
1. 495 feet -- 9/6/15
2. 477 feet -- 5/26/15
3. 469 feet -- 8/20/16
4. 451 feet -- 4/15/17
5. 449 feet -- 5/12/15
Bryant's softest home runs
1. 89.9 mph -- 4/15/17
2. 94.2 mph -- 5/13/16
3. 94.8 mph -- 9/9/16
4. 98.1 mph -- 5/17/16
5. 98.5 mph -- 8/18/16
Max Kepler, Twins
Kepler made a tremendous diving catch over the weekend, racing in to snare Kevan Smith's sinking liner just above the turf on Friday. The play was a 5-star catch according to Statcast™'s rating system -- as difficult as it gets, as those plays have catch probabilities of under 25 percent. Kepler is no stranger to 5-star catches; he made six of them last season.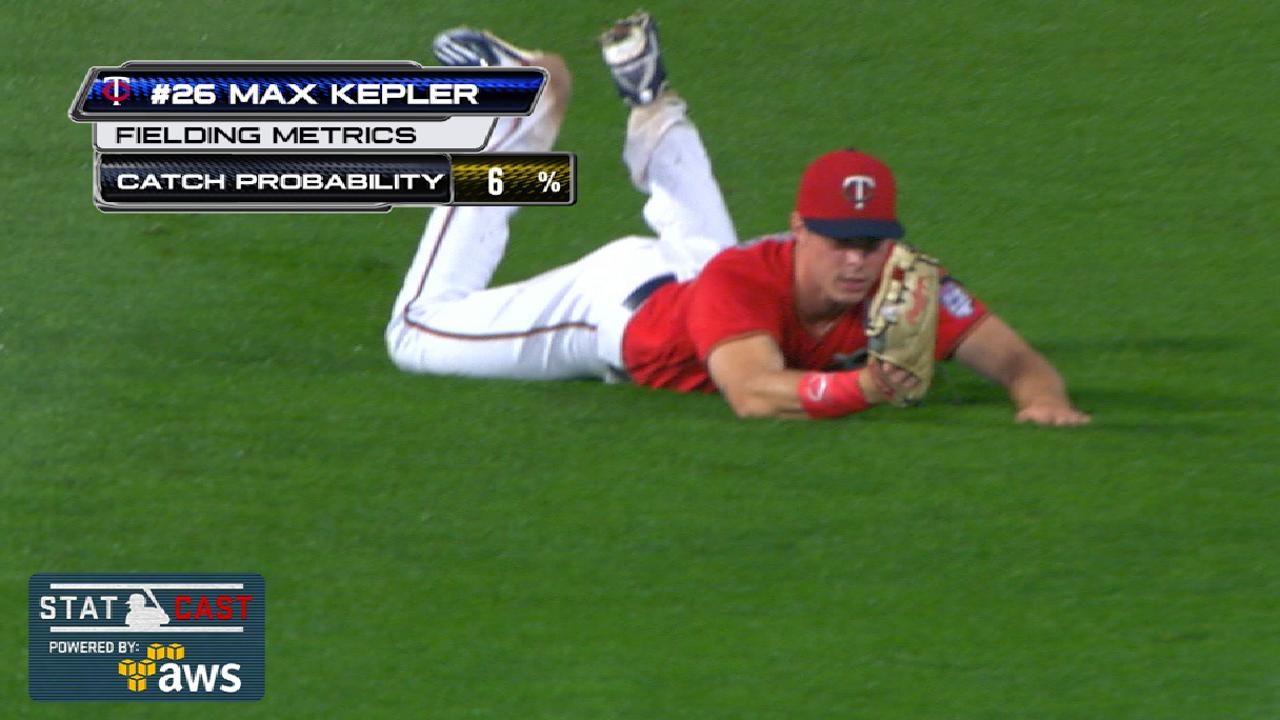 Kepler's 5-star catch vs. Smith
Catch probability: 6 percent
Opportunity time: 2.7 seconds
Distance needed: 34 feet
Smith's exit velocity: 100.6 mph
Smith's hit probability (based on exit velo/launch angle): 81 percent
The Angels
The Angels were held scoreless in a 1-0 walk-off loss to Kansas City on Sunday, extending their losing streak to five games. Albert Pujols told reporters that the Angels "hit the ball hard the whole series" and that the Halos "just need a couple of breaks here and there to go our way and we'll be all right." Looking at Los Angeles' hardest contact during its five-game skid, Pujols may be on to something. The Angels have hit eight barreled balls during their losing streak, and only came away with base hits on two of them. That's far below the league's batting average of .745 on barreled balls.
Angels' barreled balls during five-game losing streak
Total barrels: 8
Hits: 2
BA: .250
MLB BA on barreled balls: .738
Jharel Cotton, Athletics
Cotton's screwball-like changeup may be his most-talked about pitch, but the righty's slider and four-seam fastball have been most impressive from a Statcast™ perspective so far this season. In a dominant performance last Monday in Kansas City, Cotton elicited seven swinging strikes with his slider -- the most for him with that pitch in any of his seven big league starts thus far. Kansas City went just 1-for-8 against Cotton's slider and four-seamer, striking out swinging on three occasions while also grounding out four times. The 10 hits that opposing batters have hit off Cotton so far have averaged an exit velocity of just 80.4 mph -- the lowest of any pitcher who has allowed at least 10 hits tracked by Statcast™ so far this season.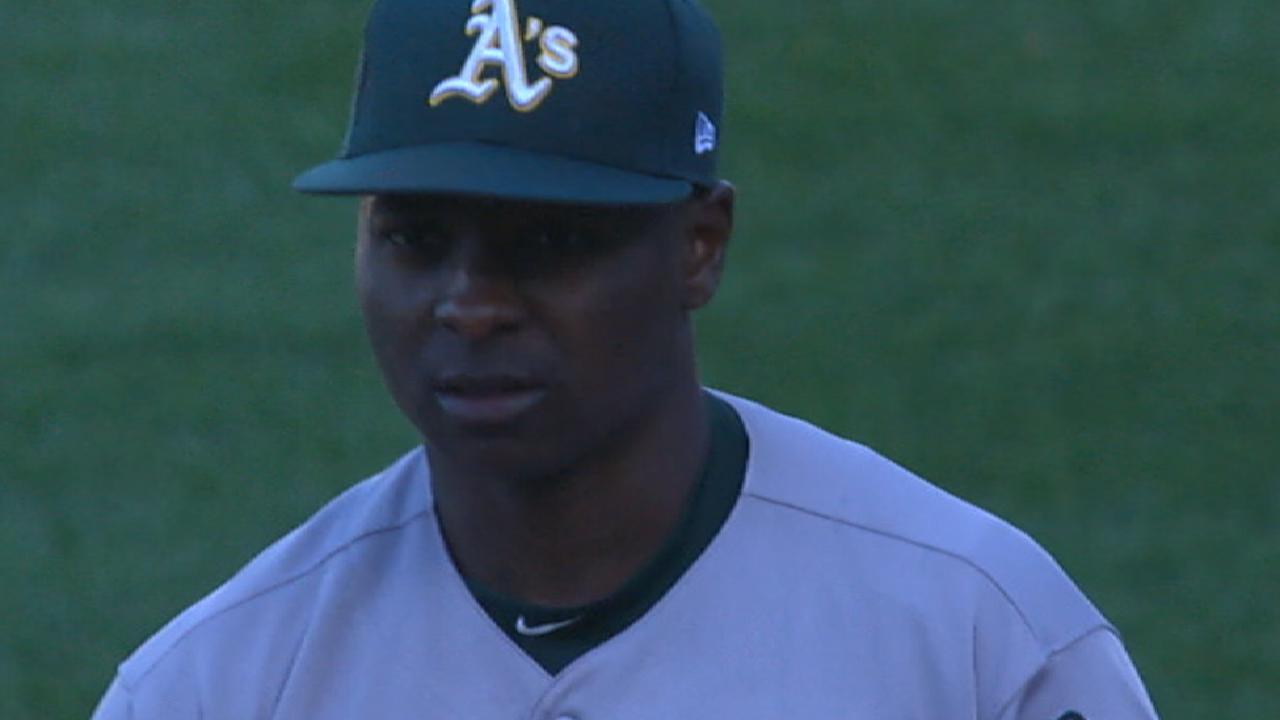 Most swinging strikes on slider in single game by Cotton
1. 7 -- 4/10/17
2. 6 -- 9/19/16
3. 4 -- 10/1/16
Lowest average exit velocity allowed on base hits in 2017 (minimum 10 tracked base hits)
1. 80.2 mph -- Cotton
2. 82.3 mph -- Michael Wacha
3. 83.7 -- Wily Peralta
4. 85.7 -- Dylan Bundy
5. 86.9 mph -- Jake Arrieta