#Ks4Vets: Fulmer, Carhartt partner to help vets
Tigers righty back at scene of strikeout success to face Rays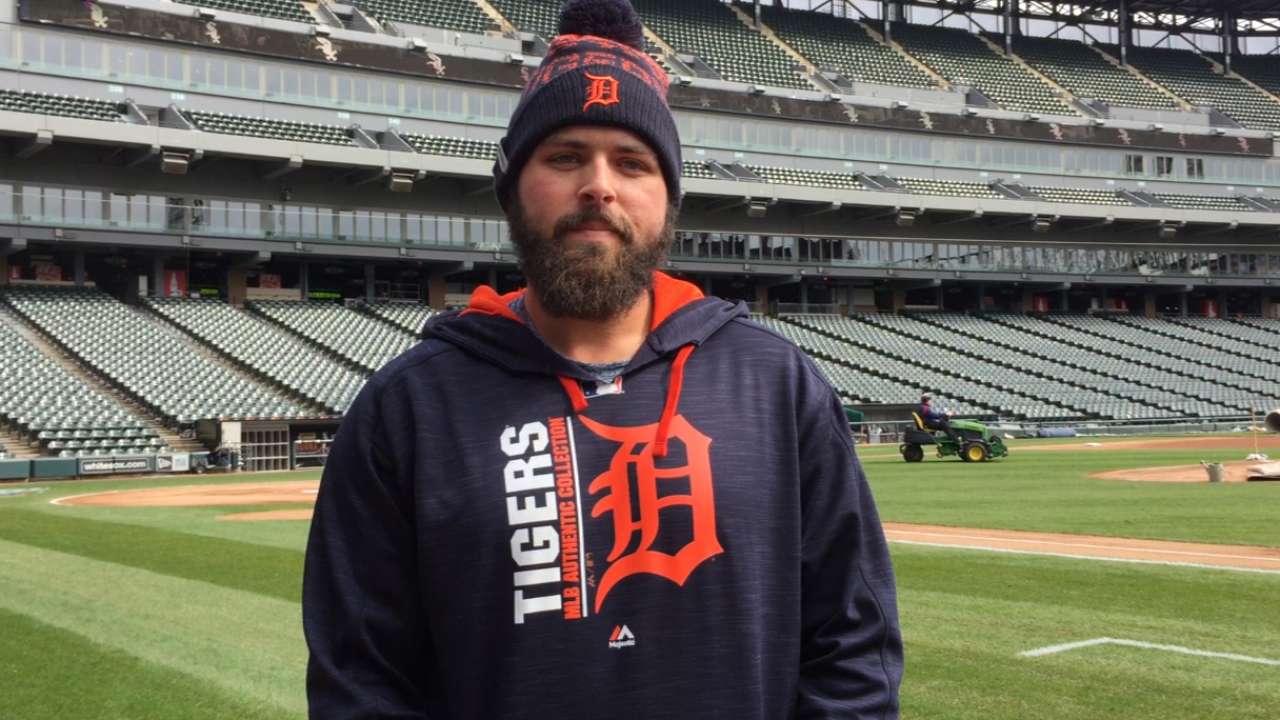 Michael Fulmer, who has 11 strikeouts in 12 innings so far in 2017, has joined Jacob deGrom of the Mets, Corey Kluber of the Indians, Felix Hernandez of the Mariners and Chris Sale of the Red Sox to comprise the "Carhartt Starting Rotation" that is being tracked with the hashtag #Ks4Vets to help a cause close to each pitcher's heart during the regular season.
For every strikeout recorded by these five pitchers, Carhartt will donate $100 to Helmets to Hardhats, a national nonprofit program that helps military service members successfully transition back into civilian life by offering them the means to secure a quality career in the building and trade industry.
We are excited to announce we have teamed up with @HelmetsToHardhats for another season of #Ks4Vets & we have an all-star starting rotation. pic.twitter.com/w1076dCv2l

— Carhartt (@Carhartt) March 30, 2017
"It's an honor and a blessing. I'm so honored that Carhartt has chosen me for one of the five starting pitchers in their rotation," Fulmer said. "It's for an unbelievable cause, Helmets to Hardhats. Any way we can help our vets; my cousin is in the Marine Corps right now. After our vets get done serving our country, we can get jobs for them and help them make a little extra money. I'm truly honored to be a part of this great program."
If the five Carhartt starters each match their best single-season strikeout total, then the donation for individual strikeouts would be $112,800. In addition to Fulmer's 132 last season, those previous bests were 274 by Sale in 2015, 269 by Kluber in '14, 248 by Hernandez in '14 and 205 by deGrom in '15. Carhartt will donate an additional $25,000 to Helmets to Hardhats if the Carhartt Starting Rotation exceeds the strikeout total of every other team's top five starting pitchers on the season.
Carhartt, America's leading workwear brand, is based in Dearborn, Mich., and has been a Detroit-area fixture since the Industrial Age (1889). So consider Fulmer, who works about 20 minutes away, the "hometown" part of that rotation.
Fulmer (1-0, 2.25 ERA, 0.92 WHIP) has picked up where he left off after earning the American League Rookie of the Year Award last season. He struck out seven Twins over six innings for his first 2017 win last Wednesday. Fulmer repeatedly got hitters into two-strike counts, but he struggled to finish them off, throwing 40 pitches in the third inning. He and catcher James McCann made an adjustment, going more often to the sinker, and every subsequent Twins batter was retired until Fulmer departed after the sixth.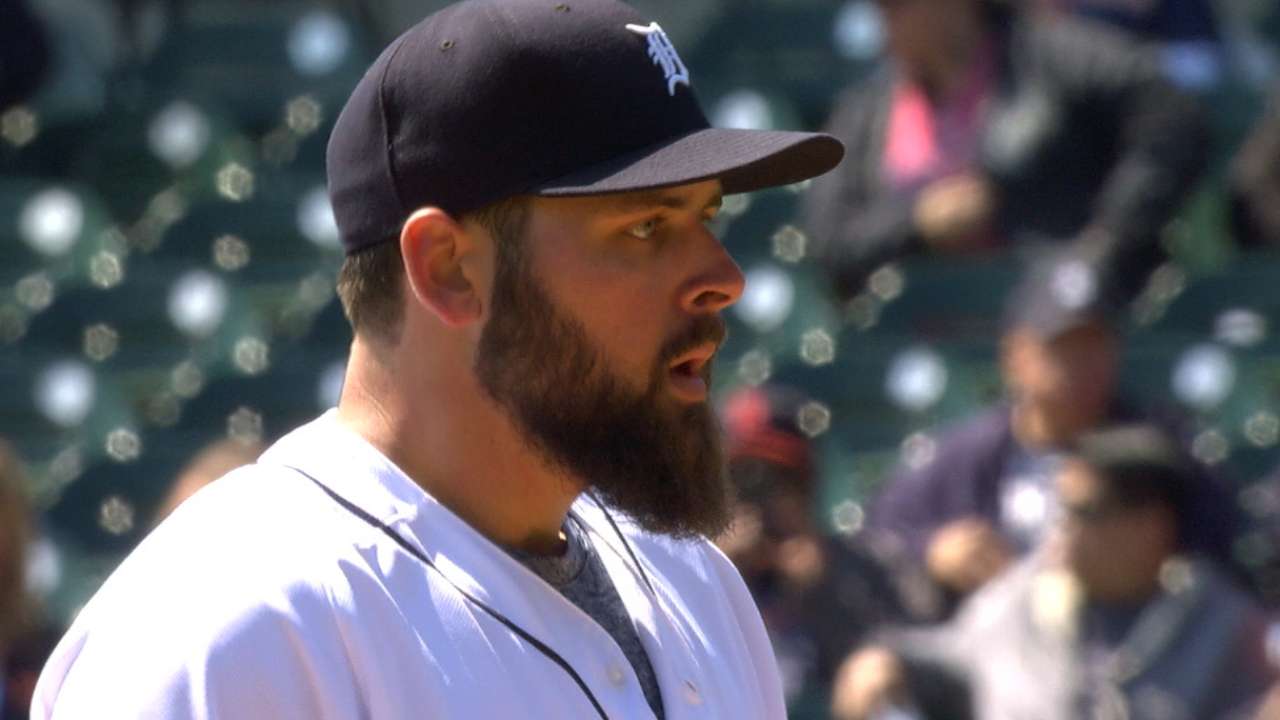 "I'm excited to strike some guys out," Fulmer said, "and [if] batters don't look bad, looking or swinging, it's still $100 for Helmets to Hardhats."
Fulmer's two starts at Tampa Bay last season were the bookends on Tigers history, as he became the first Detroit pitcher since at least 1913, as far back as records are available, to throw eight consecutive starts with one or no runs allowed.
In the May 21 gem, Fulmer became the first Tigers rookie since Pat Underwood in 1979 to record 11 strikeouts. In the July 1 win, Fulmer pitched seven scoreless innings, following an extended rest while the club closely monitored his usage. All 10 of his strikeouts that game were on swinging third strikes.
"I threw a fair amount of changeups, fair amount of sliders, but I think the biggest thing was fastball command, changing eye levels -- in and out, up and down," Fulmer said after that decision. "Getting to two strikes was huge for me, being able to tinker with some pitches."
The "rotation" concept is an expansion of what Carhartt did last year when it teamed up with Giants left-hander Madison Bumgarner to donate $125,500 to Helmets to Hardhats. With that money, the organization helped more than 120 veterans receive training and secure a career in the construction trades. The MLB Players Association supported the expansion of the program to include the five star pitchers, and Carhartt expects more money to be donated this season.
"The men and women who serve in the armed forces and work in the construction trades epitomize the meaning of hard work," said Tony Ambroza, Carhartt's senior vice president of marketing. "That's why we're proud to partner with Helmets to Hardhats in expanding the Strikeouts for Vets program this year. We're confident that we've put together a group of pitchers that will outwork them all, and we look forward to writing a large check in support of Helmets to Hardhats at the end of the season."
"Last year's Strikeouts for Vets campaign was a great success," said Darrell Roberts, executive director of Helmets to Hardhats. "Beyond the monetary donation, it increased awareness of building trades apprenticeships and construction career opportunities throughout the United States. We look forward to another year of partnering with Carhartt and the pitchers, whose efforts are going to enable us to change veterans' lives by assisting them in finding and beginning a new career."
Follow Carhartt and the Strikeouts for Vets campaign at facebook.com/carhartt and twitter.com/carhartt or track the campaign using #Ks4Vets.
Mark Newman is enterprise editor of MLB.com and a baseball writer since 1990. MLB.com Tigers beat reporter Jason Beck contributed to this story. This story was not subject to the approval of Major League Baseball or its clubs.