Wainwright's 'frustrating' start mirrors Cards'
Veteran falls to 0-3 as St. Louis swept by Yankees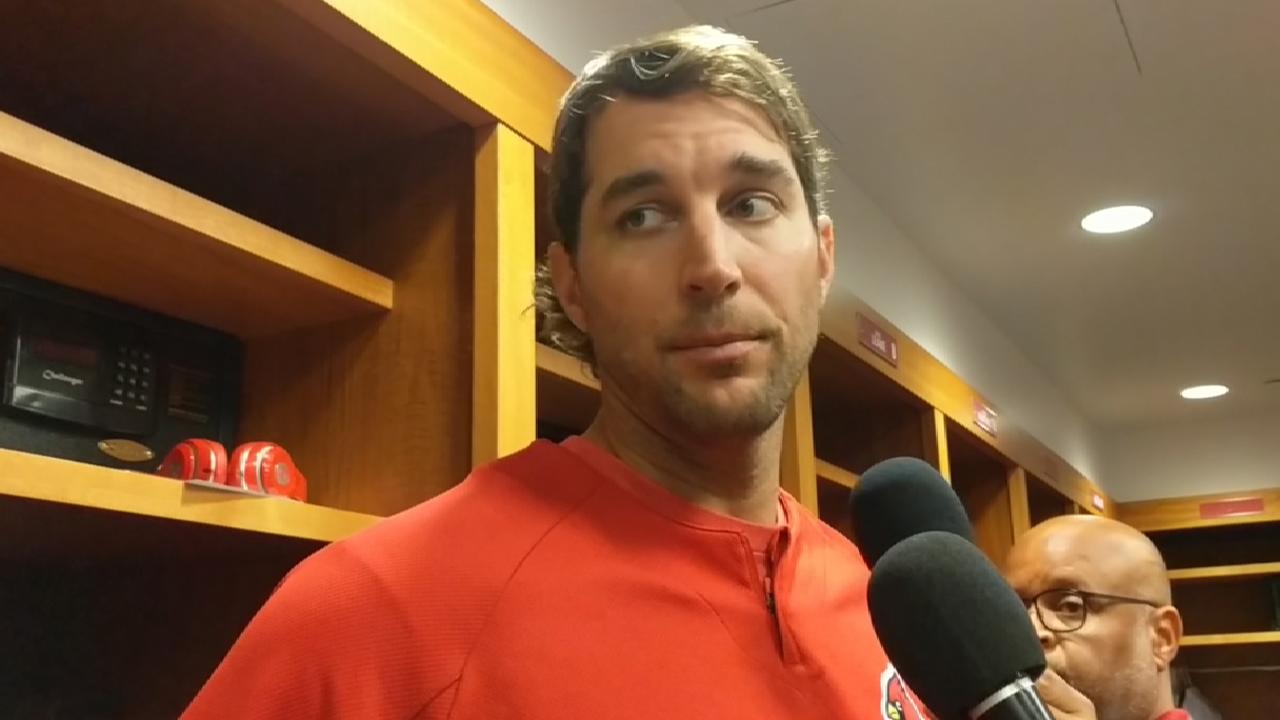 NEW YORK -- Adam Wainwright's start to the season has been much like the Cardinals' -- ragged around the edges, perplexing at times, and, ultimately, far beneath expectation.
The Cardinals fell to 3-9 with Sunday's 9-3 loss to the Yankees. Three of those losses have been pinned to Wainwright, who has accumulated 13 2/3 innings over three starts and gave up 21 hits (8 2/3 innings) on this road trip.
"It has been an incredibly frustrating start to the season for me," said Wainwright, who recorded his 1,500th career strikeout. "I had good stuff [on Sunday]. I made a lot of good pitches, actually. … I've pitched nine innings against lineups with way worse stuff than I have right now.
"I really can't understand it. I can't explain it. I just have to keep going and know that this isn't how it's going to be."
This isn't the first time that Wainwright has gotten off to a rocky start. He's started 0-3 twice before -- 2012 (7.32 ERA) and '16 (7.25 ERA). However, in both of those seasons, he was coming back from a major injury.
"He's a competitor. He's a perfectionist," manager Mike Matheny said. "You can see him frustrated out there in the middle of the game. That's how you want it. He's got a lot of fight in him, and he's going to figure this out and go on a good run for us."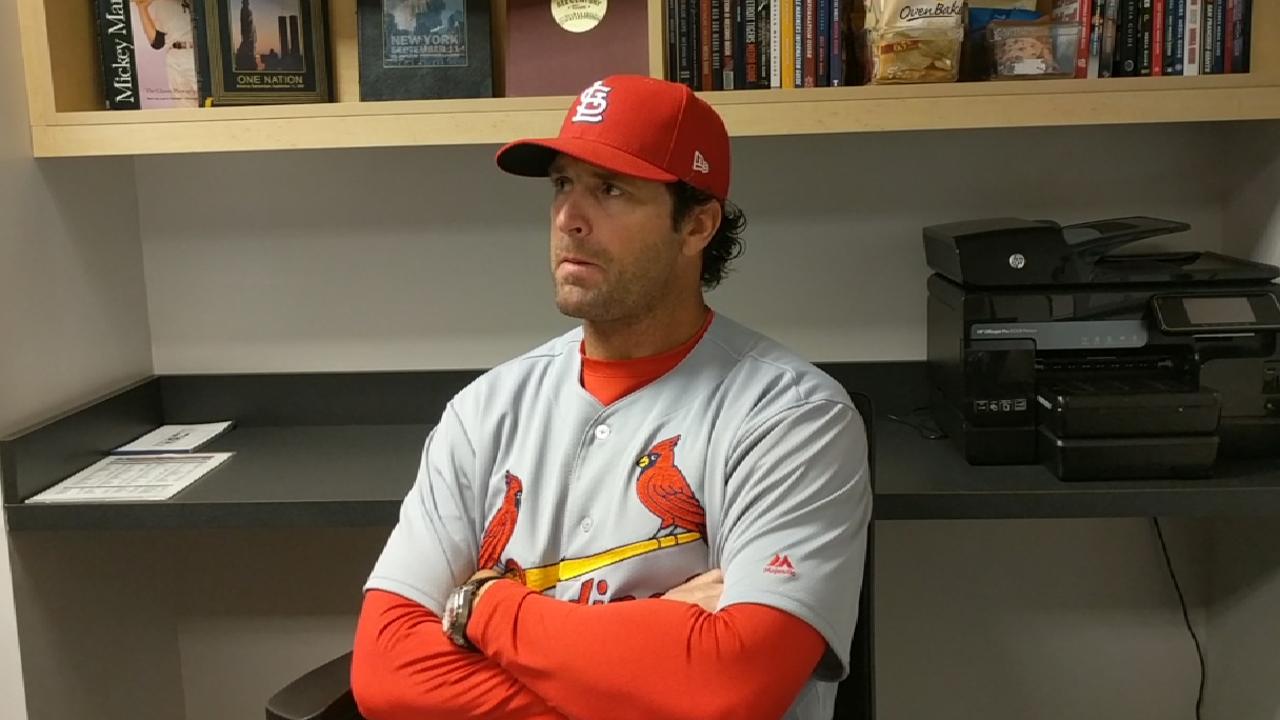 Though Wainwright felt encouraged by the location and crispness of most of his pitches on Sunday, the numbers don't paint as optimistic a picture.
The Yankees hit six pitches with an exit velocity over 100 mph, according to Statcast™. In his previous outing, Wainwright allowed five. For context, consider that even in his disappointing '16 season, only once in 33 starts did Wainwright have more than four balls hit with an exit velocity in triple digits.
The average exit velocity on balls in play Sunday was 90.4 mph. Six days earlier, in a loss to the Nationals, it was 92.6 mph. Last year, Wainwright ranked eighth-best in the Majors with an average exit velocity of 87.3 mph, equal to Clayton Kershaw's.
It's a confounding collection of data for a pitcher whose velocity is slightly up and swing-and-miss rate comparable to recent seasons.
"I think he's just trying to find it," Matheny said. "He throws some good pitches and they fouled off some good pitches. When he finds too much of the plate, they're taking advantage of it. At times, you see still good stuff. It's going to be all about location."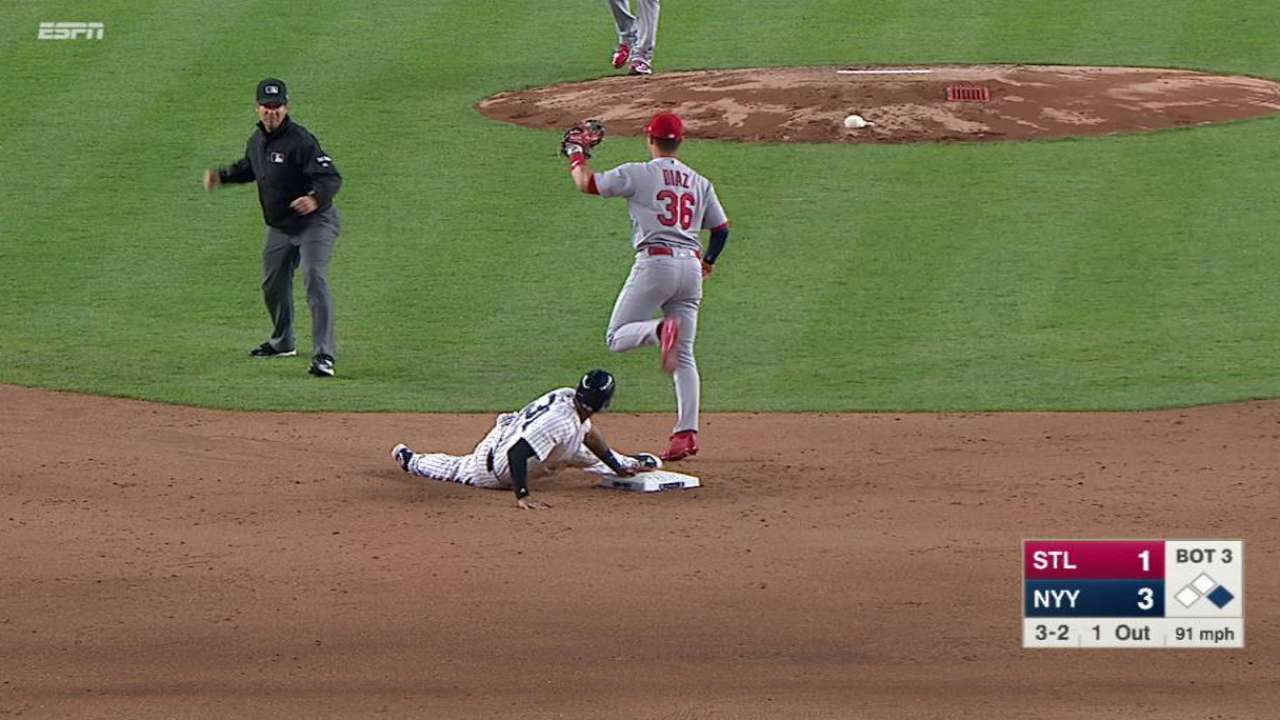 Wainwright has had very few smooth stretches, as well. He's averaging 20.2 pitches per inning and has allowed 10 of the 15 leadoff hitters to reach. Wainwright hasn't completed a 1-2-3 inning since his season debut.
Still, the veteran right-hander doesn't buy that it's all bad.
"I'll build off of it," said Wainwright, whose 6.45 ERA on the road since the start of '16 is the worst among all 62 pitchers with at least 90 innings on the road. "I know Cardinal nation is ready for me to get my act together. I am, too. But I take that stuff out there, I'm telling you, nine out of 10 times I'm going at least six. It was a crazy night. I don't know what to tell you. I had several players come up and say, 'You're stuff was great. You were locating well. Stay right there.' That's what I'm going to do."
Jenifer Langosch has covered the Cardinals for MLB.com since 2012, and previously covered the Pirates from 2007-11. Follow her on Twitter, like her Facebook page and listen to her podcast. This story was not subject to the approval of Major League Baseball or its clubs.