Bullpen of the Week: Reds
Relief effort key to Cincinnati's hold on first in NL Central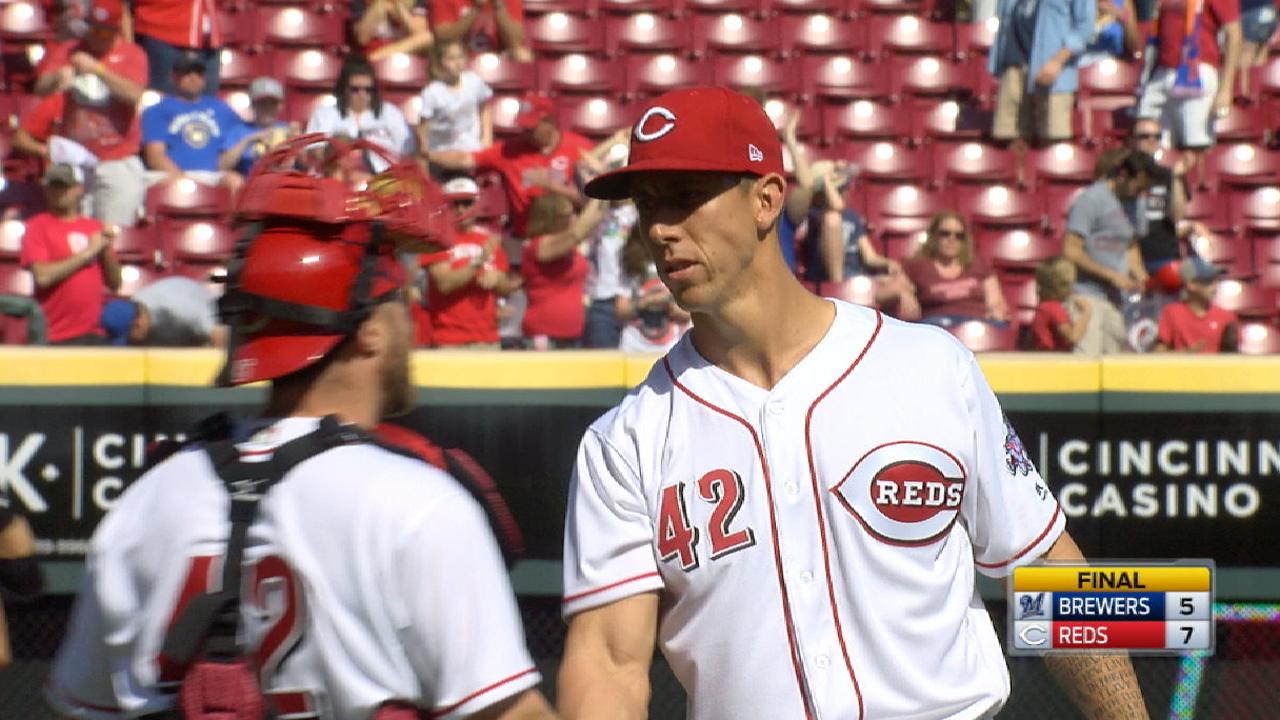 The Cincinnati Reds are one of the very early surprises of this Major League season. Even after losing on Sunday, they finished the week in first place in the National League Central with a record of 8-5. And one of the reasons has been the excellence of their relief pitching.
Reds relievers shined throughout the last seven days of the regular season, helping the team keep its lofty current positioning in its division and eke out a dramatic win for the honor of MLB Bullpen of the Week presented by The Hartford.
BULLPEN OF THE WEEK WINNERS
As part of the MLB Prevailing Moments program, each Monday throughout the 2017 season, MLB.com is honoring the week's top bullpen. An industry-wide panel of MLB experts, including legendary stats guru Bill James, constructed a metric based on James' widely renowned game-score formula, to provide a weekly measurement of team-bullpen performance.
Here's how the Bullpen Rating System is compiled for each week. For reference, a weekly score of 100 is considered outstanding:
• Add 1.5 points for each out recorded
• Add 1.5 points for each strikeout
• Add 5 points for a save
• Subtract 2 points for each hit allowed
• Subtract 4 points for each earned run allowed
• Subtract 2 points for each unearned run allowed
• Subtract 1 point for each walk
• Subtract 5 points for a blown save
The Reds bullpen saw a lot of work and delivered, scoring a rating of 119.5 points by allowing 12 earned runs and 25 hits in 35 1/3 innings of work. Relievers struck out 45 batters and issued seven walks, and they earned two saves. It was good for a tight first-place margin over an effective Dodgers 'pen.
Drew Storen appeared in three games during the week and pitched 3 1/3 innings with one unearned run and four strikeouts. Cody Reed added five perfect innings with six strikeouts over two games, and Robert Stephenson pitched five innings out of the bullpen over two games as well, striking out nine while giving up one run. Closer Raisel Iglesias saved a game and gave up one run in 3 2/3 innings.
The unexpected: The Reds were hoping for more than three innings from starting prospect Sal Romano in his big league debut Sunday afternoon, and he came out throwing in the upper 90s, but he lasted only three innings and 82 pitches, of which only 39 were strikes.
How they prevailed: Enter the Reds bullpen once again. Even though Cincinnati lost the game, the trio of Tim Adleman (four innings), Blake Wood (1 1/3 innings) and Wandy Peralta (2/3 of an inning) combined to limit the Brewers to one run on two hits the rest of the way.
The yeoman's effort scored the Reds enough of a rating to edge the Dodgers, who scored a 118.5, by one point. The Chicago White Sox finished the week in third place with a rating of 100.5.
Doug Miller is a reporter for MLB.com. Follow him on Twitter @DougMillerMLB. This story was not subject to the approval of Major League Baseball or its clubs.