Bird busts slump with 429-foot blast, 3 hits
Yankees first baseman snaps 0-for-20 slump vs. Cards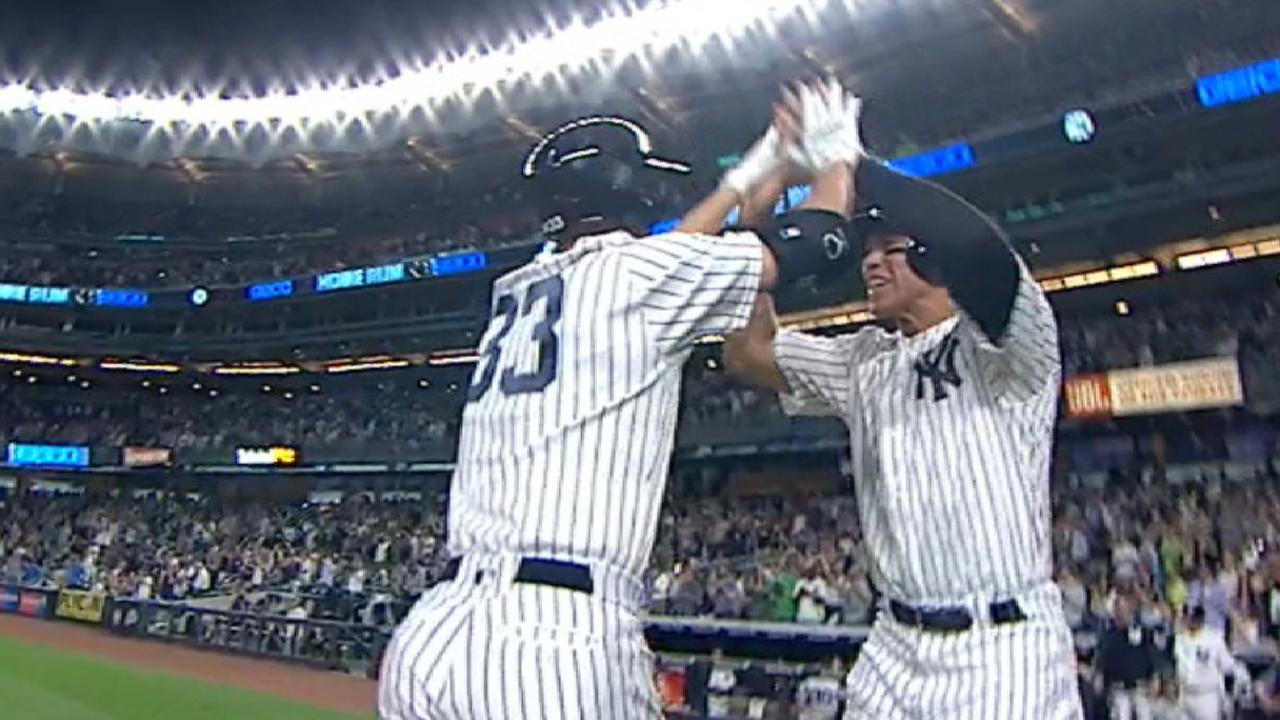 NEW YORK -- Greg Bird broke out of his season-long slump in a big way on Sunday night. The Yankees first baseman hit the first pitch he saw from St. Louis righty Adam Wainwright for a go-ahead two-run homer in what became a 9-3 victory before 31,706 at Yankee Stadium.
Bird had started the season 1-for-26 -- a .038 average -- in 30 total plate appearances. He hadn't had a hit in 20 straight at-bats before the home run.
Bird also doubled in the fourth inning, drew a walk in the sixth and singled in the eighth. His 3-for-3 night raised his average 100 points to .138.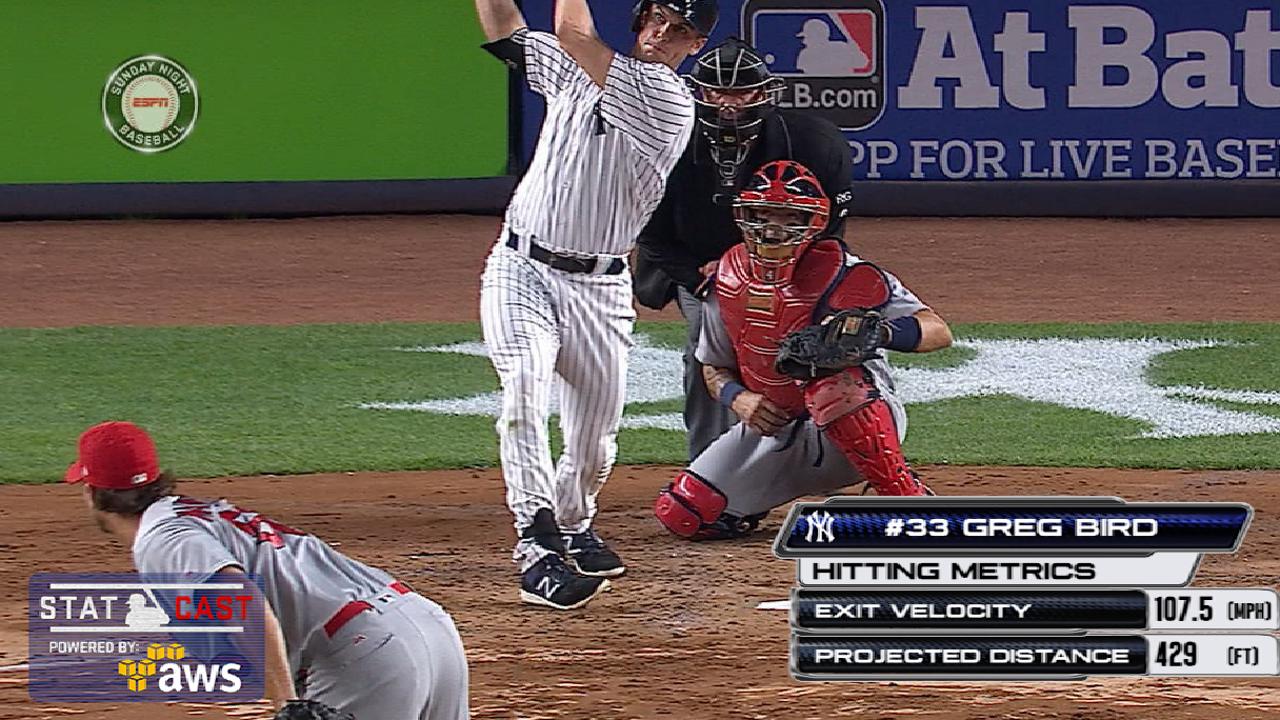 "It's just nice to be back on the board and back to contributing to the team," Bird said.
"He had a great night," Yankees manager Joe Girardi said.
"Tonight, that's the Bird I knew," Aaron Judge added.
Happy Bird. pic.twitter.com/n1BzmUFvYH

— New York Yankees (@Yankees) April 17, 2017
Bird emerged as a budding star at the end of 2015 when he took over at first base after Mark Teixeira fouled a ball off his shin and fractured it. In 46 games, Bird hit 11 homers and drove in 31 runs. But he missed all of the '16 season after surgery for a torn labrum in his right shoulder. The home run was his first since one against the Red Sox on Oct. 1, 2015.
He was by far the most productive Yankees hitter during Spring Training, with a .451 batting average and eight home runs. But it didn't carry over into the regular season.
"He had a great spring training. He had a great 2015. He got off to a slow start and he's been frustrated -- rightfully so," Girardi said. "He swung the bat great tonight and that what we saw all through Spring Training."
Girardi was asked about keeping him in the starting lineup before Sunday night's game and said "I think he has to play through this to get to the other side," though he admitted he was considering giving him Monday off against White Sox lefty Derek Holland.
"I just think he's a little out of whack, and I think the best way to get him on track is for him to play," Girardi said.
Bird confirmed as much: "I was feeling like I was pulling off the ball a lot. My timing was messed up and I was really trying to find it and I just couldn't. I'm a big 'feel' guy. Today in the cage I began to feel more connected with my lower half."
Bird said Saturday that he'd gotten a lot of support inside the clubhouse, especially from veteran third baseman Chase Headley. Headley got off to a horrific start in '16, hitting .150 for the month of April, but rebounded to finish the season with a .253 average.
"I don't know about words of wisdom, but just trying to keep things in perspective," Headley said when asked about his support for Bird. "Realize that at the beginning of the season, everything is blown out of proportion. Everybody sitting in this room has done what he's doing right now and he's going to be fine. I'm not worried about him. I don't think anyone else is worried about him. It's frustrating when you go through it, but he's going to be fine."
It looks like Headley could be correct.
"That swing felt good," Bird said of the home run. "I felt like I had a plan. I felt like myself. ... For me, it's about simplicity, swinging at good pitches and putting together quality at-bats. I didn't think I was doing that, so tonight I just tried to simplify and play my game."
Roger Rubin is a contributor to MLB.com based in New York. This story was not subject to the approval of Major League Baseball or its clubs.